March 13, 2019
Relation of British India with Neighboring Countries
>>>>>>
Anglo-Bhutanese Relations
1865, the Bhutanese were forced to surrender the passes in return for an annual subsidy.
It was the surrendered district which became a productive area with tea gardens.
>>>>>>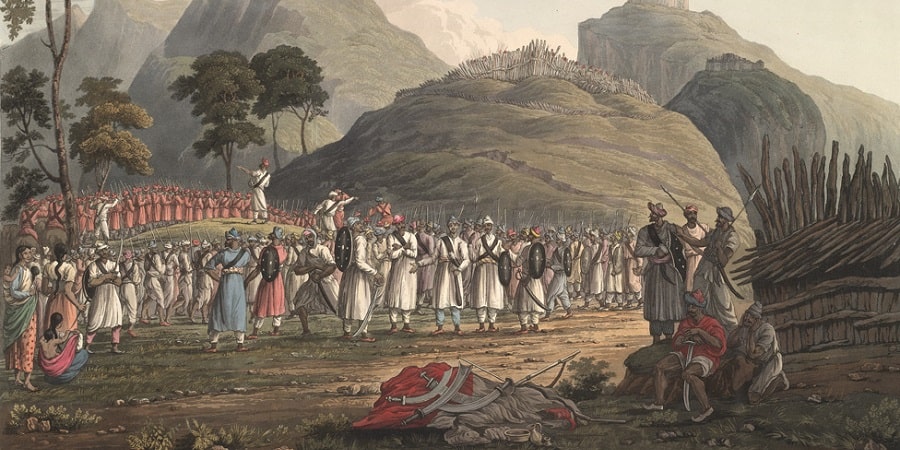 >>>>>>>
Anglo-Nepalese Relations
1801, English annexed Gorakhpur which brought the Gorkhas' boundary and the Company's boundary together
Conflict started due to the Gorkhas' capture of Butwal and Sheoraj in the period of Lord Hastings (1813-23)
War, ended in the Treaty of Sagauli, 1816 which was in favour of the British
Nepal accepted a British resident
Nepal ceded the districts of Garhwal and Kumaon.
They abandoned claims of Terai.
Nepal also withdrew from Sikkim.
British acquired sites for hill stations, such as Shimla, Mussoorie and Nainital.
Gorkhas joined the British Indian Army in large numbers.
Anglo-Burmese Relations
British want to capture forest resources of Burma, market for British manufactures in Burma
1st Burma War (1824-26)
Burmese expansion westwards and occupied Arakan and Manipur, and became threat to Assam and the Brahmaputra Valley.
British expeditionary forces occupied Rangoon in 1824 and reached within 72 km of the capital at Ava
Peace was established in Treaty of Yandabo, 1826
British cede its coastal provinces of Arakan and Tenasserim
Burma abandon claims on Assam, Cachar and Jaintia
Recognise Manipur as an independent state
Accept a British resident at Ava and posting a Burmese envoy at Calcutta.
>>>>>>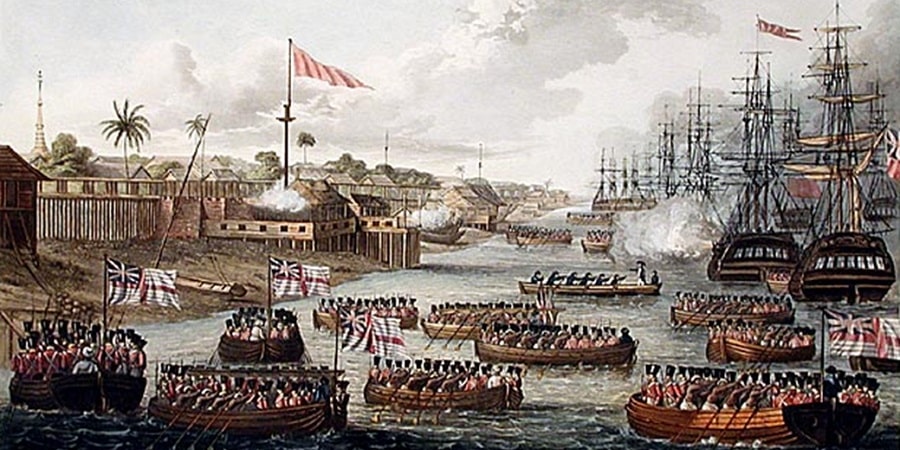 >>>>>>
2nd Burma War (1852)
2nd war was result of imperialist policy of Lord Dalhousie.
British merchants were keen to get hold of timber resources of upper Burma and also sought further inroads into Burmese market
British occupied Pegu, the only remaining coastal province of Burma
3rd Burma War (1885)
After death of Burmese King Bhindan, his son Thibaw succeeded to throne.
Thibaw was hostile towards the British
A humiliating fine had been imposed on a British timber company by him.
Dufferin ordered the invasion and final annexation of upper Burma in 1885
British faced a strong guerrilla uprising in whole of Burma soon after
Burmese nationalists joined hands with the INC
To weaken this link, Burma was separated from India in 1935
Burmese nationalist movement further led by U Aung San during 2nd World War
Burma got independence on January 4, 1948
Anglo-Tibetan Relations
Tibet was ruled by a theocracy of Buddhist monks (lamas) under nominal suzerainty of China.
Russian influence at Lhasa was increasing
Curzon felt alarmed and sent a small Gorkha contingent under Colonel Younghusband in 1903
Tibetans refused to negotiate and offered non-violent resistance
Younghusband pushed his way into Lhasa (Aug 1904) while Dalai Lama fled
Treaty of Lhasa 1904 singed
Tibet would pay an indemnity of Rs 75 lakh at the rate of 1 lakh rupees per annum
As a security for payment, Indian Government would occupy the Chumbi Valley (territory between Bhutan and Sikkim) for 75 years
Tibet would give Great Britain some control over foreign affairs of Tibet
Treaty was revised reducing the indemnity from Rs 75 lakh to Rs 25 lakh and providing for evacuation of Chumbi valley after 3 years
Only China gained in the end out of the whole affair
According to Anglo-Russian convention of 1907, two great powers would not negotiate with Tibet, except mediation of the Chinese government.
>>>>>>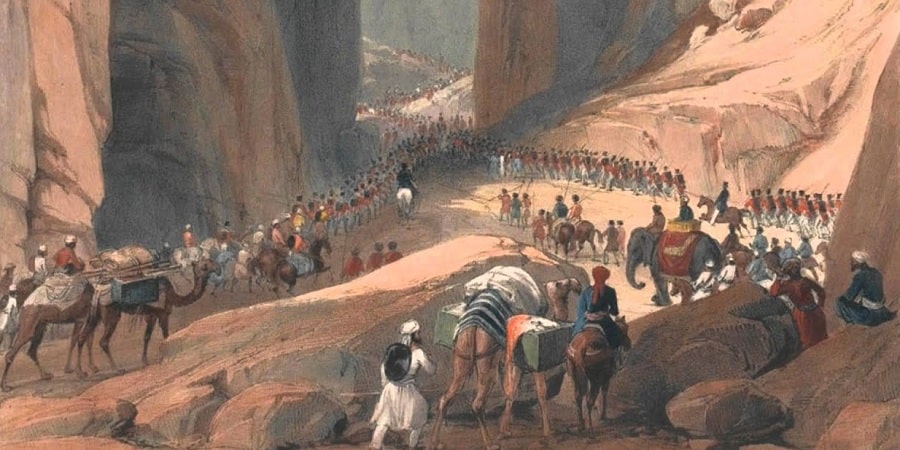 >>>>>>
Anglo-Afghan War
After the Treaty of Turkomanchai (1828), between Persia and the Russian Empire, English got alarmed about possible Russian plans regarding India.
Passes of the north-west seemed to hold the key to enter India
Need was felt for Afghanistan to be under control of a ruler friendly to the British
Auckland advocated a forward policy in 1836
Company government in India itself had to take initiatives to protect boundary of British India
Tripartite Treaty (1838) was entered into by British, Sikhs and Shah Shuja (deposed from the Afghan throne in 1809)

Shah Shuja be enthroned with the armed help of the Sikhs
Shah Shuja conduct foreign affairs with advice of the Sikhs and the British
He recognises the Sikh ruler, Maharaja Ranjit Singh's claims over the Afghan territories on the right bank of the River Indus.
1st Anglo-Afghan War (1839-42)
British intention was to establish a permanent barrier against schemes of aggression from the north-west
An English army entered into Kabul in 1839 after a successful attack
Most of the tribes had already been won over by bribes.
Dost Mohammed surrendered in 1840 and Shah Shuja was made Amir of Afghanistan.
But Shah Shuja was unacceptable to the Afghans.
Afghans rose in rebellion, killing garrison commander in Kabul
British were compelled to sign a treaty in 1841 with Afghan chiefs
British East India Company troops are destroyed by Afghan forces on the road from Kabul to Jalalabad, Afghanistan
Afghan force was leaded by Akbar Khan, son of Dost Mohammad Khan.
British agreed to evacuate Afghanistan and restore Dost Mohammed
British re-occupied Kabul in Sept 1842 and arrived at a settlement with Dost Mohammed.
1st Afghan War cost India 1.5 cr. rupees and nearly 20,000 men
The 'Masterly Inactivity Policy' was followed by the British towards Afghanistan from 1860-76.
It was conceived by John Lawrence.
It fulfils two conditions

Peace at the frontier was not disturbed
no candidate in civil war sought foreign help

Sher Ali established himself on throne, Lawrence tried to cultivate friendship with him
2nd Anglo-Afghan War (1878-80)
British conservative government under Benjamin Disraeli (1874-80), Lytton became the Viceroy of India in 1876
He started a new foreign policy of 'proud reserve'.
Lytton made an offer of a favourable treaty to Sher Ali, but Amir wanted friendship with both Russia and British India.
Sher Ali refused to keep a British envoy in Kabul.
Lytton decided to invade Afghanistan.
Sher Ali fled in face of the British invasion, and the
Treaty of Gandamak 1879 was signed with Yakub Khan, the eldest son of Sher Ali.
Amir conduct his foreign policy with the advice of Government of India.
Permanent British resident be stationed at Kabul.
Government of India give Amir all support against foreign aggression, and an annual subsidy.
Soon, Yakub replaced and Abdur Rehman became the new Amir.
Ripon new viceroy decided on a policy of keeping Afghanistan as a buffer state.
After 1st World War and the Russian Revolution 1917, Afghans demanded full independence.
Habibullah successor of Abdur Rahman was killed in 1919 and new ruler Amamullah declared open war on British.
Peace came in 1921 when Afghanistan recovered independence in foreign affairs.
>>>>>>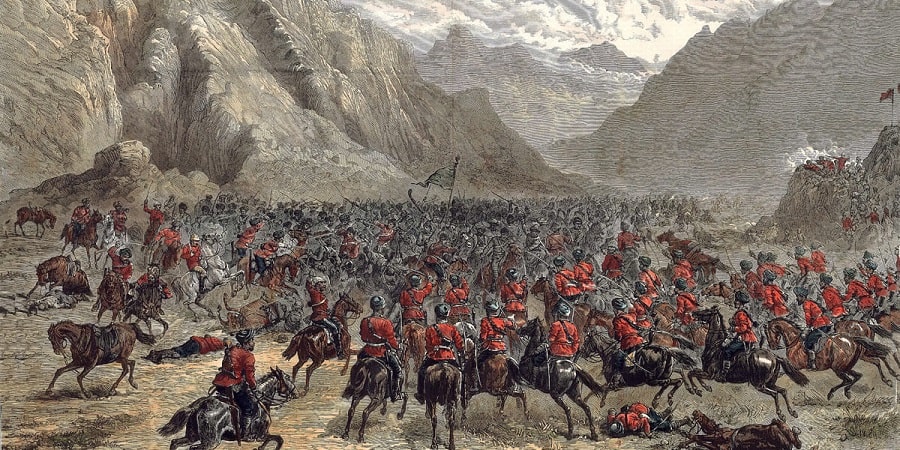 >>>>>>
British India and the North-West Frontier
Conquest of Sindh (1843) and annexation of Punjab (1849) carried British boundaries beyond Indus and brought them in contact with Baluch and Pathan tribes
Those tribes were mostly independent, but the Amir of Afghanistan claimed nominal suzerainty over them
A compromise was finally reached by drawing Durand Line, 1893 between Afghan and British territories
But the Durand Agreement failed to keep peace and soon there were tribal uprisings.
Curzon, the viceroy between 1899 and 1905, followed a policy of withdrawal and concentration.
British troops withdrew from advanced posts which were replaced by tribal levies, trained and commanded by British officers
He also encouraged the tribals to maintain peace
He created North-West Frontier Province (NWFP) in 1901 directly under the Government of India
Earlier, it was under control of the lieutenant-governor of Punjab
1932, it was announced that the NWFP was to be constituted as a governor's province.
Since 1947,the province belongs to Pakistan.
>>>>>>