October 18, 2019
Census of India – 1991, 2001, 2011
>>>>>>>
Census in India conducted 15 times, as of 2011.
After 1949, it conducted by the Registrar General and Census Commissioner of India under the Ministry of Home Affairs.
All census conducted under Census of India Act 1948
Decennial growth of population was highest in Census – 1971 (24.8%)
Annual growth rate is highest in Census – 1981 (2.22%)
Decennial growth of population was lowest in Census – 1921 (-0.31%)
India had the highest sex ratio in Census – 1901 (972)
2021 Census will be stored electronically, for 1st time.
The Delimitation/reservation of Constituencies of Parliament, Assemblies, Panchayats and other Local Bodies is also done on the basis of the demographic data of the Census.
>>>>>>>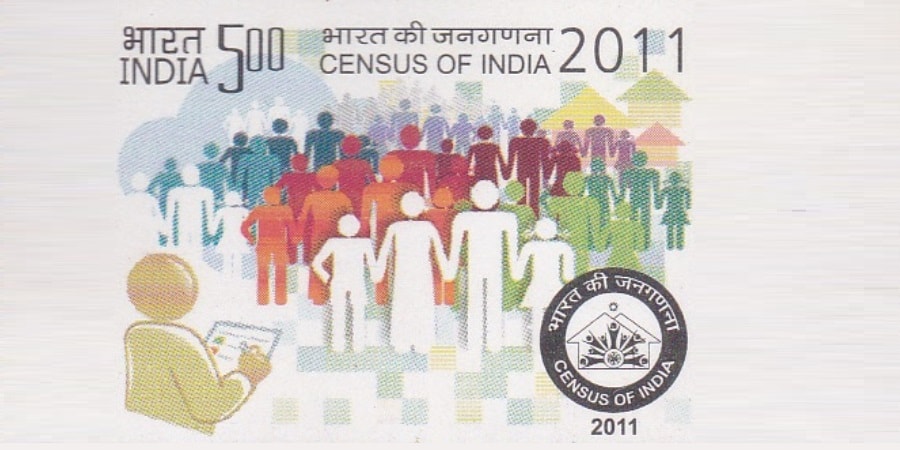 >>>>>>>
History of Census in India
History of census in India can traced form 'Arthashastr'  written by 'Kautilya' in the 3rd Century BC
It prescribed the collection of population data as a measure of state policy for taxation.
It contained a detailed description of methods of conducting population, economic and agricultural censuses.
In the time of Mughal king Akbar, the administrative report 'Ain-e-Akbari' included comprehensive data pertaining to population, industry, wealth etc.
1st complete census of Indian city taken in Dacca in 1831 by Henry Walters.
1st all India census was conducted in 1872
1st complete and synchronous census was taken in 1881 by W.C. Plowden.
Census of India 1991
Total population – 0.83 billion
Decennial growth – 23.86%
Annual growth – 2.16%
Population density – 325 /km2
Sex ratio – 927
Child Sex Ratio (0- 6) – 945
Literacy rate – 52.2
Male Literacy rate – 64.1%
Female Literacy rate – 39.3%
Highest densely populated state – West Bengal (767)
Census of India 2001
Total population – 1.02 billion
Decennial growth – 21.34%
Annual growth – 1.97%
Population density – 325 /km2
Sex ratio – 933
Child Sex Ratio (0- 6) – 927
Literacy rate – 64.8%
Male Literacy rate – 75.3%
Female Literacy rate – 53.7%
Highest densely populated State – West Bengal (904)
Highest decennial growth state – Nagaland (64%)
Lowest decennial growth state – Kerala (9%)
Census of India 2011
Total Population – 1.21 billion
Total population of the world  – 17.5%
Below poverty level – 22% (as per Indian govt.-2012)
Below poverty level – 23.6% (as per World Bank – $ 1.25 per day)
No of districts – 640
No of towns – 7,933
No of villages – 6,40,930
Decennial growth – 17.65%
Annual growth – 1.64%
Population density – 382 /km2
Sex ratio – 943
Rural Sex ratio – 949
Urban Sex ratio – 929
Child Sex Ratio (0- 6) – 919
Child Sex Ratio Rural – 923
Child Sex Ratio Urban – 905
Literacy rate – 74.04%
Male Literacy rate – 82.14%
Female Literacy rate – 65.46%
Highest Literate State – Kerala (94%)
Lowest Literate State  – Bihar (61.8%)
Highest populated State – UP
Highest densely populated state – Bihar
Highest decennial growth state – Meghalaya
Lowest decennial growth state – Nagaland
>>>>>>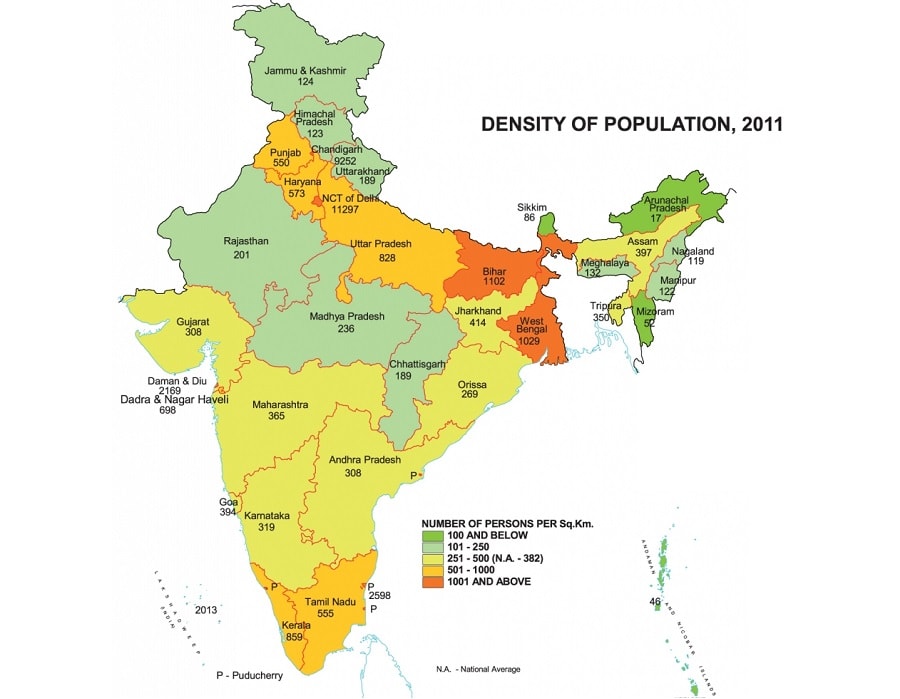 >>>>>>
State wise Data of Census of India 2011
Most Populated States in India
| Rank | Highest State | Population | % of Total |
| --- | --- | --- | --- |
| 1 | Uttar Pradesh | 199812341 | 16.49% |
| 2 | Maharashtra | 112372972 | 9.28% |
| 3 | Bihar | 103804637 | 8.58% |
| 4 | West Bengal | 91347736 | 7.55% |
| 5 | Andhra Pradesh | 84580777 | 6.99% |
| 6 | Madhya Pradesh | 72597565 | 6% |
| | Lowest State | | |
| 5 | Nagaland | 1980602 | 0.16% |
| 4 | Goa | 1457723 | 0.12% |
| 3 | Arunachal Pradesh | 1382611 | 0.11% |
| 2 | Mizoram | 1091014 | 0.09% |
| 1 | Sikkim | 607688 | 0.05% |
| | UT | | |
| 1 | Delhi | 16787941 | 1.38% |
| 7 | Lakshadweep | 64429 | 0.01% |
Highest Decennial Population Growth
| Rank | Highest Population Growth | Growth % |
| --- | --- | --- |
| 1 | Meghalaya | 27.8% |
| 2 | Arunachal Pradesh | 25.9% |
| 3 | Bihar | 25.1% |
| 4 | Jammu and Kashmir | 23.7% |
| 5 | Mizoram | 22.8% |
| | Lowest Population Growth | Growth % |
| 1 | Nagaland | -0.5% |
| 2 | Kerala | 4.9% |
| 3 | Goa | 8.2% |
| 4 | Andhra Pradesh | 11.1% |
| 5 | Sikkim | 12.4% |
| | UT | Growth % |
| 1 | Dadra and Nagar Haveli | 55.5% |
| 7 | Lakshadweep | 6.2% |
| | India | 17.64% |
Densely Populated State in India
| | Densely Populated States | Density/sq Km |
| --- | --- | --- |
| 1 | Bihar | 1102 |
| 2 | West Bengal | 1029 |
| 3 | Kerala | 859 |
| 4 | Uttar Pradesh | 828 |
| 5 | Haryana | 573 |
| | Least Populated States | Density/sq Km |
| 1 | Arunachal Pradesh | 17 |
| 2 | Mizoram | 52 |
| 3 | Jammu and Kashmir | 57 |
| 4 | Sikkim | 86 |
| | UT | Density/sq Km |
| 1 | Delhi | 11297 |
| 7 | Andaman and Nicobar Islands | 46 |
| | India | 382 |
Largest State of India
| | Largest State | Area Sq Km |
| --- | --- | --- |
| 1 | Rajasthan | 342239 |
| 2 | Madhya Pradesh | 308252 |
| 3 | Maharashtra | 307713 |
| 4 | Andhra Pradesh | 275045 |
| 5 | Uttar Pradesh | 240928 |
| | Smallest State | Area Sq Km |
| 1 | Goa | 3702 |
| 2 | Sikkim | 7096 |
| 3 | Tripura | 10486 |
>>>>>>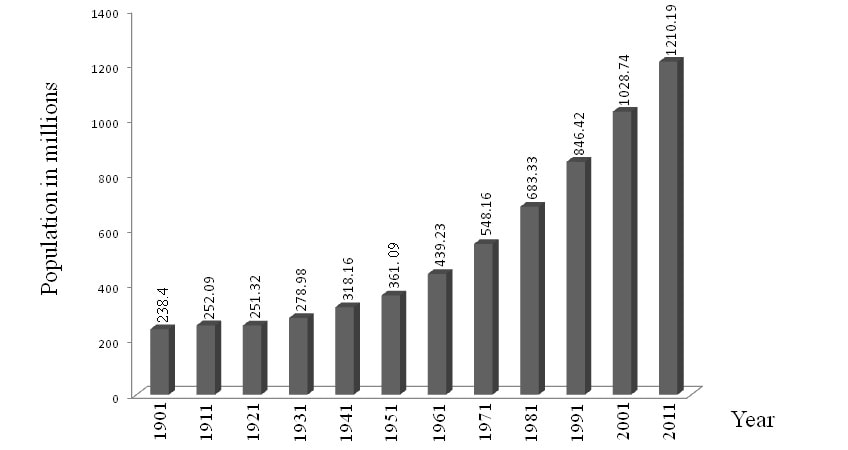 >>>>>>
Life Expectancy at Birth 
| | Best States | Life expectancy |
| --- | --- | --- |
| 1 | Kerala | 74.9 |
| 2 | Delhi | 73.2 |
| 3 | Jammu and Kashmir | 72.6 |
| 4 | Uttarakhand | 71.7 |
| 5 | Himachal Pradesh | 71.6 |
| | India | 67.9 |
| | Worst States | |
| 17 | Odisha | 65.8 |
| 18 | Chhattisgarh | 64.8 |
| 19 | Madhya Pradesh | 64.2 |
| 20 | Uttar Pradesh | 64.1 |
| 21 | Assam | 63.9 |
Rural & Urban Population
| | States | Rural Population % |
| --- | --- | --- |
| 1 | Himachal Pradesh | 89.96% |
| 2 | Bihar | 88.70% |
| 3 | Assam | 85.92% |
| 4 | Odisha | 83.32% |
| 5 | Meghalaya | 79.92% |
| | India | 68.84% |
| | States | Urban Population % |
| 1 | Goa | 62.17% |
| 2 | Mizoram | 51.51% |
| 3 | Tamil Nadu | 48.45% |
| 4 | Kerala | 47.72% |
| 5 | Maharashtra | 45.23% |
| 6 | Gujarat | 42.58% |
| | State | Urban Population |
| 1 | Maharashtra | 8 cr. |
| 2 | Utter Pradesh | 6.7 cr. |
| 3 | Tamil Nadu | 5.3 cr. |
| | UT | Urban Population % |
| | Delhi | 97.50% |
| | India | 31.16% |
Literacy Rate in India
| | Highest Literacy Rate | Literacy % |
| --- | --- | --- |
| 1 | Kerala | 94.00% |
| 2 | Lakshadweep | 91.85% |
| 3 | Mizoram | 91.33% |
| 4 | Goa | 88.70% |
| 5 | Tripura | 87.22% |
| 19 | West Bengal | 76.26 % |
| | Lowest Literacy Rate | Literacy % |
| 1 | Bihar | 61.8 % |
| 2 | Arunachal Pradesh | 65.38 % |
| 3 | Rajasthan | 66.11 % |
| 4 | Jharkhand | 66.41 % |
| 5 | Andhra Pradesh | 67.02 % |
| | India | 74.4 % |
Female Literacy Rate in India
| | Highest Female Literacy | Literacy % |
| --- | --- | --- |
| 1 | Kerala | 92.07 % |
| 3 | Mizoram | 89.27 % |
| 2 | Lakshadweep | 87.95 % |
| 4 | Goa | 84.66 % |
| 5 | Tripura | 82.73 % |
| 18 | West Bengal | 70.54 % |
| | Lowest Female Literacy | Literacy % |
| 1 | Bihar | 51.5 % |
| 2 | Rajasthan | 52.12 % |
| 3 | Jharkhand | 55.42 % |
| 4 | Jammu and Kashmir | 56.43 % |
| 5 | Uttar Pradesh | 57.18 % |
Sex Ratio in India – State wise
| | Highest Sex Ratio | Female/1000 Male |
| --- | --- | --- |
| 1 | Kerala | 1084 |
| 2 | Tamil Nadu | 995 |
| 3 | Andhra Pradesh | 993 |
| 4 | Chhattisgarh | 991 |
| 5 | Telangana | 988 |
| 16 | West Bengal | 950 |
| | Lowest Sex Ratio | Female/1000 Male |
| 1 | Haryana | 877 |
| 2 | Jammu and Kashmir | 883 |
| 3 | Sikkim | 889 |
| 4 | Punjab | 893 |
| 5 | Uttar Pradesh | 908 |
| | UT | Female/1000 Male |
| 1 | Puducherry | 1038 |
| 7 | Daman and Diu | 618 |
| | India | 943 |
>>>>>>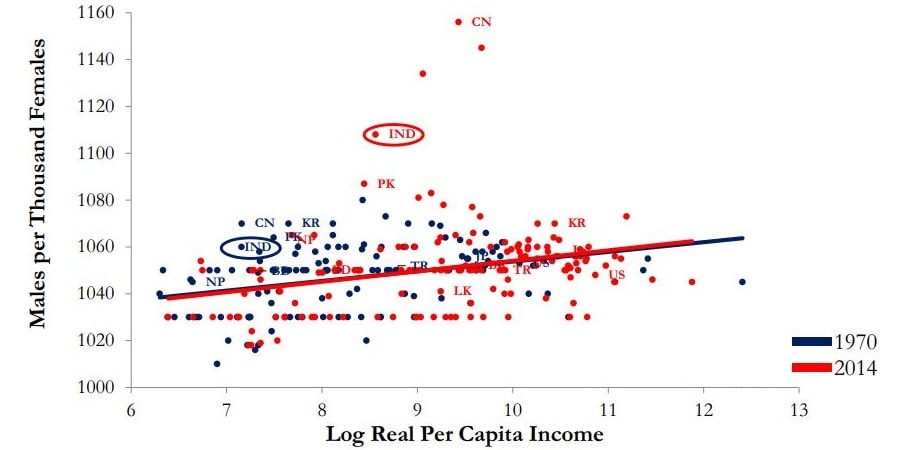 >>>>>>>
District 

Data of Census of India 2011
Largest District in India
| Rank | Largest District | State | Area (Sq Km) |
| --- | --- | --- | --- |
| 1 | Kachchh | Gujarat | 45652 |
| 2 | Leh | J & K | 45110 |
| 3 | Jaisalmer | Rajasthan | 39313 |
| 4 | Bikaner | Rajasthan | 28466 |
| 5 | Barmer | Rajasthan | 28393 |
| | Smallest District | State | Area (Sq Km) |
| 1 | Mahe | Puducherry | 9 |
| 2 | Central Delhi | Delhi | 23 |
| 3 | Lakshadweep | Lakshadweep | 32 |
| 4 | Yanam | Puducherry | 17 |
| 5 | New Delhi | Delhi | 35 |
Most Populated District in India
| Rank  | Most Populated District |  State | Population |
| --- | --- | --- | --- |
| 1 | Thane | Maharashtra | 11060148 |
| 2 | North 24 Parganas | West Bengal | 10009781 |
| 3 | Bangalore | Karnataka | 9621551 |
| 4 | Pune | Maharashtra | 9429408 |
| 5 | Mumbai Suburban | Maharashtra | 9356962 |
| 6 | South 24 Parganas | West Bengal | 8161961 |
| 7 | Barddhaman | West Bengal | 7717563 |
| 8 | Ahmadabad | Gujarat | 7214225 |
| 9 | Murshidabad | West Bengal | 7103807 |
| 10 | Jaipur | Rajasthan | 6626178 |
| | Least Populated District | State | Population |
| 1 | Dibang Valley | Arunachal Pradesh | 8004 |
| 2 | Anjaw | Arunachal Pradesh | 21167 |
| 3 | Lahul and Spiti | Himachal Pradesh | 31564 |
| 4 | Upper Siang | Arunachal Pradesh | 35320 |
| 5 | Nicobars | A & N | 36842 |
Densely Populated Districts
| Rank | Most Densely | State | Density (Sq Km) |
| --- | --- | --- | --- |
| 1 | North East Delhi | Delhi | 36155 |
| 2 | Central Delhi | Delhi | 27730 |
| 3 | East Delhi | Delhi | 27132 |
| 4 | Chennai | Tamil Nadu | 26553 |
| 5 | Kolkata | West Bengal | 24306 |
| | Least Densely | State | Density (Sq Km) |
| 1 | Dibang Valley | Arunachal Pradesh | 1 |
| 2 | Lahul and Spiti | Himachal Pradesh | 2 |
| 3 | Anjaw | Arunachal Pradesh | 3 |
| 4 | Leh | J & K | 3 |
| 5 | Upper Siang | Arunachal Pradesh | 5 |
Sex Ratio in India – District wise
| Rank | Highest Sex Ratio | State | Female/1000 Male |
| --- | --- | --- | --- |
| 1 | Mahe | Puducherry | 1184 |
| 2 | Almora | Uttarakhand | 1139 |
| 3 | Kannur | Kerala | 1136 |
| 4 | Pathanamthitta | Kerala | 1132 |
| 5 | Ratnagiri | Maharashtra | 1122 |
| | Lowest Sex Ratio | State | Female/1000 Male |
| 1 | Daman | Daman and Diu | 534 |
| 2 | Leh | Jammu and Kashmir | 690 |
| 3 | Tawang | Arunachal Pradesh | 714 |
| 4 | North Sikkim | Sikkim | 767 |
| 5 | Dadra and Nagar Haveli | Dadra and Nagar Haveli | 774 |
Literacy Rate in India – District wise
| | Highest Literacy Rate | State  | Literacy % |
| --- | --- | --- | --- |
| 1 | Serchhip | Mizoram | 97.91 % |
| 2 | Aizawl | Mizoram | 97.89 % |
| 3 | Mahe | Puducherry | 97.87 % |
| 4 | Kottayam | Kerala | 97.21 % |
| 5 | Pathanamthitta | Kerala | 96.55 % |
| | Lowest Literacy Rate | State | Literacy % |
| 1 | Alirajpur | Madhya Pradesh | 36.1 % |
| 2 | Bijapur | Chhattisgarh | 40.86 % |
| 3 | Dantewada | Chhattisgarh | 42.12 % |
| 4 | Jhabua | Madhya Pradesh | 43.3 % |
| 5 | Nabarangapur | Orissa | 46.43 % |
>>>>>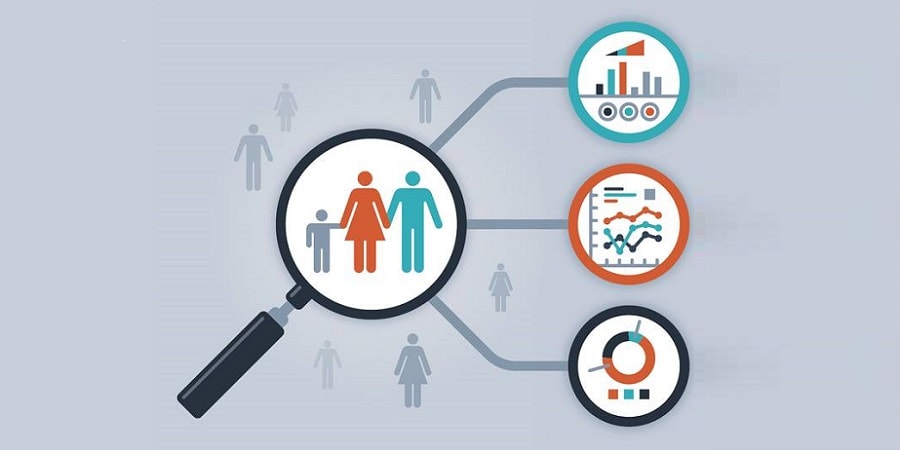 >>>>>
Urban Area Census
For the Census of India 2011, the definition of urban area is as follows
All places with a municipality, corporation, cantonment board or notified town area committee, etc.
All other places which satisfied the following criteria


A minimum population of 5,000
At least 75% of the male main working population engaged in non-agricultural pursuits
A density of population of at least 400 persons per sq. km
>>>>>>
Largest Cities in India
| | Metropolitan >10 Lac | State | Population |
| --- | --- | --- | --- |
| 1 | Mumbai | Maharashtra | 18394912 |
| 2 | Delhi | Delhi | 16349831 |
| 3 | Kolkata | West Bengal | 14035959 |
| 4 | Chennai | Tamil Nadu | 8653521 |
| 5 | Bangalore | Karnataka | 8520435 |
| 6 | Hyderabad | Andhra Pradesh | 7674689 |
| 7 | Ahmedabad | Gujarat | 6361084 |
| 8 | Pune | Maharashtra | 5057709 |
| 9 | Surat | Gujarat | 4591246 |
| 10 | Kanpur | Uttar Pradesh | 2920496 |
| | Total Metropolitan in India | 53 Metropolitan | |
| | City > 1 Lac | State | Population |
| 1 | Mumbai | Maharashtra | 12442373 |
| 2 | Delhi | Delhi | 11034555 |
| 3 | Bangalore | Karnataka | 8443675 |
| 4 | Hyderabad | Andhra Pradesh | 6731790 |
| 5 | Ahmedabad | Gujarat | 5577940 |
| 6 | Chennai | Tamil Nadu | 4646732 |
| 7 | Kolkata | West Bengal | 4496694 |
| 8 | Surat | Gujarat | 4467797 |
| 9 | Pune | Maharashtra | 3124458 |
| 10 | Jaipur | Rajasthan | 3046163 |
| | Total Cities in India | 498 Cities | |
>>>>>>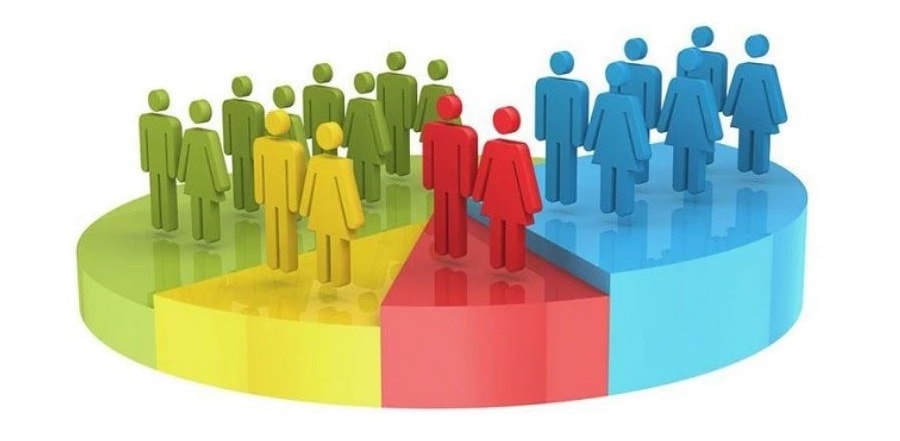 >>>>>>
Socio Economic Caste Census
Religion Census
| Religion | % of Total Population | Estimated Population | State Majority |
| --- | --- | --- | --- |
| Hindu | 79.80% | 96.62 Cr. | 28 |
| Muslim | 14.23% | 17.22 Cr. | 2 |
| Christian | 2.30% | 2.78 Cr. | 4 |
| Sikh | 1.72% | 2.08 Cr. | 1 |
| Buddhist | 0.70% | 84.43 Lakhs | |
| Jain | 0.37% | 44.52 Lakhs | |
| Other Religion | 0.66% | 79.38 Lakhs | |
| Not Stated | 0.24% | 28.67 Lakhs | |
State wise Religion Census
| State | Hindu % of Total | |
| --- | --- | --- |
| Himachal Pradesh | 0.9517 | Highest |
| | Muslim % of Total | |
| Lakshadweep | 0.9658 | Majority |
| Jammu and Kashmir | 0.6831 | Majority |
| Assam | 0.3422 | |
| West Bengal | 0.2701 | |
| Kerala | 0.2656 | |
| | Christian % of Total | |
| Nagaland | 0.8793 | Majority |
| Mizoram | 0.8716 | Majority |
| Meghalaya | 0.7459 | Majority |
| Manipur | 0.4129 | |
| Arunachal Pradesh | 0.3026 | Majority |
| | Buddhist % of Total | |
| Sikkim | 0.2739 | |
| Arunachal Pradesh | 0.1177 | |
| | Jain % of Total | |
| Maharashtra | 0.0125 | |
SC Population in India – State wise
| | Highest Population in Total | SC Population | % of Total |
| --- | --- | --- | --- |
| 1 | Uttar Pradesh | 41357608 | 0.207 |
| 2 | West Bengal | 21463270 | 0.235 |
| 3 | Bihar | 16567325 | 0.159 |
| 4 | Tamil Nadu | 14438445 | 0.2 |
| 5 | Andhra Pradesh | 13878078 | 0.164 |
| | India | 201378372 | 0.166 |
| | Lowest Population | SC Population | % of Total |
| | Arunachal Pradesh | 0 | |
| | Nagaland | 0 | |
| | Highest Population in % | SC Population % | |
| 1 | Punjab | 31.9% | |
| 2 | Himachal Pradesh | 25.2% | |
| 3 | West Bengal | 23.5% | |
| 4 | Uttar Pradesh | 20.7% | |
| 5 | Haryana | 20.2% | |
| 6 | Tamilnadu | 20.0% | |
ST Population in India
– State wise
| Rank | Highest Population in Total | ST Population | % of Total |
| --- | --- | --- | --- |
| 1 | Madhya Pradesh | 15316784 | 21.1% |
| 2 | Maharashtra | 10510213 | 9.4% |
| 3 | Orissa | 9590756 | 8.5% |
| 4 | Rajasthan | 9238534 | 13.5% |
| 5 | Gujrat | 8917174 | 14.8% |
| 6 | Jharkhand | 8645042 | 26.2% |
| 7 | Chhattisgarh | 1743277 | 6.8% |
| | West Bengal | | 5.8% |
| | India | 104545716 | 8.6% |
| | Lowest ST Population | | |
| | Punjab | 0 | |
| | Chandigarh | 0 | |
| | Haryana | 0 | |
| | Highest ST Population in % | % of Total | |
| 1 | Mizoram | 94.4% | |
| 2 | Nagaland | 86.5% | |
| 3 | Meghalaya | 86.1% | |
| 4 | Arunachal Pradesh | 68.8% | |
| | UT | % of Total | |
| 1 | Lakshadeep | 94.8% | |
Data Source