March 7, 2019
Chalukya Dynasty and Pallava Dynasty
chalukya dynasty and pallava dynasty
Chalukya Dynasty
There were three distinct but related Chalukya dynasties.
Chalukyas of Badami

The Vakatakas were followed by the Chalukyas of Badami.
They played a prominent role in the history of south India for about two centuries
Chalukya dynasty of Badami started rule in the beginning of 6th century
They set up their kingdom in western Deccan
Their capital was at Vatapi (modern Badami in Karnataka).

Eastern Chalukya Dynasty

Emerged after the death of Pulakesin II in Eastern Deccan with capital at Vengi.
They ruled till the 11th century.

Western Chalukya Dynasty

Descendants of the Badami Chalukya
They emerged in the late 10th century and ruled from Kalyani (modern day Basavakanlyan).
>>>>>>>>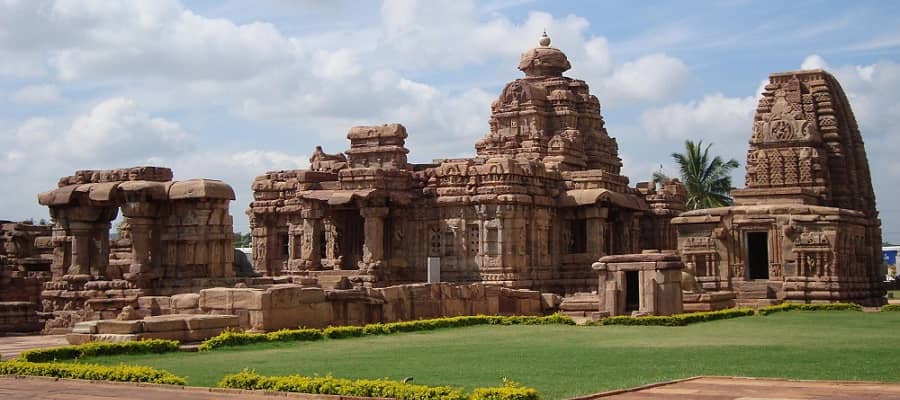 >>>>>>>>
Rulers of Chalukys of Badami
Jayasimha was the first ruler of the Chalukya dynasty.
>>>>>>>>
Pulakesin I (543 – 566)
He founded the empire with the capital at Vatapi.
Pulakesin I performed Ashwamedha.
>>>>>>>>
Kirtivarman I (566– 559)
He was the son of Pulakesin I.
Kirtivarman I conquered Konkan and northern Kerala.
>>>>>>>>
Mangalesha (597 – 609)
Brother of Kirtivarman I.
He conquered the Kadambas and the Gangas.
He was killed by his nephew and son of Kirtivarman, Pulakesin II.
>>>>>>>>
Pulakesin II (609 – 642)
Pulakesin II was the greatest king of Chalukya dynasty.
Extended the Chalukyas rule to most parts of the Deccan.
Information about Pulakesin II is obtained from the Aihole inscription dated 634.
This poetic inscription was written by his court poet Ravikirti in Sanskrit language using the Kannada script.
Hiuen Tsang visited his kingdom.
He has praised Pulakesin II as a good and authoritative king.
Though a Hindu, he was tolerant of Buddhism and Jainism.
Pulakesin II is famous for stopping king Harsha on banks of Narmada, while he was trying to conquer southern parts of the country.
He had defeated the Pallava king Mahendravarman I but was defeated and killed by Mahendravarman's son and successor Narasimhavarman I.
For the next 13 years, Badami remained under Pallava control.
Pulakesin II received a Persian mission as depicted in an Ajanta cave painting.
He maintained diplomatic relations with the King of Persia Khusru II.
>>>>>>>>
Vikramaditya I (655 – 680)
Vikramaditya I was the son of Pulakesin II.
He plundered Kanchi, the capital of the Pallavas.
>>>>>>>>
Vikramaditya II (733 – 744)
>>>>>>>>
Kirtivarman II (744 – 755)
>>>>>>>>
>>>>>>>>
Chalukya Art & Architecture
Chalukya dynasty developed Deccan or Vesara style of temple building.
They mostly used locally found reddish-golden sandstone in their monuments.
Most of the temples were concentrated in Aihole, Badami, Pattadakal and Mahakuta in modern Karnataka.
Virupaksha Temple and Bhutanatha group of temples at Badami are also from this period.
Much of the paintings and sculpture of the Ajanta and Ellora caves were completed during period of Chalukya dynasty.
>>>>>>>>>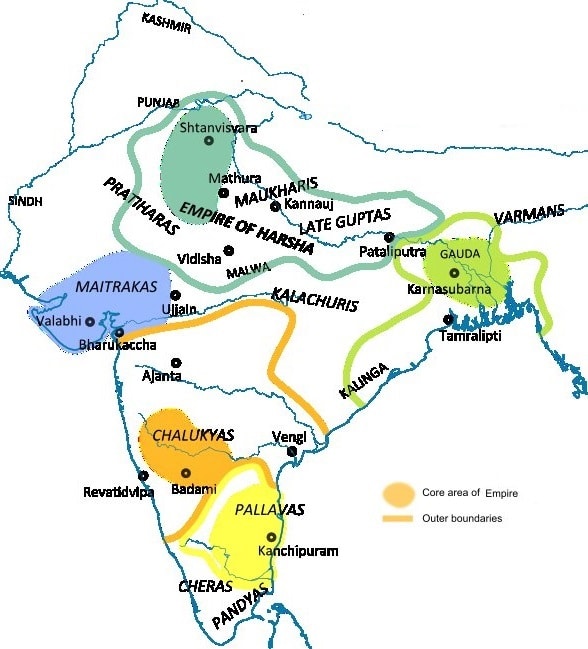 >>>>>>>
Pallava Dynasty
Origins
There are several theories propounded by historians about Pallava dynasty
Some historians say they are a branch of the Pahlavas of the Parthians who moved to the South.
Some say they are an indigenous dynasty that arose within the Southern region and were a mix of various tribes.
Some experts believe them to be of Naga origin who first settled around the Tondaimandalam region near Madras.
Another theory says that they are descendent from a Chola prince and a Naga princess of Manipallavam.
Some others are of the opinion that the Pallavas were feudatories of the Satavahanas.
The first Pallava kings ruled during the beginning of the 4th century AD.
By the 7th century AD, there were three kingdoms in southern India vying for supremacy

Chalukya of Badami
Pandyas of Madurai
Pallavas of Kanchipuram
>>>>>>>>
Extent
The Pallava dynasty capital was Kanchipuram.
Their territories at the height of their powers extended from northern part of Andhra Pradesh to River Kaveri in the South.
During the seventh century, the Cholas were reduced to a marginal state by the authority of the Pallavas.
>>>>>>>>
>>>>>>>>
Pallava Dynasty Rulers
Sivaskanda Varman
Sivaskanda Varman was the greatest among the early rulers of Pallava dynasty.
He ruled in the beginning of the 4th century AD.
He Performed Ashwamedha and other Vedic sacrifices.
>>>>>>>
Simhavishnu (575 – 600)
Simhavishnu was the first important ruler of Pallava dynasty.
He also known as Simhavarman.
He followed Vaishnavism as religion.
Simhavishnu included Sri Lanka in his kingdom.
He defeated the contemporary Tamil Kalabhras ruler.
Pallava dynasty history assumes a definite character from this ruler onward.
>>>>>>>>
Mahendravarman (600 – 630)
Succeeded Simhavishnu who was his father.
Mahendravarman was a poet and composed Vichitrachita and Mahavilasa Prahasana.
He introduced rock cut temple architecture.
The Pallavas and Chalukyas rivalry began in his time.
He had ongoing rivalry and battles with Pulakesin II of Chalukya dynasty.
Mahendravarman died in battle with the Chalukyas. He was an able and efficient ruler.
>>>>>>>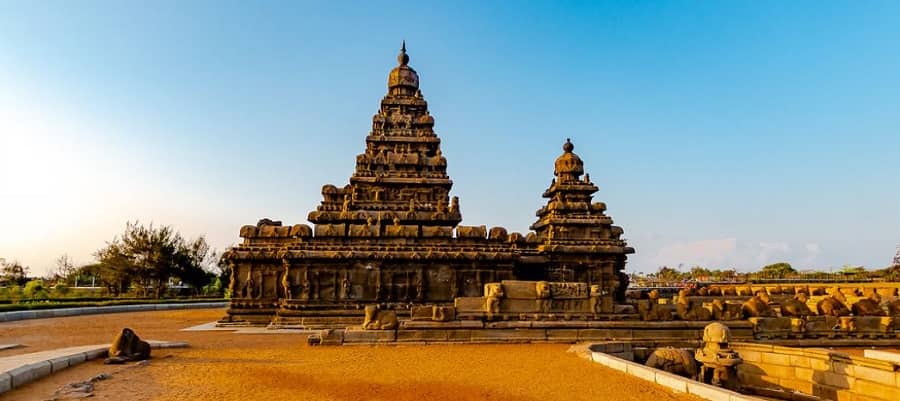 >>>>>>>
Narasimhavarman I (630 – 668)
Narasimhavarman was the son and successor of Mahendravarman.
He is considered as the greatest king of the Pallava dynasty.
He also called as Narasimhavarman Mahamalla/Mamalla.
Narasimhavarman defeated and killed Pulakesin II in 642 AD.
He took control of Vatapi, the Chalukya capital and assumed the title 'Vatapikonda'.
He also vanquished the Cholas, Cheras and the Pandyas.
Narasimhavarman sent a naval expedition to Sri Lanka and reinstated the Sinhalese Prince Manivarma.
He founded the city of Mamallapuram or Mahabalipuram which is named after him.
Pancha Rathas or Ratha temples of Mahabalipuram was carved during the reign of King Narasimhavarman I.
Hiuen Tsang visited the Pallava kingdom during his reign in about 640 AD
Hiuen Tsang also says that, there was an abundance of agricultural products.
Great Nayannar saints like Appar, Tirugnanasambandar and Siruthondar lived during his reign.
Narasimhavarman was succeeded by his son Mahendravarman II.
>>>>>>>>
Narsimhavarman II (695-722)
Narsimhavarman II was also known as Rajasimha.
His rule was peaceful and offered ample opportunities for development of arts.
Dandin was a court poet of Rajasimha.
He constructed Shore temple at Mamallapuram and Kailasanatha at Kanchipuram.
Narsimhavarman II sent embassies to China.
Maritime trade flourished during his reign.
>>>>>>>>
Later Rulers
Parameshwaravarman II and Nandivarman II were the successors
Pallava rule lasted till 9th century A.D.
Aparajita (899 – 903 AD) was the last Pallava ruler was defeated by Aditya I of Chola dynasty.
>>>>>>>>
>>>>>>>>
Kalabhra Uprising
Pallavas, Chalukyas & Kadambas – All 3 were brahaman dynasties.
They followed Brahamanism with vedic sacrifices.
They made numerous land grants to Brahamanas.
Kalbhras patronised Buddhism & Buddhist monasteries.
The Kalabhras were protesting against the numerous land grants (Brahamadeya) to Brahmanas made by the Brahmanic rulers of the three dynasties.
The Kalabhra uprising was crushed by the Pandyas, Chalukyas and the Pallavas jointly.
>>>>>>>>