March 8, 2019
>>>>>>
Chola dynasty was a Tamil dynasty of southern India
They are one of the longest-ruling dynasty in history.
The earliest references of the Chola dynasty can be traced from Sangam Age.
Heartland of the Chola kingdom was the valley of Kaveri River.
>>>>>>>
>>>>>>>>
Chola Dynasty Kings
Vijayalaya Chola (848–871)
Vijayalaya is the founder of Chola Dynasty.

Vijayalaya capture

Tanjore

from Muttarayar, an ally of the Pandyas, around

850 AD.

He founded the temple of Nishumbhasudini (Durga) in Tanjore.

They were

feudatories of the Pallavas.
Aditya Chola (891–907)
He was responsible for murdering his Pallava overlord Aparajita, after defeating him in a battle and occupying the entire Tondaimandalam.
Aditya conquered the Kongu country as well.
He is said to have built Siva temples on both banks of the Kaveri river.
Parantaka I (907–950)
At the start of his reign, Parantaka I invaded the Pandya territory.

Parantaka I assumed title of 'Maduraikonda' (Conqueror of Madurai)

Uttaramerur inscription tells about his region

Krishna Ill, one of the greatest Rashtrakuta rulers, defeated Parantaka in the famous

battle of Takkolam

(near Arkonam) in 949 AD.
Rajaraja Chola I (985–1014)
The real greatness of the Chola kingdom began with Rajaraja Chola I.

Rajaraja Chola I defeated a confederation of the three kingdoms of Pandya, Kerala and Ceylon

He destructed the Anuradhapura after defeating

north Ceylon.

Rajaraja Chola I also annexed the

Maldives

probably for securing the trade routes of the Indian Ocean.

He built Famous

Rajeshwara / Brihadeshwara temple at Tanjore

(Dravida Style) in 1010 AD.

Rajaraja Chola I encouraged Sailendra ruler of Sri Vijaya (South-EastAsia), to build a Buddhist vihara at Nagapattinam. The vihara was called 'ChudamaniVihara'
Rajendra Chola I (1012–1044)
Rajendra Chola defeated southern Srilanka & annexed whole Srilanka.

He moved to north & Captured till Bengal defeating Mahipala I.

Rajendra Chola assumed title of Gangaikonda chola.

He conquered Malay Peninsula & converted Bay of Bengal to Chola lake for trading purposes with China.

He founded new capital of Chola dynasty

Gangaikondacholapuram

at

Kaveri valley.

Rajendra Chola also b

uilt famous Gangaikondachola Temple (Dravida style) in the new capital of Chola dynasty.

In 1025 Rajendra Chola sent

expedition to Sumatra and Malaya

and defeated ruler of Sri Vijaya empire.

In 1015 and 1033 Rajendra Chola I had sent diplomatic missions to China.
Rajadhiraia (1044–1054)
He suppressed rebellions in Pandya, Kerala and Ceylon kingdoms.

Rajadhiraja performed the virabhisheka (coronation of the victory there and assumed the title of 'Vijayarajendra.
Kulottunga I (1070–1120)
Kulottunga I is the son of Rajaraja Narendra of Vengi and Chola princess Ammangadevi.

He united the

Vengi kingdom with the Chola kingdom.

Kulottunga I sent a large embassy of 72 merchants to China.

Suryavarman Il

, the builder of

Angkor Vat

, sent a precious jewel to Kulottunga who then donated it to the temple of

Chidambaramin 1114 AD.

Last Chola dynasty king was Rajendra Chola III (1246–1279).
>>>>>>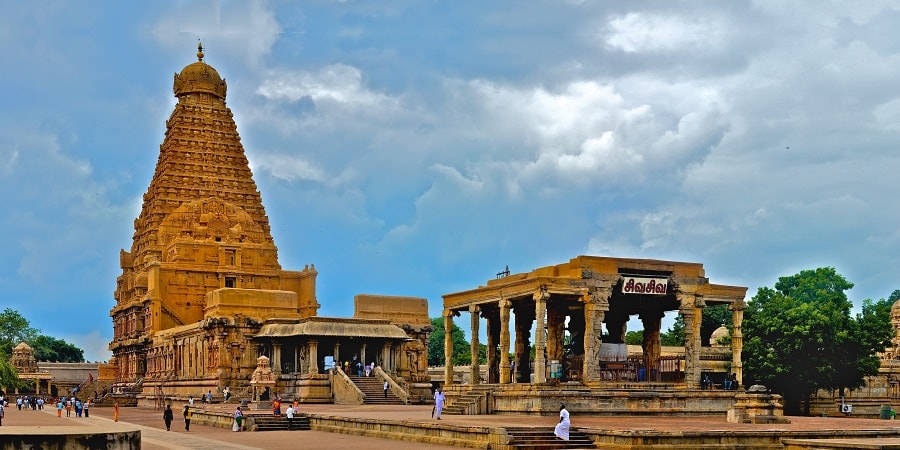 >>>>>>
Chola Administration
Chola Kingdom was divided into Mandalams or provinces.

Mandalams were further divided into Town and Villages.

Autonomous administration for towns and townships, known as tankurrams.

Town

autonomy was quite similar to village autonomy

and both were administered by assemblies.

In the sabha, membership was restricted to the Brahmins of the village, or was found exclusively in a village gifted to Brahmins.

The nagaram was found more commonly in trade centres such as cities and towns.
Public Works in Chola Kingdom
Extensive irrigation works, roads and cities were made in the time of Chola dynasty.

They made artificial lake (16 miles in length) near Gangaikonda Cholapuram, and constructed dams across the

Kaveri river for irrigation purposes.
Trade & Diplomacy of Chola Dynasty
Merchants, who operating locally was called swadesi and called nanadesi, who operated internationally.

The merchants had their own settlements (nagara) with autonomous institutions of local government.

The great ports (pattinam) also had their

guilds

and autonomous institutions.

They financed local development projects, construction of temples, lent money to the Chola kings.

Among the most powerful guilds were the Ayyavole and the Manigramam.

Ayyavole extended to West Asia, while the Manigramam concentrated on trade with South-East Asia.
>>>>>>
Related Post:
Related Post: