March 8, 2019
delhi sultanate slave khilji tughlaq sayyid lodi dynasty
Important Rulers of Delhi Sultanate
Mamluk / Slave / Ilbari (1206-90) – 84 years

Aibak
Iltutmish
Razia
Balban
Kaiqubad

Khilji Dynasty (1290-1320) – 30 years

Jalaluddin
Alauddin
Mubarak
Khusru

Tughluqs Dynasty (1320-1414) – 94 years

Ghiyasuddin
Muhammad bin
Firuz Shah
Mahmud

Sayyids (1414-51) – 37 years
Lodi Dynasty (1451-1526) – 75 years
>>>>>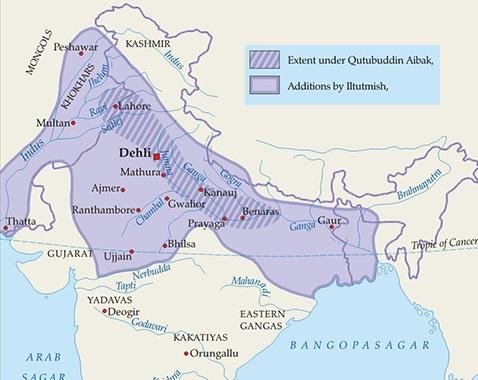 delhi sultanate slave khilji tughlaq sayyid lodi dynasty
Mamluk or Slave Dynasty
Qutb ud din Aibak (1206-10)
Muhammad of Ghori appointed Qutb ud-din Aibak as his commander.
Qutb ud din aibak is the founder of the Mamaluk Dynasty. 
In Quranic term Mamaluk means slave.
He prevented the Shah of Khwarizm from occupying Ghazni and Delhi.
Qutb ud din Aibak also built Adhai Din Ka Jhonpra mosque at Ajmer.
He built Quwwat-ul-Islam Mosque, to the north-east of minar in 1198.
Muslim writers call Aibak Lakh Baksh or giver of lakhs because he gave liberal donations to them.
He patronised Hasan Nizami writer of Taj-ul-Maassir.
>>>>>>>
delhi sultanate slave khilji tughlaq sayyid lodi dynasty
Iltutmish (1211-36)
Iltutmish was sold as slave to Qutb-ud-din-Aibak and later become son-in-law of Aibak.
He killed Aram Shah, the son of Aibak and became king in 1211.
Iltutmish was the real founder of Turkish Kingdom in India.
He captured Bihar and Bengal.
Iltutmish put down the revolt of Khilji Maliks of Bengal in 1230.
His authority recognised by Caliph of Baghdad in 1229, he received the mansur (letter of recognition).
Iltutmish nominated his daughter Raziah as his successor before his death. 
He set up Iqta system under Iqtadars or Muqtis.
Their duties were to lead military campaigns and maintain law and order in their Iqtas.
Iltutmish's army was maintained by Chahalgani or Chalisa or 'A Group of Forty'.
He was the first Turkish ruler to introduce Arabic coinage.
Tanka – silver coin, an Arabic inscription on it and Jital – Copper coin.
He patronised Minhaj-i-Siraj – writer of Tahaqqat-i-Nasuri.
>>>>>>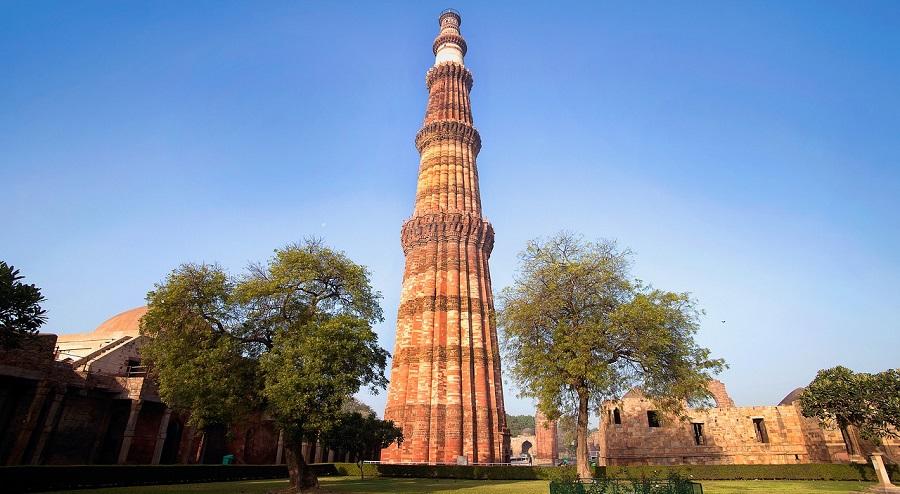 Qutub Minar
In 1192, Qutb ud din aibak  began the construction of Qutb Minar Mehrauli area in Delhi.
Iltutmish completed the construction of the minar.
It was named in the memory of sufi saint Qutbuddin Bakhtiar Kaki.
It is the tallest minaret in the world made up of bricks.
Its design is based on the Minaret of Jam, Afghanistan.
Firoz Shah Tughlaq replaced the damaged storey, and added one more.
Sher Shah Suri also added an entrance to this tower.
>>>>
>>>>
Rukn-ud-din (April-Nov, 1236)
Eldest son of Iltutmish who was put on the throne by nobles.
Another son of Iltutmish rebelled in Avadh Ruknud-din marched out of the capital to suppress the rebellion.
This gave Raziya the opportunity to seize the throne and put her brother to death.
>>>>>
delhi sultanate slave khilji tughlaq sayyid lodi dynasty
Sultana Razia (1236-40)
Raziah was the 1st woman only ruler of medieval India.
She successfully restored the prestige of the Turkish Kingdom in India.
Her rule ended in 1240 because of a conspiracy by the Turkish nobles.
The fall of Raziya made the clique of Turkish nobles dominant in the court, and they started a scramble for supremacy.
>>>>>
>>>>
Bahram Shah (1240-42)
Malik naib or naib-i-mamlakat, who was intended to be the de-facto ruler while the Sultan would only be a de jure ruler.
When Bahram's attempts to assert his authority failed, he was taken captive and put to death.
>>>>
>>>>
Alaud-din Masud (1242-46)
Masud, son of Rukn-ud-din, was made the next Sultan.
Balban conspired with Nasirud-din Mahmud's mother, Malik- i-Jahan, to overthrow Masud.
>>>>
>>>>
Nasir-ud-din Mahmud (1246-64)
He had no alternative but to leave the administration in Balban's hands.
In 1249 the Sultan married Balban's daughter and made him the malik naib (regent).
Balban was also awarded the title of Ulugh (Great) Khan.
According to Isami's Futuh-us-Salatin, Balban later poisoned Nasir-uddin and captured the throne.
>>>>>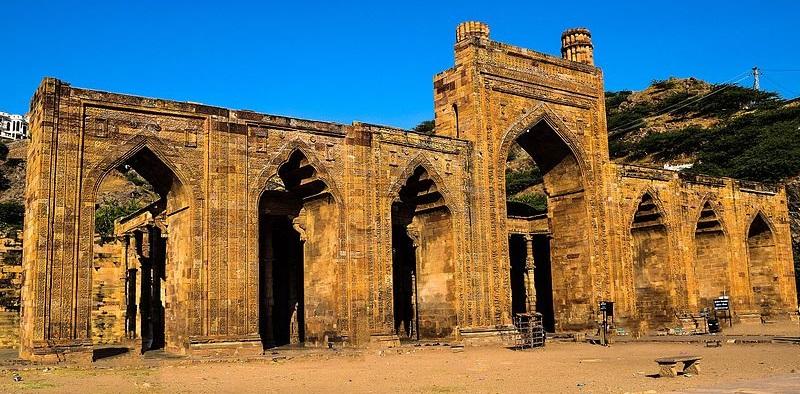 delhi sultanate slave khilji tughlaq sayyid lodi dynasty
Balban (1265-87)
Balban believed in the Divine Right Theory of Kingship (representative of God on earth).
He was one of the most notable of the forty Turkic nobles of Delhi, or the Chalissa.
Balban destroyed the 'Group of Forty'.
He started Iranian method Sijda and Paibos (kissing his feet in the court)  to the court in India.
He also introduced the Persian festival Navroz (meaning New year).
Balban himself called the Niyabat-i-Khudai.
He introduced a well-organized spy system.
A separate military department called Diwan-i-arz was established.
Many military posts were set up at Bhojapur, Patiali, Kampil and Jalali.
Balban suppressed Tughril Khan, who declared his independence and recovered Bengal.
He patronized Amir Khusrau who is called as the 'Parrot of India' and Amir Hasan.
>>>>
>>>>
Kaiqubad
Grandson of Balban succeeded him.
He was soon struck with paralysis and was finally killed by the Khalji maliks.
>>>>
>>>>
Chalisa or Chalgani
After ascending to the throne Iltutmish realised that Turkish nobles were not trustworthy.
They could conspire against sultan to overthrow his rule.
Therefore, Iltutmish had a group of faithful slaves to protect him.
This group was known as Amir-i-Chahalgani or the Forty.
They were assigned important posts and became very influential and powerful as time passed.
After Iltutmish's death, they became notorious and intrigued against nearly all his successors.
They wanted to keep every new ruler under their thumb in order to keep on enjoying the full taste of power.
Balban, one among of the Forty, assumed power.
He fully realised that he could not become the real ruler in presence of other members of the group.
He carefully made a plan and started to eliminate them one by one, not sparing even his cousin.
With the elimination of the Forty, the role of the Turkish slaves in the Indian politics came to an end.
>>>>>
delhi sultanate slave khilji tughlaq sayyid lodi dynasty
Khilji Dynasty
Jalaluddin Khilji (1290-96)
Jalaluddin Khilji was the founder of Khilji Dynasty.
He was the first sultan to have a kind attitude towards Hindus.
Jalaluddin Khilji avoided harsh punishments, even to those who revolted against him.
He was also called as "Clemency Jalal-uddin" as he followed peace and wanted to rule without violence.
Alauddin khilji was his son-in-law and also nephew.
He appointed Ala-ud-din Khilji as the Governor of Kara.
In 1292, Jalal-ud-din defeated the Mongols who had come up to Sunam.
Invasion of the Yadava kingdom was done by his nephew, Ala-ud-din.
It was the first Muslim incursions on Deccan.
Jalal-ud-din was treacherously murdered by Ala-ud-din Khilji his son-in-law.
>>>>>>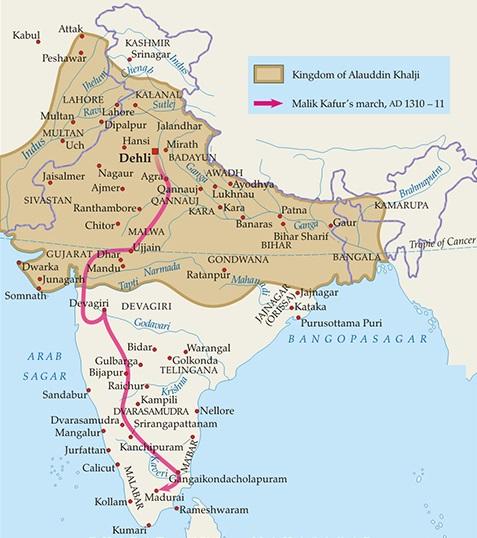 delhi sultanate slave khilji tughlaq sayyid lodi dynasty
Alauddin Khilji  (1296-1316)
Alauddin khilji succeeded Jalal-ud-din Firoz Khilji.
Alauddin khilji's  generals namely, Ulugh Khan and Nusrat Khan conquered Gujarat.
He captured Ranthambore and killed Hamir Deva its ruler.
In 1303 the Sultan himself marched against Chittor.
Chittor rajputs fought valiantly, but finally the ruler, Raja Ratan Singh, submitted.
He also captured Malwa, Dhar, Mandu, Ujjain, Marwar, Chanderi and Jalor.
Alauddin khilji was the 1st Sultan who attacked South India.
He sent his general Malik Kafur against the rulers of the south.
Prataprudra-II of Warangal, Ramachandra Deva, the Yadava king of Devagiri, and Vira Ballala-III the Hoysala king were defeated.
The kingdoms of the south acknowledged the power of Alauddin Khilji and paid his monetary tributes.
Ala-ud-din successfully resisted the Mongol invasion more than 12 times.
He wanted to conquer the whole world.
Alauddin Khilji adopted the title of Sikandar-i-Sani (Alexander the Second).
He constructed a mosque in Rameswaram.
Alauddin khilji constructed a new capital at Siri
He also constructed Alai Darwaza, the Palace of a thousand pillars and the Fort of Siri.
He gave Amir Khusrau the title of Tuti-i-Hind (Parrot of India).
Amir Khusrau and Amir Hasan was in his court.
All grants of tax-free land and seized Muslim religious endowments.
He banned social parties and drinking liquor (were the root causes of rebellion).
Included non-Turks in his service.
>>>>
Military Reforms of Alauddin Khilji
Alauddin khilji was the first to introduced a permanent standing army.
He introduced of dagh, branding of horses.
He also started chahra, descriptive roll of soldiers and insistence on a regular muster of the army.
Alauddin khilji abolished the Iqtas of the royal troopers and started paying the salaries in cash.
He organised an spy system to report all secret transactions in houses of the nobility to the Sultan.
>>>>
Market Control & Economic Reforms
Alauddin khilji introduced strict price-control measures based on production costs.
Merchants have to register themselves for business.
He appointed Shahana-i-mandi (market controller), Barids (intelligence officers), and Munhias (Sultan's secret agents).
Established four separate markets in Delhi for separate commodities.
Growers were ordered to sell their grain for cash in their fields at fixed prices and were not allowed to take any grain home for private sale.
Land revenue was 50% of the gross produce and he eliminated all middle-men.
The diwan-i-mustakhra was the new department for collection of taxes.
Alauddin khilji  started rationing system during drought or times of scarce rainfall.
>>>>>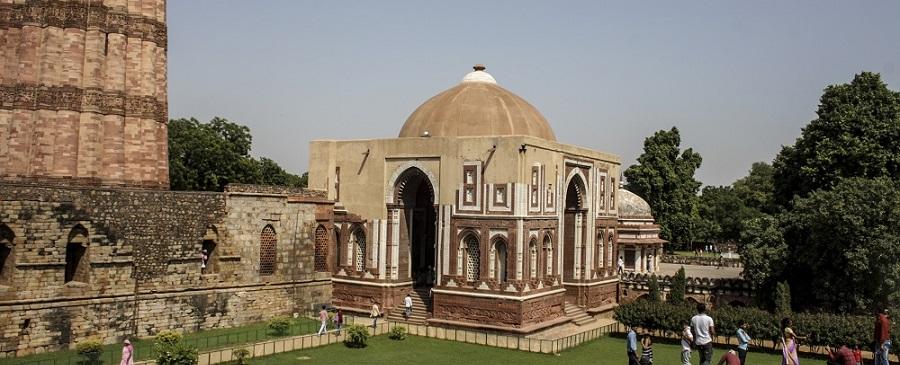 delhi sultanate slave khilji tughlaq sayyid lodi dynasty
Mubarak Shah (1316-1320)
In 1315, Kafur, as regent, seized the reins of government  and imprisoned Mubarak Khan.
The Sultan gave Hasan the title Khusrau Khan and transferred Malik Kafur's iqta and army to him.
>>>
>>>>
Khusrau Shah (1320)
Khusrau sent an army to fight Ghazi Malik.
Khusrau was beheaded, and Ghazi Malik ascended the throne under the title of Ghiyas-ud-din Tughluq.
>>>>>>
delhi sultanate slave khilji tughlaq sayyid lodi dynasty
Malik Kafur
Malik Kafur was the slave general of Alauddin Khilji.
Malik Kafur was originally a Hindu slave who fell into the hands of the Muslims at Cambay after the conquest of Gujarat.
Alauddin's general Nusrat Khan had paid 1,000 dinars to buy him, so Malik Kafur is also known as the "Hazardinari".
Sultan raised him to the position of the 'Vazir' or the Chief Minister for his abilities.
Soon he was made the Commander-in-Chief of the royal forces that were sent for the conquest of the Deccan.
Within a short time he won the Deccan states of Warangal, Dwarasamudra, Devgiri, and Madura.
Because of this achievement his influence over Alauddin Khilji increased abnormally.
Malik Kafur told the Sultan that his wife and sons were conspiring against him and consequently he got Malika Jahan and Alauddin's two sons imprisoned.
Malik Kafur got his rival and heavily punished under the orders of the Sultan.
>>>>>>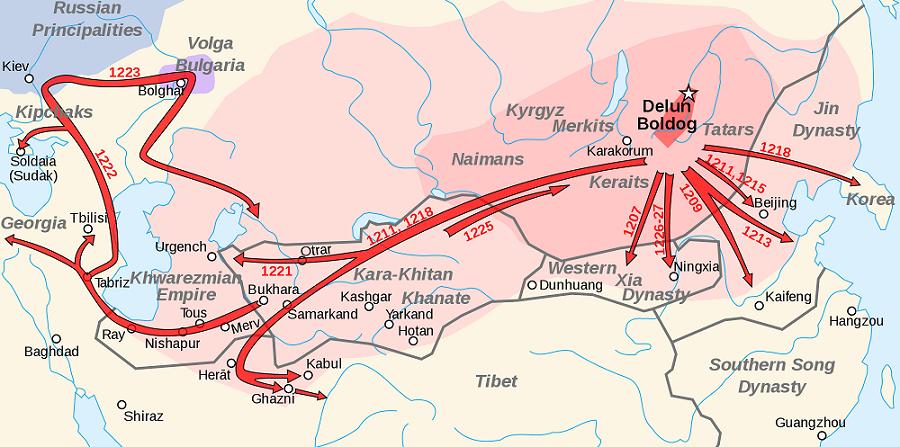 delhi sultanate slave khilji tughlaq sayyid lodi dynasty
Genghis Khan  (1162-1227)
Genghis Khan was born around 1162 and first known as Temujin
Genghis Khan was the son of the chief of the Yakka Mongols.
When he was 10, his father was poisoned and he became chief.
However, the tribe deserted him' and he was forced to live alone, and survived by digging roots for food and  keeping sheep.
Three years later he was able to form alliances and organise an army.
He became famous for his strict discipline and training and for the superiority of his army.
Chingiz Khan invade India in 1221 and defeated Jalal ad-Din in Battle of the Indus.
He never crossed the Indus himself.
He was soon became the ruler of Mongolia, then set out to conquer China.
China was made up of three main empires, Xi Xia, the Qin, and Na-Chung.
He defeated all of them.
Genghis Khan then moved his armies Northward, and defeated the Russian army.
Genghis Khan's Empire was the largest ever established.
It extending from the Caspian Sea to the Sea of Japan, with over 700 tribes and cities under his rule.
>>>>>>>
delhi sultanate slave khilji tughlaq sayyid lodi dynasty
Tughlaq Dynasty
Ghiyasuddin Tughlaq (1320-25)
Ghiyasuddin Tughlaq or Ghazi Malik was the founder of the Tughlaq dynasty.
He gave more importance to postal arrangements, judicial, irrigation, agriculture, and police.
He brought Bengal, Utkala or Orissa, and Warangal under his control.
Ghiyasuddin Tughlaq established the city Tughlaqabad.
In 1325 Ghiyas-ud-din was crushed to death while attending an event for his victories in Bengal.
>>>>>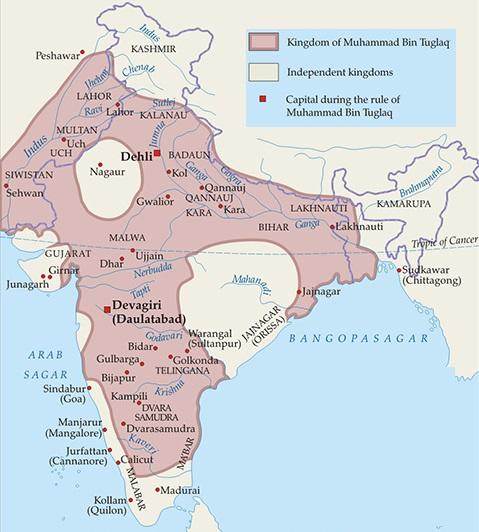 >>>>>
Muhammad bin Tughlaq (1325-51)
Juna khan, (Ulugh Khan) the crown prince sworn the title Muhammad bin Tughluq.
He was the only Delhi Sultan who had received a comprehensive literary, religious and philosophical education, as well as military training.
Muhammad bin Tughlaq stood upright for administrative and political unity of India.
He shifted his capital from Delhi to Devagiri (Daulatabad) to protect his capital in 1327.
Muhammad dispatched an army to the Kangra region in (Qarachil expedition) 1329-30.
After some initial victories in Kangra, the imperial army pressed on to Tibet, where the local hill men annihilated it.
To fill the empty treasury, he raised taxes in the Doab region.
Many people ran away to the forests to avoid heavy taxes.
Due to this cultivation was neglected and severe food shortage occurred.
Sultan has to give advance as Takkavi loans to enable the cultivators to buy seed, to sink wells, and to extend cultivation.
An agriculture ministry called the diwan-i-kohi was established to bring barren land under cultivation.
From 1339, he lived in a camp called 'Svargadvari' for 2½ years on the bank of river Ganga.
Sultan issued bronze (or copper) coins at par with the value of the silver tanka coins.
The value of coins and foreign merchants naturally stopped all business dealings with India.
Hence sultan had to withdraw the copper token currency.
The decline of the Delhi Sultanate is claimed due to his makings of hasty decisions and out defective rules.
>>>>
>>>>
Firoz Shah Tughlaq  (1351-88)
Firoz Shah Tughlaq was the son of of Ghiyas-ud-din Tughlaq's younger brother.
Compensation was paid to the heirs of all those whom Muhammad had executed.
Firoz Shah Tughlaq seized Cuttack and destroyed the Jagannatha temple at Puri.
He established

Department of slaves – Diwan-i-bandagan 
Department of Charity – Diwani-i-kherat
Free Hospitals – Dar-ul-shafa
Employment Bureau and marriage bureaus for poor Muslims

Firoz Shah Tughlaq also set up a separate department of public works. 
He also developed royal factories called karkhanas.
He withdrew all Taquavi (agricultural) loans granted by Mohammed-bin-Tughluq.
Firoz Shah Tughlaq  revived the Iqtadari system and made it hereditary.
Soldiers were given land assignments, and their recruitment was made hereditary.
He was the first Sultan to impose Sharb (irrigation tax).
But at the same time, he built number of canals.
He brought to an end to all unlawful and unjust taxes and collected only four types important taxes

Kharaj- 1/10 of the produce of the land,
Khams- 1/5 of the war booty,
Jizya-Poll Tax,
Zakat-Tax on Muslims for specific religious purposes

Firoz Shah Tughlaq constructed towns like Firozabad Hissar, Jaunpur, and Fatehabad.
He also established Diwan-i-lstibqaq to give financial aid to the poor.
Futuhat-i-Firoz Shahi is an autobiography of Firoz Shah Tughlaq.
He patronized scholar Zia-ud-din Barani.
During his reign a number of Sanskrit books on medicine, science and arts were translated into Persian.
>>>>>

>>>>>
End of Tughlug Dynasty
After Firoz's death the sultanate disintegrated further.
The Sharqi kingdom of Jaunpur came into existence in 1394.
Malwa and Gujarat also broke away.
When Timur arrived on the scene in 1398-99, the fate of the Tughluq dynasty was sealed.
>>>>
>>>>
Timur's Invasion (1398)
The fabulous wealth of Hindustan attracted Timur the ruler of Samarkand.
During the period of Nasir-ud-din Mohammed Tughluq he invaded India.
In 1398 Timur, he captured Delhi and caused annihilation by pillaging and slaughtering people.
>>>>>
delhi sultanate slave khilji tughlaq sayyid lodi dynasty
Sayyid Dynasty (1414-1451)
Khizr Khan (1414-21)
Khizr Khan was the founder of Sayyid Dynasty.
He was the Governor of Multan.
Timur's confinnation enhanced Khizr Khan's prestige and enabled him to capture Delhi.
In 1414 he occupied the throne of Delhi.
>>>>
>>>>
Mubarak Shah (1421-34)
Mubarak Shah crushed the local chiefs of the Doab region and the Khokhars.
He is first Sultan ruler to appoint Hindu nobles in the court of Delhi.
He constructed Mubarakbad City on the banks of the river Jamuna.
>>>>
>>>>
Muhammad Shah (1434-45)
Muhammad Shah defeated the ruler of Malwa with the help of Bahlul Lodi the Governor of Lahore.
He conferred Bahlul Lodi with the title Khan-i-Khanan for helping in defeating the ruler of Malwa.
He was ruling a territory which extended merely forty miles around his capital.
>>>>
>>>>
Ala-ud-din Shah (1445-57)
When he retired to Badaun in 1447, Bahlul Lodhi captured Delhi.
The Sultan did not contest Bahlul's usurpation and formally transferred the sovereignty of Delhi to him in 1451.
The Sayyids had ruled in name only.
>>>>>

delhi sultanate slave khilji tughlaq sayyid lodi dynasty
Lodi Dynasty (1451 -1526)
Bahlul Lodi  (1451-89)
Lodi dynasty was an Afghan dynasty.
Bahlul Lodi was the founder of Lodi Dynasty.
He never sat on the throne and he used to sit on the carpet in front of the throne with his nobles to gain their recognition and support.
>>>>
>>>>
Sikandar Lodi  (1489-1517)
Sikandar Lodi was the son of Bahlul Lodi.
He set up a well-organized spy system.
Sikandar Lodi developed agriculture and industry, and tried to control the market price.
He founded Agra and shifted his capital in the year 1506.
A work on music names "Lahjati-Sikandar Shahi" was created during his reign.
He introduced the system of auditing the accounts.
>>>>
>>>>
Ibrahim Lodi  (1517-26)
Ibrahim Lod was an intolerant and adamant ruler.
He had humiliated many nobles and killed some nobles cruelly.
He also treated his son Dilwar Khan Lodi cruelly.
Daulat Khan of Punjab and Rana Sanga of Mewar, invited Babur the ruler of Kabul to invade India.
Babur invaded in India and defeated Ibrahim Lodi in the 1st battle of Panipat in 1526.
>>>>
>>>>
Ministers to Sultan
Wazir – Prime Minister and Finance Minister
Diwani-I-Risalt – Foreign Affairs Minister
Sadr-us-Suddar – Minister of Islamic Law
Diwan-I-lnsha – Correspondence Minister
Diwan-I-Ariz – Defence or War Minister
Qazi-ul-quzar – Minister of Justice
>>>>
delhi sultanate slave khilji tughlaq sayyid lodi dynasty
Land Revenue System of Delhi Sultanate 
The lands were classified into three categories

Iqta land – Lands assigned to officials
Khalisa land – Land under the direct control of the Sultan
Inam land – Land granted to religious leaders or institutions.

A class of khuts (smaller landlords) and Hindu rais (autonomous rajas) were emerged.
Land tax Kharaj was main source of income to the state.
Alauddin and Muhammad Tughluq took measures to fix land revenue.
Another secular source of income to state was khams or the tax on mines, treasure-troves, etc.
There were many other taxes, irrigation tax, grazing tax, customs and excise from traders and merchants, house-tax, etc.
>>>>>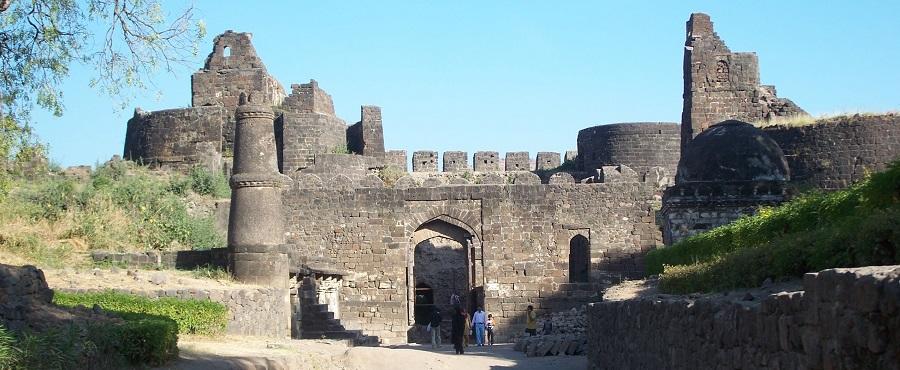 >>>>>
Industries
Cotton Textile Industry Increased production for new techniques, such as spinning wheel, cotton-carder's bow and weaver's treadles.
Silk Industry also had an increase in the production of silk cloth due to the introduction of sericulture.
It made India less dependent on Iran and Afghanistan for raw silk.
Paper Industry in India was started by the Turks and there was an extensive use of paper from the 14th and 15th centuries.
Building Industry Introduction of new techniques, like the vaulted (arched) roofing and the cementing lime, made possible large-roofed brick structures.
>>>>
delhi sultanate slave khilji tughlaq sayyid lodi dynasty
Literature
The Delhi Sultans patronised learning and literature.
Many of them had great love for Arabic and Persian literature.
Learned men came from Persia and Persian language got encouragement from the rulers.
>>>>
Ziauddin Barani
iauddin Barani was son of a government officer.
He was employed at the headquarters for 17 years in the reign of Muhammad Tughluq.
Ziauddin Barani was 74 years old when he completed his work.
Barani's Tarikh-i-Firuz Shahi, named after Firuz shah Tughluq.
It begins with the first year of Balban's reign (1266), leaving a clear gap of six years after the close of the Tabaqat-i-Nasiri, and ends with the sixth year of Firuz Shah Tugluq's reign (1357).
Barani wrote another book, Fatawa-i-Jahandari.
>>>>
Amir Khusrau
Khusrau was born in 1253 in Patiala.
Tuti-i-Hind (Parrot of India) title was given by Allauddin Khilji
Khusrau's father served Sultan Iltutmish in a high position.
With his second collection of verses, Wast-uLHayat, Amir Khusrau's name spread from house to house, wide and far and he came to be known in Persia as well.
The famous poet of Persia, Sa'di sent him compliments.
In Nuh Sipihr (1318), Khusrau's fascination with India's birds and animals, flower, its languages and people finds an impassioned expression.
His spiritual mentor, Nizamuddin Auliya.
delhi sultanate slave khilji tughlaq sayyid lodi dynasty