March 13, 2019
Expansion of British Rule in India
subsidiary alliance doctrine of lapse
The 'first empire' stretching across the Atlantic towards America and the West Indies.
The 'second empire' beginning around 1783 (Peace of Paris) and swinging towards the East-Asia and Africa.
Imperial history of Britain started with the conquest of Ireland in the sixteenth century.
Initially Company officials started acquiring territory just to promote and protect their trade interests.
They came to realize how easily they could pit one local ruler against another and began to interfere in local politics and, in the process, acquired territories.
Later on the British politicians back in Britain and the administrators in India worked on a clear desire to establish an empire.
Process of imperial expansion and consolidation of British paramountcy was carried on by Company during the 1757-1857.
There was 2-fold method

Policy of annexation by conquest or war
Policy of annexation by diplomacy and administrative mechanisms
>>>>>>>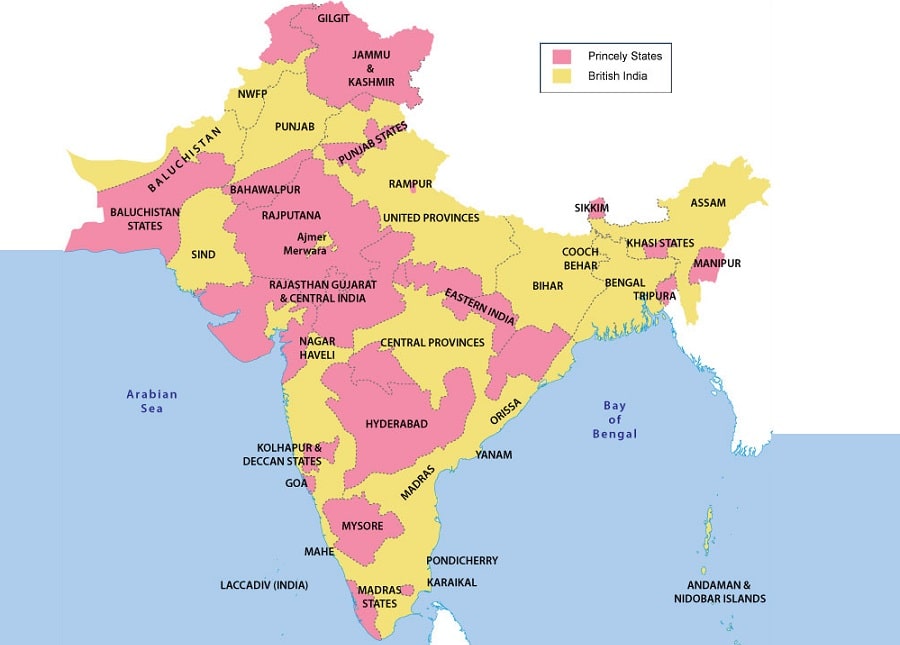 >>>>>>>
Mysore's Resistance to the Company
1st Anglo-Mysore War (1767-69)
1st Anglo-Mysore War started in 1767.
Nizam, the Marathas, and the English allied together against Haidar Ali.
But Haidar Ali trun Nizam and Maratha neutral by his diplomatic skill
He suddenly attacked Madras.
English has to conclude a very humiliating Treaty of Madras, 1769.
1st Anglo-Mysore War came to end with this treaty.
2nd Anglo-Mysore War (1780-84)
Haidar Ali accused the English of breach of faith of the Treaty of Madras when in 1771 Marathas attacked him.
French were much more helpful than the English in meeting his army's requirement of guns, saltpetre and lead.
Haidar Ali considered the English attempt to capture Mahe a direct challenge to his authority.
Haidar Ali forged an anti-English alliance with the Marathas and the Nizam in Anglo-Mysore War.
He suffer a defeat at Porto Novo in November 1781.
Haidar Ali died of cancer on 1782.
His son, Tipu Sultan, carried on war without any positive outcome
Fed up with an inconclusive war, both sides opted for peace, negotiating the Treaty of Mangalore (March, 1784).
2nd Anglo-Mysore War came into end.
>>>>>>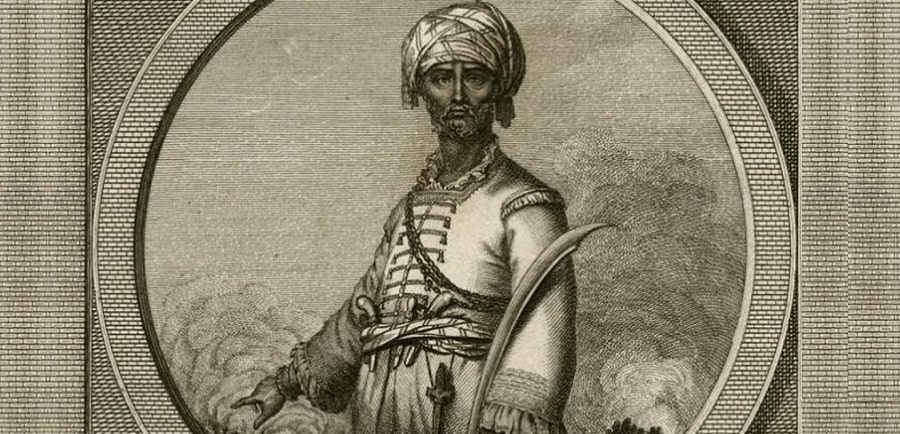 >>>>>>
3rd Anglo-Mysore War (1790-92)
1790, Tipu declared war against Travancore for the restoration of his rights, and 3rd Anglo-Mysore War was started.
1790, Tipu defeated the English under General Meadows.
1791, Cornwallis took the leadership and at the head of a large army marched through Ambur and Vellore to Bangalore and from there to Seringapatam.
With the help of Nizam and Maratha English won against Tipu on the second attempt.
Treaty of Seringapatam 1792 was signed between Tipu Sultan, East India Company, Nizam of Hyderabad, and Maratha Empire.
Tipu Sultan has to surrender half of his territory.
Tipu's two sons were taken as hostages by the Company.
4th Anglo-Mysore War (1799)
In 1798, Lord Wellesley became the new Governor General.
4th Anglo-Mysore War began on April 17, 1799, and ended on May 4, 1799 with the fall of Seringapatam.
Tipu was defeated first by General Stuart and then by General Harris.
Arthur Wellesley, the brother of Lord Wellesley, also participated in the war.
In 4th Anglo-Mysore War, English were again helped by the Marathas and the Nizam.
Tipu laid down his life fighting bravely.
English chose a boy from the earlier Hindu royal family of Mysore (Wodeyars) as the maharaja and imposed on him the subsidiary alliance system.
1831 William Bentinck took control of Mysore on grounds of mis-governance.
1881 Lord Ripon restored the kingdom to its ruler.
>>>>>>
>>>>>>
Anglo-Maratha Struggle
Defeat at Panipat and later the death of the young Peshwa, Madhavrao I, in 1772, weakened power of Peshwas.
English in Bombay wanted to establish a government like Bengal, Bihar and Orissa.
Divided house of the Marathas that encouraged the English to hope for success in their venture.
1st Anglo-Maratha War (1775-82)
After the death of Madhavrao in 1772, his brother Narayanrao succeeded him as the fifth peshwa.
His uncle, Raghunathrao, killed him and named himself as the next peshwa.
Narayanrao's widow, Gangabai, gave birth to a son named 'Sawai' Madhavrao.
12 Maratha chiefs (Barabhai), led by Nana Phadnavis, made the infant as the new peshwa.
Raghunathrao sought help from the English at Bombay and signed the Treaty of Surat in 1775.
Under the treaty, Raghunathrao ceded the territories of Salsette and Bassein to the English etc.
In return, the English were to provide Raghunathrao with 2,500 soldiers.
Battle at Talegaon 1776 was fought in which Marathas led by Nana Phadnavis defeated British.
British Calcutta Council, condemned the Treaty of Surat and sent Colonel Upton to Pune for new treaty.
Treaty of Purandhar, 1776 signed with Raghunath Rao and promising him a pension.
1777, Nana Phadnavis violated his treaty with the Calcutta Council by granting French a port on the west coast.
English and the Maratha armies met on the outskirts of Pune.
English defeated and surrendered in Jan 1779 and signed the Treaty of  Wadgaon.
Warren Hastings rejected the Treaty of Wadgaon and sent a large force of soldiers.
1781 the English, under General Camac, finally defeated Sindhia at Sipri.
Sindhia proposed a new treaty between the Peshwa and the English
Treaty of Salbai, 1782 signed after a 2 years of deadlock and war.
It was ratified by Hastings and Phadnavis.
The treaty guaranteed peace between two sides for 20 years.
English returned all the Maratha territories except Salsette.
English should not offer any further support to Raghunathrao and  Peshwa should grant him a maintenance allowance.
Peshwa should not support any other European nation.
2nd Anglo Maratha War (1803-1805)
After Death of Madhavrao in 1795, Bajirao II son of Raghunathrao, became the Peshwa.
Death of Nana Phadnavis in 1800 gave the British an added advantage.
After his death, Bhonsle defeated Sindhia and Bajirao II.
Baji Rao II fled to Bassein 1802 and signed Subsidiary Alliance treaty with English Treaty of Bassein 1802.
Sindhia and Bhonsle attempted to save Maratha independence.
English under Arthur Wellesley defeated the combined armies of Sindhia and Bhonsle.
They forced to conclude separate subsidiary treaties with the English.
In 1804, Yashwantrao Holkar made an attempt to fight against the English and were defeated

Bhonsle – Treaty of Devgaon, 1803
Sindhia – Treaty of Surajianjangaon, 1803
Holkar – Treaty of Rajpurghat, 1806
Pindari War (1817-18)
Pindaris, made up of many castes and classes, were attached to Maratha armies as mercenaries.
When the Marathas became weak, the Pindaris could not get regular employment.
They started plundering neighbouring territories, including those of the Company.
English troops surrounded them in Malwa region and Gwalior to force surrender.
Pindari leaders like Amir Khan and Karim Khan surrendered while Chitu Khan fled into the jungles.
They was given jobs as police and offered pensions along with land.
>>>>>>>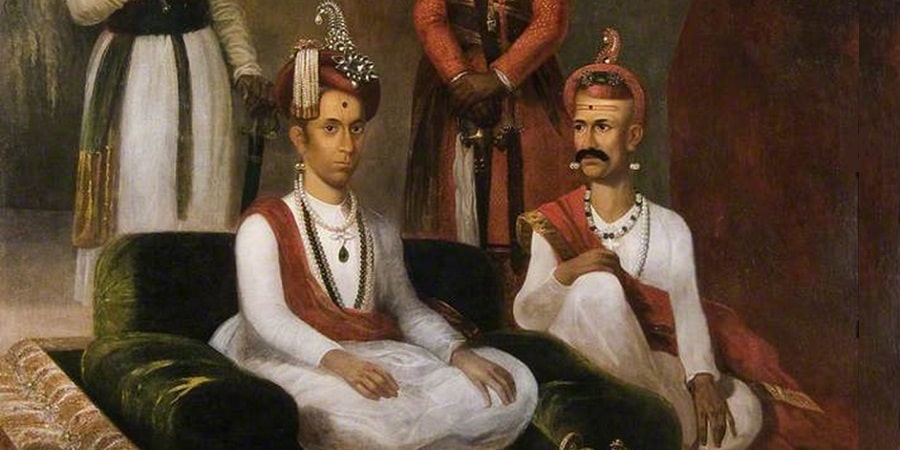 >>>>>>>
3rd Anglo-Maratha War (1817-19)
Bajirao II made a last bid in 1817 by rallying together the Maratha chiefs against the English.
Peshwa attacked the British Residency at Poona.
Appa Sahib of Nagpur attacked the residency at Nagpur.
Peshwa was defeated at Khirki, Bhonsle at Sitabuldi, and Holkar at Mahidpur

Peshwa – Treaty of Poona 1817
Sindhia – Treaty of Gwalior 1817
Holkar – Treaty of Mandasor 1818

Peshwa surrendered and Maratha confederacy and peshwaship was dissolved.
Bajirao II became a British retainer at Bithur near Kanpur.
Pratap Singh, a lineal descendant of Shivaji, was made ruler of a small principality, Satara.
Cause of Marathas Lost
Poor Leadership
Defective Nature of Maratha State

There was no effort, right from the days of Shivaji, for a well thought out organised communal improvement, spread of education or unification of the people.
The rise of the Maratha state was based on the religio-national movement.

Loose Political Setup

Lack of a cooperative spirit among the Maratha chiefs.

Inferior Military System

Marathas were inferior to the English in organisation of the forces, in war weapons, in disciplined action.

Unstable Economic Policy

Maratha leadership failed to evolve a stable economic policy. There were no industries or foreign trade openings.
Superior English Diplomacy and Espionage

The English attacked a 'divided house' which started crumbling after a few pushes.
>>>>>>>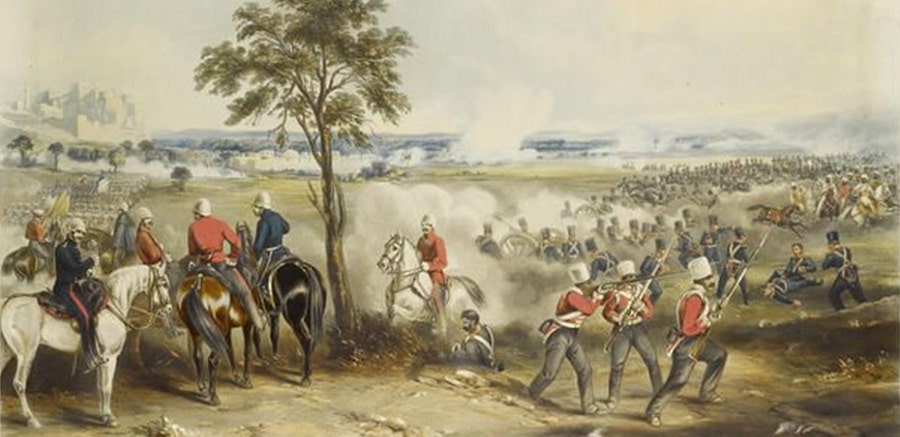 >>>>>>>
Conquest of Sindh
Rise of Talpuras Amirs
Prior to the rule of Talpuras Amirs, Sindh was ruled by the Kallora chiefs.
In 1758, an English factory was built at Thatta, given by the Kallora prince, Ghulam Shah.
He excluded other Europeans from trading there.
In the 1770s, a Baluch tribe called Talpuras, descended from the hills and settled in the plains of Sindh.
In 1783, Talpuras, under the leadership of Mir Fath (Fatah) Ali Khan, established complete hold over Sindh.
They conquered Amarkot from the Raja of Jodhpur, Karachi from the chief of Luz, Shaikarpur and Bukkar from the Afghans.
Gradual Ascendancy over Sindh
Under the influence of Tipu Sultan and local traders Amir in 1800, ordered the British agent to quit Sindh.
In 1807, alliance of Tilsit with Alexander I of Russia was joined by Napoleon Bonaparte.
Alliance had a condition of combined invasion of India by the land route.
British wanted to create a barrier between Russia and British India.
Lord Minto sent Metcalfe to Lahore, Elphinstone to Kabul and Malcolm to Teheran.
Sindh was visited by Nicholas Smith who met the Amirs.
Treaty of eternal friendship was signed.
Both side agreed to exclude the French from Sindh.
Treaty was renewed in 1820 with the addition of an article excluding Americans.
Treaty of 1832 singed between William Bentinck and Amirs.
Free passage through Sindh would be allowed to the English traders and travellers and the use of Indus for trading purposes.
No warships would ply, nor any materials for war would be carried.
No English merchant would settle down in Sindh, and passports would be needed for travellers.
Company persuaded Ranjit Singh to sign Tripartite Treaty of 1838.
As per treaty British will mediation in his disputes with the Amirs.
Sindh Accepts Subsidiary Alliance in 1839.
1st Anglo-Afghan War (1839-42), fought on the soil of Sindh.
Amirs were charged with treasonable activities against the British.
Lord Ellenborough provoked Amirs and people of Sindh into a war.
Amirs were made captives and banished from Sindh in 1843.
Sindh was merged into British Empire.
Charles Napier was its 1st governor.
>>>>>>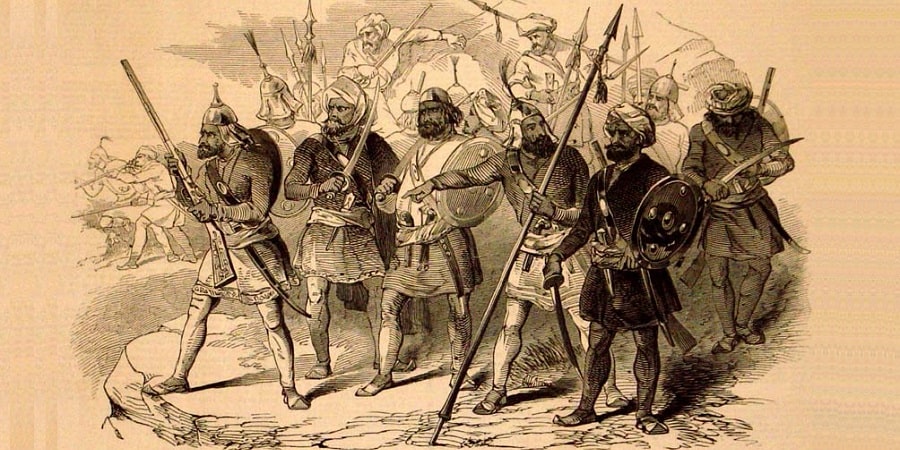 >>>>>>>
Anglo-Sikh War
Punjab After Ranjit Singh
In 1843, Daleep Singh, a minor son of Ranjit Singh,was proclaimed Maharaja with Rani Jindan as regent and Hira Singh Dogra as wazir.
In 1845 Lal Singh won over army to his side and became the wazir.
Teja Singh was appointed as the commander of the forces.
1st Anglo-Sikh War (1845-46)
Death of Maharaja Ranjit Singh resulting in a power struggle for domination between court at Lahore and the ever powerful and increasingly local army.
Suspicions amongst Sikh army arising from English military campaigns to annex of Gwalior and Sindh in 1841 and the campaign in Afghanistan in 1842.
Increase in the number of English troops being stationed near the border with Lahore kingdom.
War began in Dec 1845 with 20,000 to 30,000 troops in the British side, while Sikhs had about 50,000 men.
Treachery of Lal Singh and Teja Singh caused 5 successive defeats to the Sikhs.
Lahore captured by British forces on Feb 1846 without a fight.
Sikhs forced to sign a humiliating Treaty of Lahore, 1846.
Jalandhar Doab (between Beas and Sutlej) was annexed to the Company's dominions.
Strength of the Sikh army was reduced.
Daleep Singh was recognised as the ruler under Rani Jindan as regent and Lal Singh as Wazir.
Since, the Sikhs were not able to pay the entire war indemnity, Kashmir including Jammu was sold to Gulab Singh.
Transfer of Kashmir to Gulab Singh was formalised by a separate treaty.
Sikhs were not satisfied with the Treaty of Lahore over the issue of Kashmir, so they rebelled.
Dec 1846, Treaty of Bhairowal was signed.
According to this Rani Jindan was removed as regent and a council of regency for Punjab was set up.
Council consisted of 8 Sikh sardars presided over by the English Resident, Henry Lawrence.
2nd Anglo-Sikh War (1848-49)
Mulraj, the governor of Multan, was replaced by a new Sikh governor over the issue of increase in annual revenue.
Mulraj revolted and murdered two English officers and new governor.
Sher Singh was sent to suppress the revolt, but he himself joined Mulraj, leading to a mass uprising in Multan.
Lord Dalhousie, a hardcore expansionist, got a reason to annex Punjab completely.
Battle of Ramnagar, Company army led by Hugh Gough.
Battle of Chillianwala, Jan 1849.
Battle of Gujarat, Feb 1849 (Gujarat, small town banks of Jhelum).
Sikh army surrendered at Rawalpindi, and their Afghan allies were chased out of India.
Dalhousie was given thanks of British Parliament and a promotion as Marquess.
Setting up of a three-member board to govern Punjab, comprising of Lawrence brothers (Henry and John) and Charles Mansel.
1853 John Lawrence became 1st chief commissioner.
>>>>>>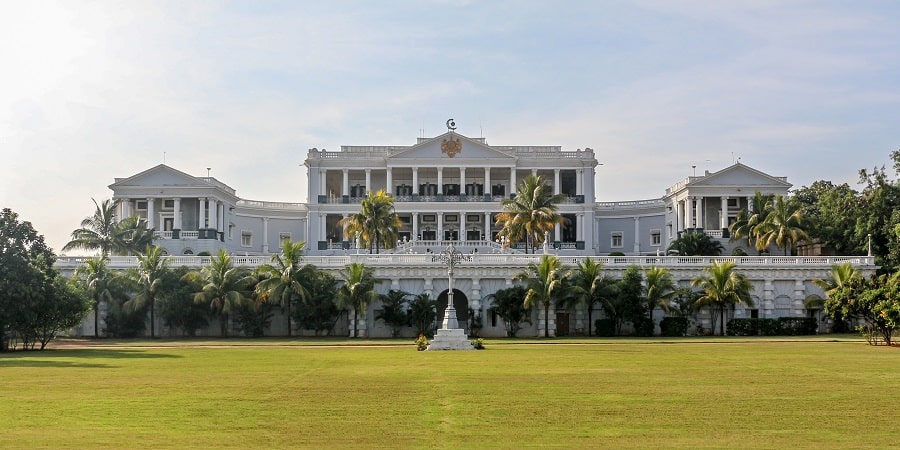 >>>>>>
Expansion of British through Administrative Policy
Policy of Ring-Fence
Warren Hastings followed a policy of ring-fence.
It aimed at creating buffer zones to defend the Company's frontiers.
It reflected in his war against the Marathas and Mysore.
States brought under the ring-fence system were assured of military assistance against external aggression.
But that state has to pay to maintain military forces.
Wellesley's policy of subsidiary alliance was, in fact, an extension of ring-fence system.
Subsidiary Alliance
Subsidiary Alliance policy was used by Lord Wellesley.
Under Subsidiary Alliance system, allying Indian state's ruler has to accept

Keep British force within his territory and pay a subsidy for its maintenance
Posting a British resident in his court
Could not employ any European without approval of British
Could not negotiate with any other Indian ruler without governor general

In return British would defend the ruler from his enemies.
Non-interference in the internal matters of the allied state by British.
During 7 year rule of Wellesley alone, over 100 small and big states of India signed the Subsidiary Alliance treaty.
Evolution & Perfection
Probably Dupleix, who first gave on hire European troops to Indian rulers to fight their wars.
1st Indian state to fall into protection system was Awadh, signed a treaty in 1765.
1787, Company decided that subsidiary alliance state should not have foreign relations.
This was included in the treaty with the Nawab of Carnatic which Cornwallis signed in 1787.
Stages of Application of Subsidiary Alliance
1st stage
In the process of Subsidiary Alliance, company offered to help a friendly Indian state with its troops to fight any war.
2nd stage
It consisted of making a common cause with the Indian state.
Made friendly and taking the field with its own soldiers and those of the state.
3rd stage
When the Indian ally was asked not for men but for money.
Company promised that it would recruit, train, and maintain a fixed number of soldiers under British officers for his state.
All for a fixed sum of money.
4th stage
Money or the protection fee was fixed, usually at a high level.
If state failed to pay money in time, it was asked to cede certain parts of its territories to the Company in lieu of payment.
States which Accepted Subsidiary Alliance
1st to accept Subsidiary Alliance was Nizam of Hyderabad 1798
Ruler of Mysore 1799
Ruler of Tanjore 1799
Nawab of Awadh 1801
Peshwa 1801
Bhonsle Raja of Berar 1803, Sindhia 1804, Rajput states of Jodhpur, Jaipur, Macheri, Bundi and the ruler of Bharatpur 1818
Holkars were last Maratha confederation to accept the Subsidiary Alliance in 1818.
Doctrine of Lapse
Doctrine of Lapse stated that the adopted son could be the heir to his foster father's private property, but not the state.
It was for the British power to decide whether to bestow the state on the adopted son or to annex it.
Doctrine of Lapse was based on Hindu law and Indian customs, but Hindu law seemed to be somewhat inconclusive on this point.
Ranjit Singh had annexed a few of his feudatory principalities on account of 'lapse'.
Kittur state ruled by Queen Chennamma was taken over in 1824 by imposing a 'doctrine of lapse'.
Lord Dalhousie was not its originator, but he made it official by documenting it.
His predecessors had acted on the general principle of avoiding annexation if it could be avoided.
Dalhousie in turn acted on the general principle of annexing if he could do so legitimately.
7 states were annexed under the Doctrine of Lapse Policy

Satara 1848
Jaitpur (Bundelkhand), Sambhalpur (Orissa) 1849
Baghat (south of Sutlej) 1850 – canceled
Udaipur (central province) 1852 – canceled
Jhansi 1853
Nagpur 1854
Tore and Arcot 1855
Lord Dalhousie annexed Awadh in 1856 on the ground of misrule
Court of Directors overruled Doctrine of Lapse to Karauli (Rajputana)
>>>>>>