March 7, 2019
>>>>>>
The Gupta dynasty was kept north India politically united for more than a century.
The original kingdom of the Gupta empire comprised Uttar Pradesh and Bihar at the end of the 3rd century A.D.
They could exploit the iron ores of central India and south Bihar.
Gupta dynasty took advantage of the north Indian silk trade with the Eastern Roman empire (Byzantine empire).
With those favorable factors they set up their rule over Anuganga (the middle Gangetic basin), Prayag, Saketa (modern Ayodhya) and Magadha.
Gupta dynasty period is called the Golden Age of India.
>>>>>>
>>>>>>>
Origin of Gupta Dynasty 
The original homeland of the Guptas is not known for certain.
Gupta dynasty might have originated from Bengal or Prayag.
They are thought to be either Brahmins or Vaishyas.
The founder of the Gupta dynasty is Sri Gupta (240 to 280 AD).
He was succeeded by his son Ghatotkacha (280 to 319 AD).
Both Sri Gupta and Ghatotkacha are mentioned as Maharaja in inscriptions.
Pataliputra was the capital of the Gupta dynasty.
>>>>>>
>>>>>>
Chandragupta I  (320-35)
Chandragupta I was the son of Ghatotkacha.
He enhanced his power and prestige by marrying Kumaradevi, princess of Lichchhavi clan of Nepal.
Chandragupta I issued coins in the joint names of his queen and himself.
He assumed the title of Maharajadhiraja (great king of kings).
He was successful in building a small principality into a great kingdom.
Chandragupta I is considered the first great king of the Gupta Empire.
>>>>>>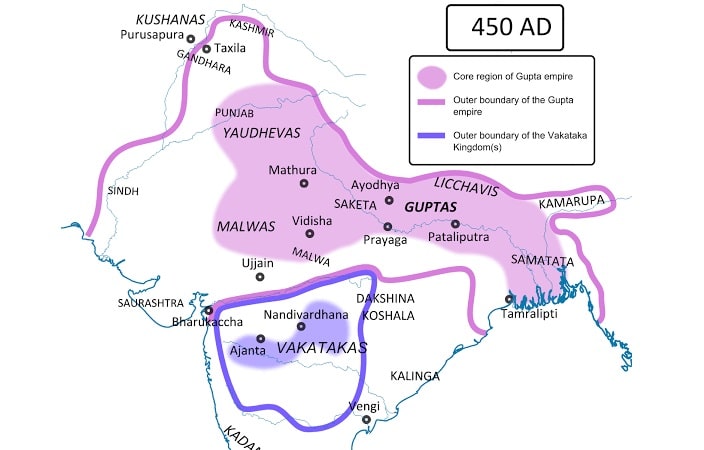 >>>>>>
Samudragupta   (335-80)
Samudragupta was son of Chandragupta I and Licchavi princess Kumaradevi.
As per his inscription, Samudragupta defeated nine kings of the Ganges Valley, twelve kings from the southern region and eighteen forest tribes.
According to Allahabad pillar inscription, Samudragupta received tributes from many kings of south-east Asia.
He was a follower of Vaishnavite Hinduism but was tolerant of other faiths.
Buddhist philosopher Vasubandhu was one of his ministers.
Samudragupta gave permission to the king of Sri Lanka, Meghavarna to build a monastery in Bodh Gaya.
He was also called "Indian Napoleon" by art historian Vincent Smith.
Samudragupta performed Ashvamedha sacrifice.
Hence, one of his coins refers to him as "the restorer of Ashvamedha."
Samudraguptae was also called "Kaviraja" since he composed verses.
His love for music can be seen by his coins that represent him playing on the veena.
Inscriptions of Samudragupta

Allahabad stone pillar
Eran stone pillar
Nalanda copper plate
Gaya copper plate
>>>>>>
Allahabad Pillar Inscription
Allahabad pillar inscription is one of the pillars of Ashoka.
2nd inscriptions done in the time of Samudragupta.
It was scripted by Harisena court poet of Samudragupta.
Allahabad Prasasti is in Sanskrit written in Gupta script (Brahmi).
3rd inscription done in the time of Jahangir.
It is in Persian and carved by Mir Abdullah Mushkin Qalam.
Jahangir's inscription overwrites Ashoka inscription.
>>>>>>
>>>>>>
Chandragupta II (380 – 415 AD)
Chandragupta II was the son of Samudragupta and his queen Dattadevi.
He was also known as 'Vikramaditya'.
He further annexed territories including Saurashtra which gave him the western coastline.
Gupta empire's prosperity grew through trade links with Roman Empires.
Chandragupta II used matrimonial alliances to expand his kingdom.
He also annexed three Satrapa kingdoms and assumed the title Sakari (destroyer of the Sakas).
He defeated the Saka king Rudrasimha III thus acquiring Saurashtra and Kathiawar.
After East and West India, Chandragupta II defeated northern rulers also like the Hunas, Kambojas, Kiratas, etc.
Greatest territorial expansion of the Gupta empire was reached during Chandragupta II reign.
Chandragupta II also exercised indirect control over the Vakataka kingdom.
He was a brilliant conqueror and an able administrator as well.
Like his father, he was a Vaishnavite but was tolerant of other religions.
His other names (as mentioned in coins) include Vikrama, Devagupta, Devaraja, Simhavikrama, Vikramaditya Sakari, etc.
Chandragupta II was the first ruler to issue silver coins.
He also issued copper and gold (dinara) coins .
His court had nine jewels or Navaratnas.

Kalidasa – Classical Sanskrit poet, wrote Abhijananashakuntalam, Meghaduta.
Varahamihira –  Mathematician, author of Brihat Samhita.
Amarasimha – Sanskrit lexicographer, wrote Amarakosha, vocabulary of Sanskrit
Dhanvantri – Physician, the father of Ayurveda
Ghatakarapara – Sculpture
Shanku – Architect
Kahapanaka – An astrologer, wrote the Jyothisyashastra.
Vararuchi – Grammarian, author of the Prakrit Prakasha, first grammar of the Prakrit language.
Vetala Bhatta – A magician, wrote Mantrashastra

Fa-Hien, a Buddhist from China visited India during his reign.
He records the prosperity of the Gupta Empire.
Inscriptions of Chandragupta II

Mehrauli Iron Pillar inscription in Delhi
Udayagiri Cave Inscription in MP
>>>>>>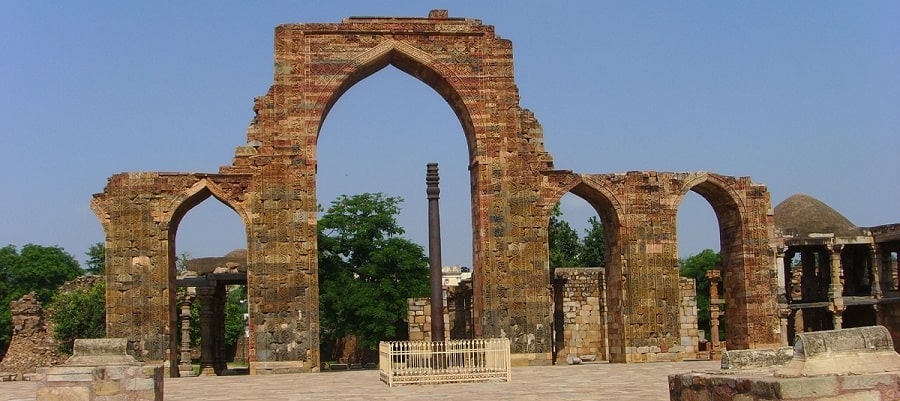 >>>>>>
Kumaragupta I  (415-55)
Kumaragupta was the son and successor of Chandragupta II.
He was the founder of the Nalanda University.
Kumaragupta was a worshipper of lord Karttikeya.
He was also called Shakraditya.
At the end of his reign, a powerful wealthy tribe called the 'Pushyamitras' defeated the Gupta army.
Successive waves of Hun invasion made the Gupta empire very weak.
Inscriptions of Kumaragupta

Bilsad inscription
Damodar Copper plate inscriptions
>>>>>>
>>>>>>
Skandagupta  (455-67)
He was the son of Kumaragupta I.
Skandagupta fought successfully against the Huns and saved the empire.
He adopted the title Vikramaditya.
In his region, the central control weakened and local governors became feudatory kings with hereditary rights.
Inscriptions of Skandagupta

Junagarh Rock inscription
Bhitari Pillar
Indore Stone Pillar
>>>>>>
>>>>>>
Other Gupta Rulers
The Gupta Empire declined after the death of Skandagupta.
Many of his successors like Purugupta, Narasimhagupta, Buddhagupta and Baladitya could not save the Gupta empire from the Huns.
The last recognised king of the Gupta dynasty was Vishnugupta who reigned from 540 to 550 AD.
By the beginning of the sixth century, the empire had disintegrated and was ruled by many regional chieftains.
>>>>>>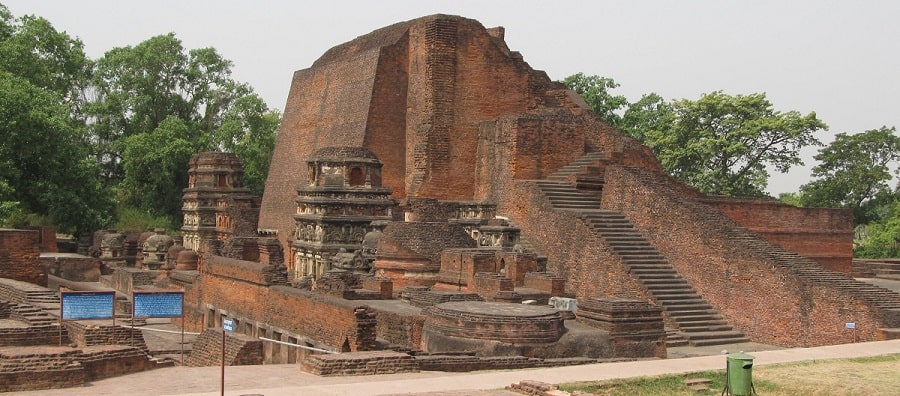 >>>>>
Reasons for Decline of Gupta Empire
Successive Hun Invasions

Hun chief Toramana was able to conquer large parts of western India.
Banabhatta in his Harshcharitra refers to the Huns invasion.

Rise of Feudatories

The power of Gupta dynasty was curbed by the rise of feudatories.

Gradual Decline in Economic Prosperity

Loss of western Indian ports and foreign trade
>>>>>>
>>>>>>
Administration of Gupta Dynasty
The Gupta administration was decentralized in nature and contained many feudatories like local kings and smaller chiefs.
Feudatories post was hereditary in nature.
Provinces in Gupta's period were known as Bhuktis & provincial governors Uparikas.
King maintained close contacts with provincial administration through a class of officials called "Kumaramatyas" & "Ayuktas".
Provinces were divided into districts Vishayas under charge of Vishayapati.
All foreign affairs were looked after by foreign affair minister known as "Sandivigraha".
Villagers were subjected to forced labour called Vishti for serving royal army & officials.
>>>>>>
>>>>>>
Religion & Social Culture
Brahamans formed the top ladder & receive numerous gifts.
Brahamanism reigned supreme during Gupta period & had 2 branches mainly, Vaishnavism & Shaivism.
Vaishnavism was more prevalent (Bhagavatism).
The Chandalas were untouchables.
They lived outside the village and had to maintain distance from the upper castes.
Fahien accounts shows a decline of Budhhism in Gangetic valley but a few Buddhist monks like Vasubandhu were patronised by Gupta kings.
The status of women deteriorated further in the Gupta period.
>>>>>>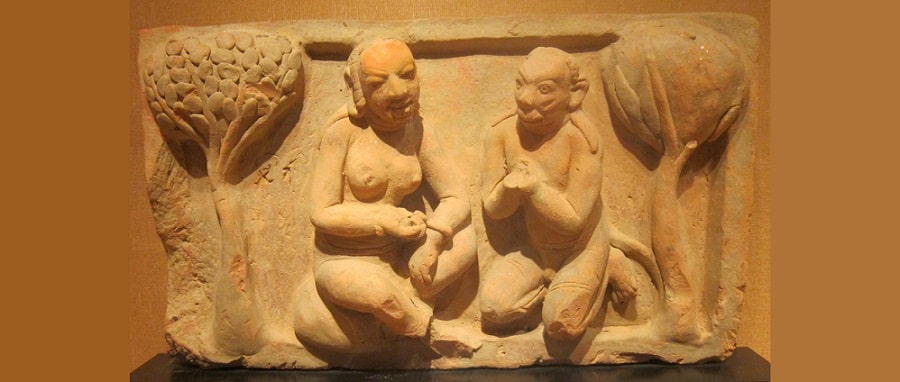 >>>>>>
Literature, Art and Architecture
The literature was written in Sanskrit in this period .
The two epics, the Ramayana and the Mahabharata, were compiled in the 4th century.
The Vishnu Purana, Vayu Purana, and the Matsya Purana were also compiled in Gupta period.
Some great writers were

Shudraka – Writer of the play Mrichchhkatikam
Vishakhadatta – Author of Mudrarakshasa
Bhasa – Writer of Charudatta
Vishnusharman – Author of the Panchatantra

Art of Gupta period was greatly influenced by Buddhism.
The paintings of Ajanta caves are the finest examples of Buddhist art during Gupta period.
Indian temple architecture started in the time of Gupta dynasty.
These temples were made in the Nagara architectural style.
The sculptures pertaining show a continuation of the Mathura and the Gandhara schools.
New styles of art also introduced.
The Bamiyan Buddha sculptures also belonged to this period.
The Gupta coins are also pieces of art.
Coins are well designed and meticulously crafted.
>>>>>>
>>>>>>
Science and Technology
The Gupta period is unparalleled for its achievements in mathematics and astronomy.
Varahamihira's Panchsiddhanta, is the earliest dateable text to use zero both as a symbol and a number.
Aryabhatta

Father of Algebra and the earliest known astronomer of India.
The Suryasiddhanta, was also written by Aryabhatta, contains sine tables.
He was the first to invent zero and to recommend the use of the decimal system.
He was first to discover that the earth rotates on its axis and estimated of the length of a year.
Aryabhatta gave scientific explanation of eclipses.
He laid foundations of trigonometry.
He gave a very accurate value of pi (π)

Brahmagupta

He wrote the Brahmasputasiddhanta (628 CE).
In this book he hinted at the Law of Gravitation.

Sushruta

The famous author of the Sushruta Samhita.
It deals with surgery.

Metallurgy also saw technological advancement in Gupta period.
The iron pillar at Mehrauli, Delhi, standing in the open, and not gathered rust even after 15 centuries.
>>>>>>
>>>>>>
Fa Hien Visit to India
The famous Chinese pilgrim, Fahien (399-414) visited India during the reign of Chandragupta II.
He elaborate account of the life of its people in his book 'Fo–Kyo–Ki'.
Fa Hien came to India by the land route through Khotan, Kashgar, Gandhara and Punjab.
He visited Peshawar, Mathura, Kanauj, Sravasti, Kapilavastu, Kusinagara, Pataliputra, Kasi and Gaya among other places.
He returned by the sea route, visiting on the way Ceylon and Java.
The main purpose of his visit was to see the land of the Buddha and to collect Buddhist manuscripts from India.
He stayed in Pataliputra years studying Sanskrit and copying Buddhist texts.
He refers to the Gangetic valley as the land of Brahmanism.
Fa Hien mentions the unsatisfactory state of some of the Buddhist holy places like Kapilavastu and Kusinagara.
He did not mention the name of Chandragupta II.
Fa Hien was not interested in political affairs and his interest was primarily religion.
>>>>>