March 7, 2019
Pushyabhuti Dynasty – Harshavardhan
>>>>>>>
Pushyabhuti Dynasty
The decline of the Gupta Empire had, resulted in the splitting of northern India into several kingdoms.
Most important of those was Pushyabhuti dynasty.
Harshavardhan was the most important ruler of Pushyabhuti dynasty.
They were feudatory of the Guptas and were known as Vardhans.
Their capital was at Thanesar (near Kurukshetra, Haryana).
Major historical sources of information regarding the Pushyabhuti dynasty

Harshacharita – biography of king Harshavardhan written by Banabhatta.
Si Yu  Ki – written by Chinese pilgrim Hsuan Tsang / Xuanzang.
>>>>>>>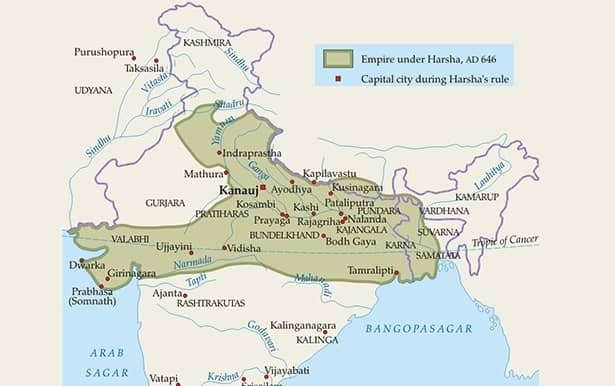 >>>>>>>
Prabhakar Vardhana
Prabhakar Vardhana established marital alliances with the Maukharis of Kannauj
He married Rajyashri, daughter of the Maukhari ruler Grahavarman.
After the death of Prabhakar Vardhana, his elder son Rajya Vardhana came to the throne.
>>>>>>>
Harshavardhan (606 – 647)
Rajyavardhana left the reigns of governance in the hands of Harshavardhan and went for a campaign against the ruler of Malwa, Devagupta and Shashanka, the ruler of Gauda.
Shashanka had imprisoned their sister Rajyashri and killed her husband Grahavarman.
Rajyavardhana defeated the Malwa army and killed Devagupta.
But he was unfortunately killed by Shashanka.
Harshavardhan succeeded Rajyavardhana after his death, at the age of 16.
He forged an alliance with Bhaskaravarman, the Kamarupa king and marched towards Kannauj and rescued his sister Rajyashri.
Kannauj subsequently came under the sovereignty of Pushyabhutis.
Later, Harshavardhan also defeated Shashanka and extended his control over parts of Kongoda in Orissa.
He is known as the last great Hindu king of India.
Harshavardhan was originally a Shaiva but also supported Buddhism.
It is believed that Hiuen Tsang converted him to Mahayana Buddhism.
Harshavardhan prohibited animal slaughter for food in his kingdom.
He was also described as lord of the north (sakalauttarapathanatha).
Banabhatta was his court poet.
Banabhatta wrote Harshacharita and one of the world's earliest novels, Kadambari.
>>>>>>>
Kannauj Assembly
It was presided over by Hiuen Tsang.
20 kings, 1000 scholars of Nalanda University, 3000 Brahmins and Jains attended this assembly at Kannauj.
Hiuen Tsang explained and established superiority of values of Mahayana doctrine over others.
However, violence broke out and an assassination attempt was made on Harshavardhan's life.
>>>>>>>
Allahabad Assembly (Prayag Assembly)
It was held for 75 days, where quinquennial distribution by the king to the people happened.
Hiuen Tsang was invited by king Harshavardhan at Prayag.
Hiuen Tsang writes that Harsha actually gave away everything from the royal treasury.
>>>>>>>
>>>>>>>
Gauda Kingdom
Shashanka (590 – 625)
King Shashanka created the first separate political entity in the Bengal
His capital was at Karnasubarna, present day Murshidabad in West Bengal.
The development of the Bengali calendar is often attributed to Shashanka
Prior to Shashanka, Bengal was divided into three regions, Banga, Samatata and Gauda.
Shashanka rose to power taking the advantage of the weak ruler.
After death of Mahasenagupta, Shashanka drove the later Guptas and other prominent nobles.
He was succeeded by his son, Manava.
However, Gauda kingdom was soon divided amongst Harsha and Bhaskaravarman of Kamarupa.
>>>>>>>
>>>>>>>
Huan Tsang Account
Book – Si Yu  Ki
According to Huan Tsang, dowry & Sati system was  prevalent in Indian society with no system of widow remarriage.
Sudras were known as agriculturist.
Trade declined & less issuance of coins because of political and economic uncertainty.
Grants of land gained popularity.
Thieves at state were met with extreme punishments.
The first written evidence of the Kumbha Mela can be found in Huan Tsang book.
>>>>>>