February 17, 2020
Indus Valley Civilization
>>>>>
The Indus Valley Civilization  forms a part of the proto-history of India.
It belongs to the Bronze Age.
Indus Valley Civilization is older than Chalcolithic civilizations.
In many ways it was far more developed than settlements in the Chalcolithic Age or Copper Age.
>>>>>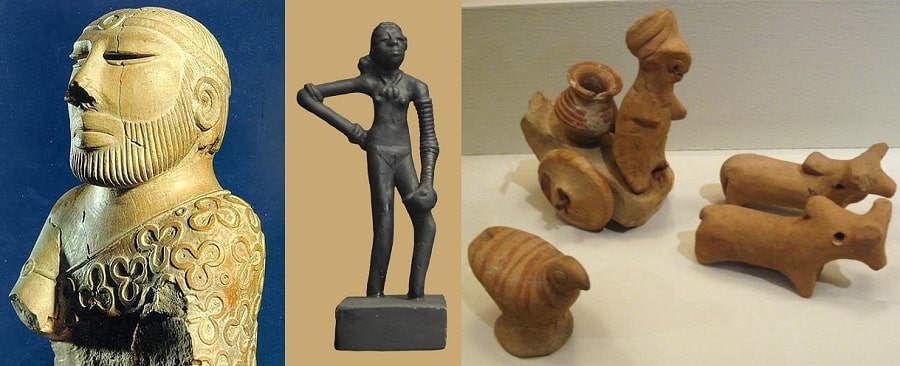 >>>>>>
Phases of the Indus Valley Civilization
The Harappan civilization can be classified in 3 phases

Pre-Harappan phase – 3200 to 2600
Mature Harappan phase – 2600 to 1900
Late Harappan or declining phase – 1900 to 1300 BC

Pre-Harappan civilization has been found at Mehrgarh near Bolan Pass Balochistan, Pakistan.
>>>>>>
>>>>>>
Area of the Indus Valley Civilization
1,400 settlements of this civilization discovered so far.
Those are distributed over a very wide geographical area, almost

East to west – 1,600 km
North to south – 1,400 km

Harappan civilization extent starts from

West – Sutkagendor (Baluchistan)
East – Alamgirpur (Meerut, Uttar Pradesh)
North – Manda (Akhnoor, J&K)
South – Daimabad (Ahmadnagar, Maharashtra)

The total geographical stretch of Harappan civilization is about 1,250,000 sq. km
It was more than 20 times of the area of Egyptian and more than 12 times of the combined area of Egyptian and Mesopotamian civilizations.
Mostly, the Harappan settlements were located on river banks.
Only 40 settlements were located on the Indus and its tributaries.
1,100 (80%) settlements were located on the vast plain between the Indus and the Ganga, comprising mainly the Saraswati river system (no more exist).
>>>>>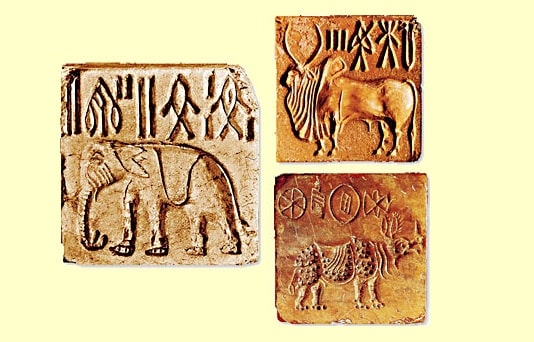 >>>>>>
Indus Valley Sites – North to South
Balu

Banawali

Rakhigarhi

Farmana

Desalpur

Surkotada

Dholavira

Lothal

Rangpur

Malwan

Rojdi

Quetta

Dabar Kot

Judeir-jo-daro

Sukkur

Kot-Diji

Mohenjo-daro

Chanhudaro

Amri
>>>>>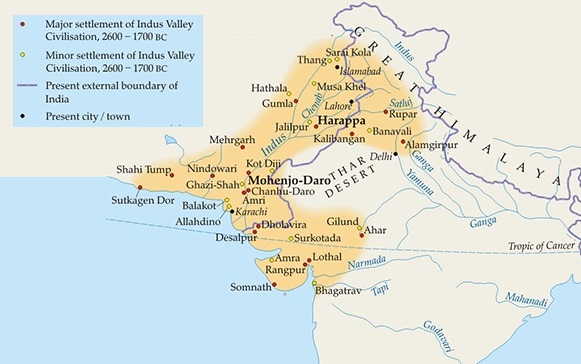 >>>>>>
Indus Valley Sites in India
Kalibangan
Modern location – Hanumangarh, Rajasthan
River banks – Ghaggar-Hakra River
Discovered by Luigi Pio Tessitori
Known as 3rd capital of Indus Empire.
Major findings

World's earliest ploughed field – wooden plough
Evidence of irrigation
Massive brick wall around both citadel and lower town
Decorative bricks used in flooring only at this city
Did not have a drainage system
Fire Altars
Bones of camel
Horse remains (IVC people didn't use horses)
Copper ox
Shiva Lingam
Evidence of earthquake
Pre and mature Harappan civilization
>>>>>>
Lothal
Modern location – Ahmedabad District, Gujarat
River banks – Bhogava & Sabarmati river confluence
Discovered by S. R. Rao (ASI) in 1954.
Major findings

World's earliest known dockyard and port
House had front entrance (exception)
The lower part of the city was walled
Earliest cultivation of rice – remains of rice husks
Evidence of double burial (male and female together)
Ivory weight balance & ivory scale
Seal from Mesopotamia found here
Terracotta model of ship has been found
Copper dog
Bead making factory
>>>>>>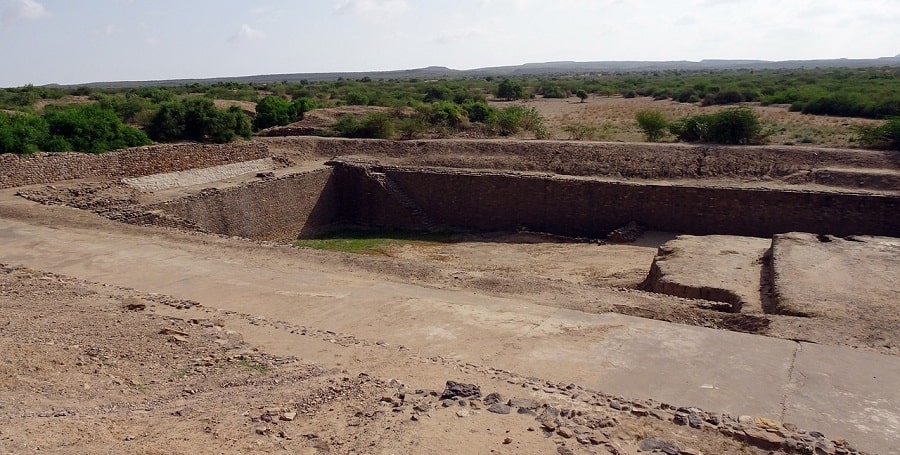 Dholavira
Modern location – Kutch, Gujarat
Discovered by J. P. Joshi (ASI) in 1967-68
5th largest site of Indus Valley Civilization and 2nd in India.
Dholavira located on the Tropic of Cancer
Major findings

Only site to be divided into 3 parts.
Water harnessing system
Giant water reservoir, Dams, Embankments
A stadium
Rock-cut architecture, use of rocks for constructions
Large-scale use of sandstone along with mud brick.
Large letters of the Harappan script (sign boards).
Shows all three phases of Harappan Culture.
>>>>>
Rangpur
Modern location – Saurashtra, Gujarat
River banks – Madar River
Discovered by ASI in 1931
Major findings

Evidence of Rice
Remains of pre-Harappan and Mature Harappan culture
Yellow and grey color pots of pre-Harappan people
Flakes
>>>>>
Surkotada
Modern location – Kutch, Gujarat
Discovered by J. P. Joshi (ASI) in 1964
Major findings

Bones of a horse
Stone covered grave
>>>>>>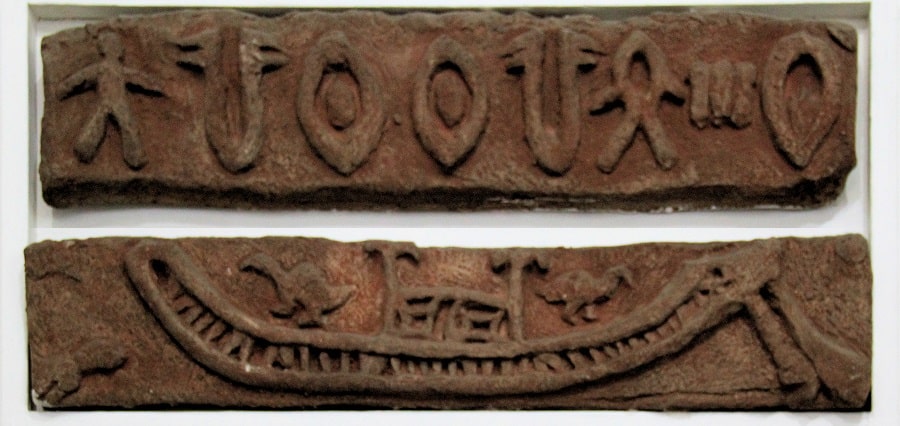 >>>>>>
Ropar
Modern location – Rupnagar, Punjab
River banks – Sutlej river
Major findings

Dog buried with humans.
Buildings made of stone and soil
>>>>>
Banawali
Modern location – Fatehabad, Haryana
River banks – Sarasvati river
Discovered by R.S. Bisht (ASI)
Major findings

Barley Cultivation.
Oval shaped settlement.
Only city with radial streets.
Toy terracotta models of plough.
Centre of pre, Mature and Late Harappan civilization.
>>>>>
Rakhigarhi
Modern location – Hisar, Haryana
River banks – Sarasvati & Ghaggar river
Discovered by ASI in 1963
The largest Indus Valley Civilization site, almost 350 hectares
Major findings

Shows all three phases of Harappan Culture
Female figure similar to the Mohenjodaro 'dancing girl'.
>>>>>
Balu
Modern location – Kaithal, Haryana
Major findings

Earliest evidence of garlic
Remains of rice
>>>>>>
Daimabad
Modern location – Ahmadnagar, Maharashtra
River banks – Pravara River
Discovered by B. P. Bopardikar in 1958
Southernmost site of Indus Valley Civilization
Major findings

Sculpture of bronze buffalo

Sculpture of a bronze chariot

Sculptures contain arsenical alloying
Late-Harappan culture
>>>>>
Manda
Modern location – Jammu, J&K
River banks – Chenab River
Situated in the foothills of Pir Panjal range
Northernmost site of Indus Valley Civilization
Major findings

This site was established to procure wood
>>>>>
Alamgirpur
Modern location – Meerut, UP
River banks – Yamuna River
Discovered by Punjab University in 1974.
Easternmost site of Indus Valley Civilization
Major findings

Impression of cloth on a trough
Late-Harappan culture
>>>>>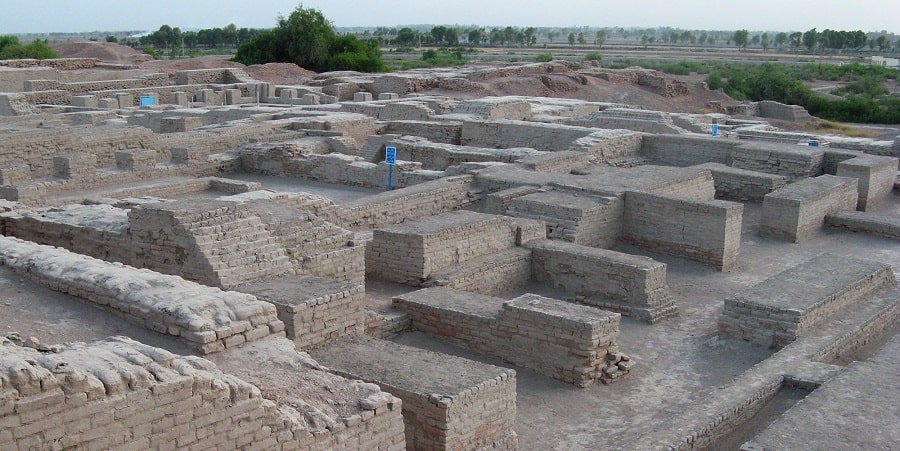 >>>>>
Indus Valley Sites in Pakistan
Harappa
Modern location – Montgomori, Punjab
River banks – Ravi river
Discovered by – Dayaram Sahni in 1921
Charles Mason first noticed the ruins of Harappa in 1826.
Major findings

Seals made out of stones
Two rows of six granaries outside the fort
Coffin burial & Graveyard
Single room barracks
Two red stone idols of dancing girl
Naked bust of male, female genitalia
Evidence of direct trade with Mesopotamia
>>>>>
Mohenjodaro
Modern location – Larkana, Sindh
River banks – Indus river
Discovered by – R. D. Banerji (ASI) in 1922
Mohenjodaro means "Mound of the dead Men".
2nd largest site of Indus Valley Civilization, almost 300 hectares
Major findings

Suddenly destructed by flood or invasion – discovery of human skeletons together
Great Bath and Great Granary
Multi-pillared assembly Hall
College of Priests
Man with Beard / Priest king statue
Bronze dancing girl
Pashupati seal
Ivory weight balance
Shell scale
Piece of woven cotton cloth
Bangles of clay
Superficial evidence of Horse
Evidence of ship/big boat
Domestication of chickens
Cylinder seals of the Mesopotamia
>>>>>>
Chanhudaro
Modern location – Sindh
River banks – Sarasvati River
This site is near to Mohenjodaro
Discovered by Gopal Majumdar in 1930
Major findings

Pre-Harappan and Post-Harappan culture – Jhangar Culture & Jhukar Culture.
Only city without citadel / No fortified structure
Bead and bangle factory
Ink pot
Evidence of Human sacrifice
Clay model of four wheeler
Use of lipstick
>>>>>
Koti-Diji
Modern location –  Khairpur, Sindh
River banks – Zhob River
Discovered in 1955
Major findings

Pre-Harappan site
Houses of mud bricks on stone foundations
City destroyed by force
>>>>>>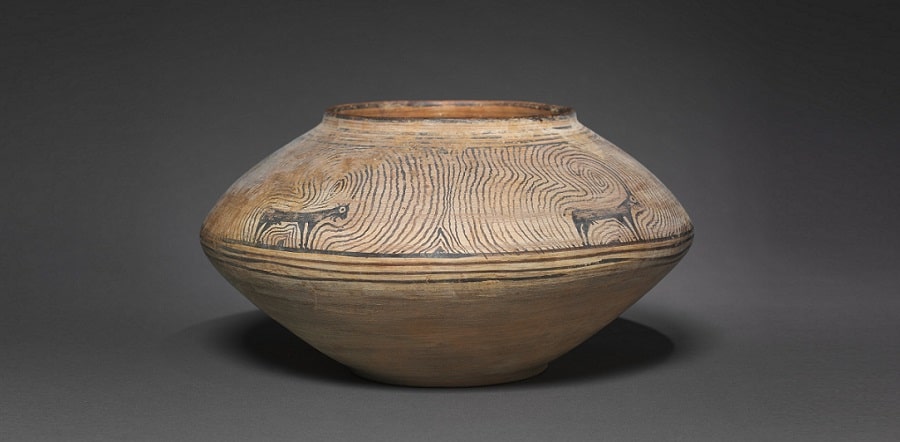 >>>>>>
Amri
Modern location – Dadu District, Sindh
River banks – Indus River
Amri was first visited by Alexander Burnes in 1831.
Major findings

Remains of Rhinoceros
Pre-Harappan settlement
Transitional culture between pre and post-Harappan culture
Trace of Jhangar culture in Late Harappan
Fire altars
>>>>>
Suktagendor
Modern location – Gwadar, Baluchistan
River banks – Dasht River
Discovered by Edward Mockler in 1875
Westernmost site of Indus Valley Civilization
Major findings

Ash filled pot
Copper axe, flint blades without cores
Originally a port but later cut off from sea due to coastal uplift
Had trade links with Babylon
>>>>>
Balakot
Modern location – Lasbela, Balochistan
River banks –
Discovered by
Major findings

Earliest evidence of furnace
Seaport
>>>>>>
>>>>>
Indus Valley Sites in Afghanistan
Shortugai
Modern location – Takhar, Afghanistan
River banks – Amu Darya river
Major findings

Indus Valley Civilization trading colony
Established around 2000 BC
Lapis lazuli mines
Camel trade
Ploughed field & flax seeds – Dry land farming
Canal irrigation system
>>>>>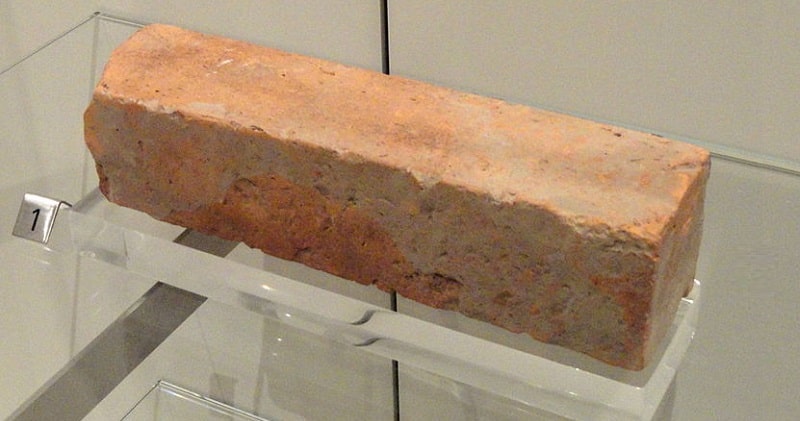 >>>>>>
Town Planning
Harappan civilization is known for its urban outlook and sophisticated sense of city planning.
In most of the Harappan city was divided into two parts

Citadel / Raised Part

This part occupied a smaller area.
Frequently situated to the west of the city.
Rulers of the city lived here.
It contained public buildings, granaries, and important workshops.

Lower Part

The common citizens lived and carried on their professional lives here.

City planning roughly followed a grid pattern.
Streets ran from north and cut at right angles.
The streets were wide, the main street being 10 meters wide.
Streets dividing the town into rectangular and square blocks.
There were lamp-posts at intervals.
Bricks were burnt and identical ratio of 1:2:4 in terms of thickness : width : length.
Uniformity in the average size of bricks

7 × 14 × 28 cm for houses
10 × 20 × 40 cm for city walls

Drains were made of mortar, lime and gypsum.
Drains were covered with large brick slabs for easy cleaning.
Houses were often of two or more storeys, though varied in size but quite monotonous.
No window faced the streets.
Houses had tiled bathrooms.
Some houses had their own wells.
>>>>>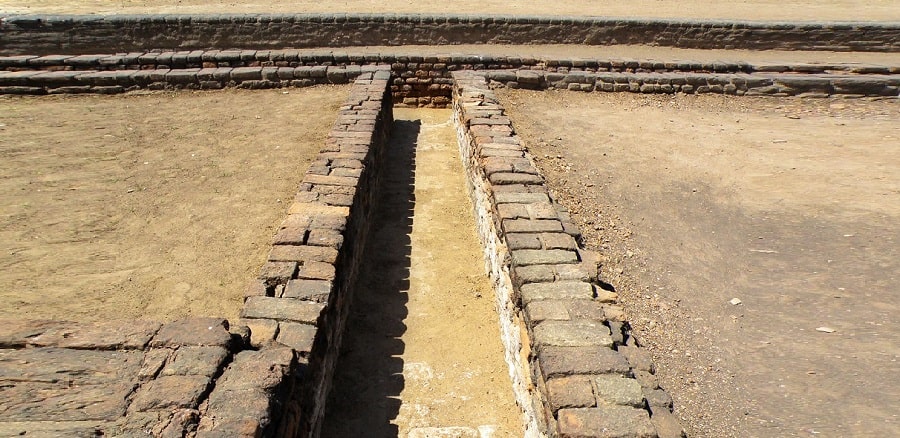 >>>>>>
Society
The Indus Valley society was an urban society.
Most of the people were middle classes.
According to excavation we can divide three social groups

Ruler class
Rich merchants
Labour class, lived in the lower part of the city

The Harappa civilization people were experts in the use of the potter's wheel.
They were poor in artistic works of stone.
Red ware pottery painted with black designs was popular.
Pots were used for storing grain, water or used for brewing fermented alcoholic beverages.
A lot of terracotta has been found at many sites.
More female figurines have been uncovered then male figurines.
The Harappan people refined the art of bead-making, and jewellery of gold and silver.
At Allahdino a lot of necklaces made of gold, silver and stones have been found.
>>>>>>
>>>>>>
Economy of Indus Valley Civilization
Indus valley people had a good trade relations with Mesopotamian and Persian civilizations.
The Mesopotamians called the Indus Region 'Meluhha'.
The Mesopotamian texts speak of three intermediate trading stations called

Dilmun – Bahrain on Persian Gulf
Makan – Makran coast, Oman
Meluhha

Every merchant probably had a seal bearing an emblem with brief description on one side.
Standard Harappan seal was a square / oblong plaque made of steatite stone.
Purpose of the seal was to mark the ownership of property.
Key aspects of trade and economy are as follows:

They carried out internal and external trade.
There was barter trade, no metallic money was in circulation.
Inland transport used bullock carts.

There were bead-making factories at Chanhudaro and Lothal.
There was a dockyard in Lothal and sea ports at Rangpur, Somnath and Balakot.
Weights and measures of Indus valley civilization was standardized and accurate.
Weights followed a binary and decimal system.
Chert, limestone, and steatite were used to make weights.
Weights were cubical in shape.
Measures of length were based on the foot and the cubit.
>>>>>
Agriculture
1st evidence of cotton in the world is found in Mehrgarh.
It was known as 'Sindon' by the Greeks as from Sindh.
People sowed seeds in the flood plains in November, and reaped their harvests of wheat and barley in April, before the advent of the next flood.
They ploughed fields with the help of wooden ploughs.
They produced sufficient food grains to feed themselves and the surplus was stored in granaries.
The Harappan people grew wheat, barley, horse gram, peas, melon, watermelon, sesame, dates, millets, grapes, henna, garlic, mustard, rice.
Double cropping was started by Harappan people.

Wheat and barley – winter crops.
Rice, millets, and sorghum – summer crops.

They also exploited riverine and marine resources wherever possible.
They domesticated cattle, goats, humped bulls, sheep, pigs, asses, camels, cats and dogs.
Horse wasn't in use.
Indus valley people were well acquainted with the elephant and the rhinoceros.
Tigers were often represented in figurines but leopards were rare.
>>>>>
Mining
Copper – Khetri, Baluchistan
Lapis lazuli – Shortugai
Turquoise – Khorasan
Bitumin – Baluchistan
Iron was unknown to the Indus people.
>>>>>>
Imports & Exports
Imports

Gold – Afghanistan, Iran, Kolar.
Tin – Afghanistan, Iran.

Jade – Pamir
Steatite – Tapi Chahya (Iran)
Bitumin – Mesopotamia.
Lead – South India.
Exports

Agricultural products
Cotton goods
Terracotta figurines, pottery
Beads, conch- shell, ivory products
Copper
>>>>>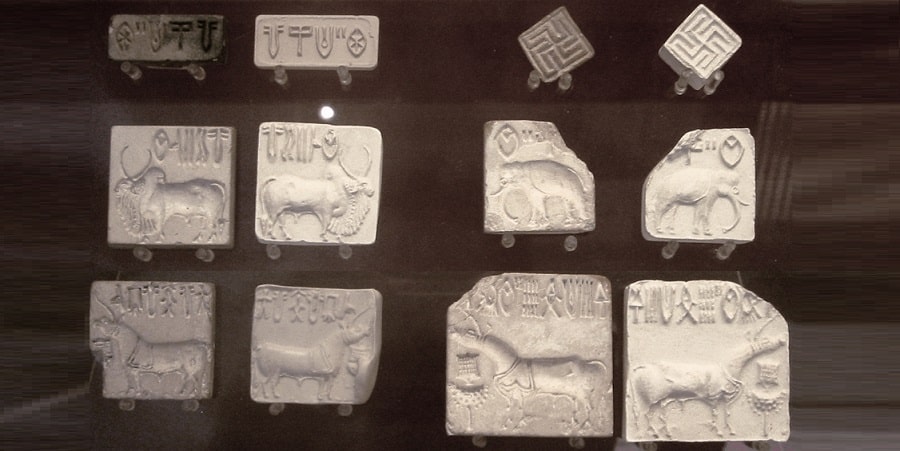 >>>>>
Religion of Indus Valley Civilization
Indus valley civilization is considered as a secular society.
No structure of temple has been found.
People generally worshipped:

Mother goddess
Pashupati Mahadeva or proto-Shiva
Lingam (phallus) and yoni worship (cult of fertility)
Pipal tree
Humped Bull
Birds (dove and pigeon)
One-horned unicorn (may in fact be the rhinoceros)

Dead bodies were placed in a north-south direction.
They generally accompanied food, pottery, ornaments, and tools with dead bodies.
>>>>>>
>>>>>
Causes of the Decline
Archaeologists now believe that the civilization did not come to an abrupt end but gradually declined.
People moved eastwards and cities were abandoned.
Different theories given by archaeologists

Aryan Invasion – Mortimer Wheeler, Gordon
Ecological disturbance – Fairchild
Change in River course – Lambrick, Dales
Low Rainfall – Stein
Flood – Macay, S.R. Rao
Drying of Ghaghar and Increasing Aridity – D.P. Aggarwal, Sood
Earthquake – Raikes and Dales
Natural Calamities – K.A.R. Kennedy

Other causes cited include deforestation and climate change.
Aryan invasion theory has now been debunked.
It is possible that some cities were destroyed by floods but not all.
New cities emerged only about 1400 years later.
The Indus Valley people continued to evolve even in the face of declining monsoon.
People shifted their crop patterns from large-grained cereals to drought-resistant species.
Organised large storage system of the mature Harappan period collapsed for lower yield.
More individual household-based crop processing and storage systems evolved.
This was a main reason for the deurbanisation of the civilization.
>>>>>