April 1, 2019
Islands in India – Andaman & Nicobar – Lakshadweep
>>>>>>>
Major islands groups of India are Andaman and Nicobar Archipelago in Bay of Bengal and Lakshadweep islands in Arabian Sea.
>>>>>>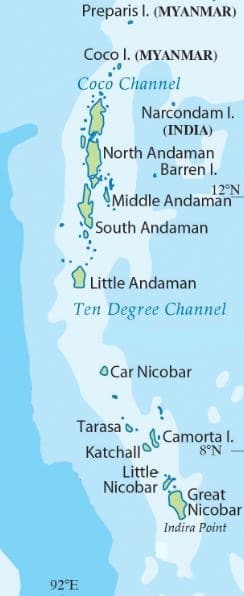 >>>>>>
Andaman and Nicobar Islands
Andaman and Nicobar Island archipelago is composed of 572 big and small islands.
These  islands extend about 590 km area.
Andaman and Nicobar Islands were formed due to collision between Indian Plate and Burma Minor Plate (part of Eurasian Plate).
Andaman and Nicobar Islands are southward extension of Arakan Yoma range of Myanmar.
Aarakan Yoma is an extension of Purvanchal Hills.
Andaman islands are divided into three main islands

North Andaman
Middle Andaman
South Andaman

Duncan passage separates Little Andaman from South Andaman.
Great Andaman separated by 100 Channel from the Nicobar group of islands.
Port Blair, the capital of Andaman Nicobar Islands lies in the South Andaman island.
Among the Nicobar islands, the Great Nicobar is the largest and southernmost island
Great Nicobar island is very close to Sumatra island of Indonesia.
60 Channel separates Great Nicobar island and Sumatra.
Most of these islands are made of tertiary sandstone, limestone and shale resting on basic and ultrabasic volcanoes
Barren island is only active volcanoes in India and South Asia (erupted last time in 1994-95).
Narcondam island is a dormant volcano.
Saddle peak (737 m) in North Andaman is the highest peak here.
Some islands are fringed with coral reefs.
Many of them are covered with thick forests.
>>>>>>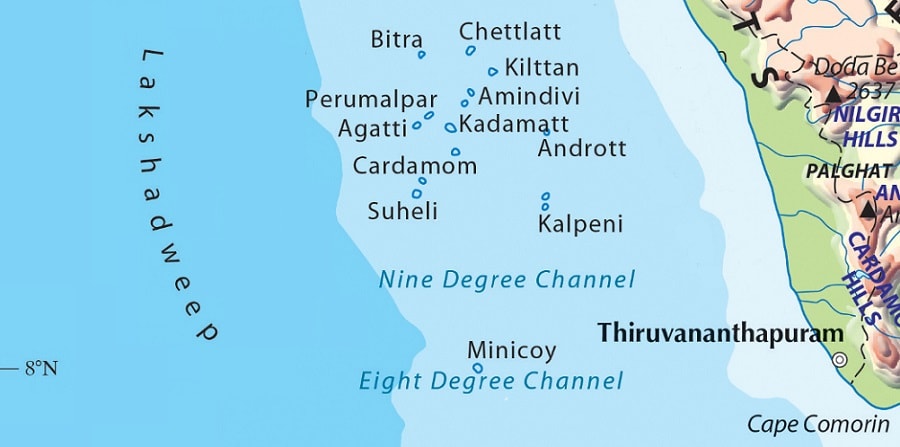 >>>>>>
Lakshadweep Island
Lakshadweep Islands are located at a distance of 280 km-480 km off the Kerala coast.
The entire island group is built of coral deposits (Atoll), tiny islands and are surrounded by fringing reefs.
There are approximately 36 islands of which 11 are inhabited.
Minicoy is the largest island.
The entire group of islands is broadly divided by the 110 channel, north of which is the Amini Island and to the south of the Canannore Island.
Amendivi Islands are the northern most while the Minicoy island is the southernmost.
Kavaratti is the capital of the Lakshadweep Island.
Lakshadweep Islands are the northernmost of the Lakshadweep-Maldives-Chagos group of islands.
80 Channel forms the boundary between Minicoy and Maldive islands.
This channel also known as Minicoy Channel or Maliku Kandu.
Most of the islands have low elevation and do not rise more than five metre above sea level.
Some other Island of India
Salsette Island

Salsette is the most populous island in India.
Mumbai city is located on Salsette island.
Ulhas river and Vasai creek divided it from mainland.

Sriharikota Island

A barrier island in Bay of Bengal.
Located in Nellore district of Andhra Pradesh.
On this island Satish Dhawan Launch Station is  located

Aliabet

India's first off-shore oil well site in the Gulf of Khambat.
It is located in Gujarat, about 45 km from Bhavnagar.

New Moore Island

It in the Ganga delta.
It is also known as Purbasha Island.
In 2010, it was reported to have been completely submerged by the rising sea water due to Global warming.

Pamban Island 

Also called Rameshwaram
It lies between India and Sri Lanka and separated by Pamban channel.

Wheeler Island

It is in the Odisha coast
Wheeler Island is a missile launching station in Bay of Bengal.

Diu

UT of India, located in the Gulf of Khambat.
>>>>>>>