March 10, 2019
later mughals bahadur shah zafar 
Bahadur Shah I (1707–12 )
Ascended the throne with the title of 'Bahadur Shah', at the age of 63 years.
Real power was in the hands of his Wazir, Zulfiqar Khan
Mughal historians like Khafi Khan gave him the title of 'Shah-i- Bekhabar'.
later mughals bahadur shah zafar farrukh siyar shah alam ii nadir shah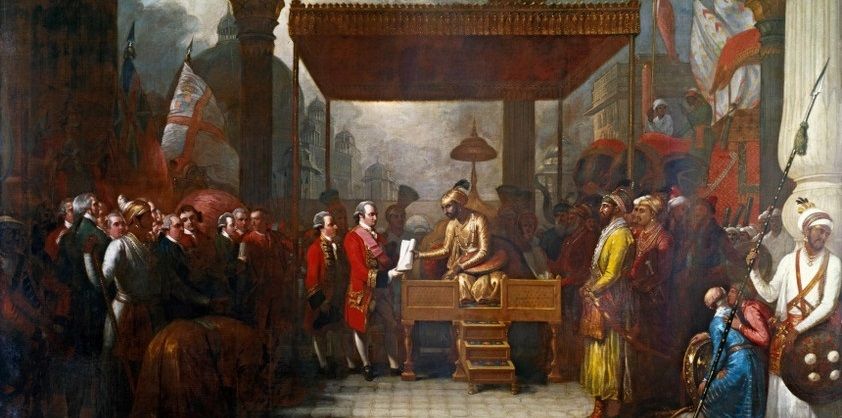 >>>>>>>
Jahandar Shah (1712–13)
After death of Bahadur Shah, nobles became direct aspirants to the throne, and they used the princes as mere pawns to capture authoritarian positions.
Jahandar Shah was the first puppet ruler in Mughal India.
>>>>>>>
>>>>>>>
Zulfiqar Khan
He reversed policies of Aurangzeb and tried to establish friendly relations with Rajputs, Marathas, and different Hindu chieftains.
He abolished the jizya
Accorded title of Mirza Raj Sawai on Jai Singh of Ambar and gave the title of Maharaja to Ajit Singh.
He also granted the chauth and sardeshmukhi of Deccan to Shahu
He is infamous in history for introducing the evil practice of Ijarah (revenue farming)
>>>>>>>
>>>>>>>
Farrukh Siyar (1713–19)
Brother of Jahandar Shah, who defeated Jahandar Shah at Agra in 1713
Farrukh Siyar came to the throne with the help of Saiyyad brothers
Banda Bahadur, the Sikh leader, was executed by Farrukh Siyar.
In 1717, Farrukh Siyarr granted to East India Company many trading privileges, including the exemption from custom duties for its trade through Bengal.
In 1719, the Saiyyad brothers made a settlement with Balaji Vishwanath
By this settlement many concessions were granted to the Marathas in return of their active armed assistance in the struggle for supremacy going on in Delhi.
With the help of the Maratha troops, the Saiyyad brothers killed Farrukh Siyar.
>>>>>>>
>>>>>>>
Rafi-us-Darajat (1719 )
Placed by Saiyyad brothers in place of Farrukh Siyar.
>>>>>>>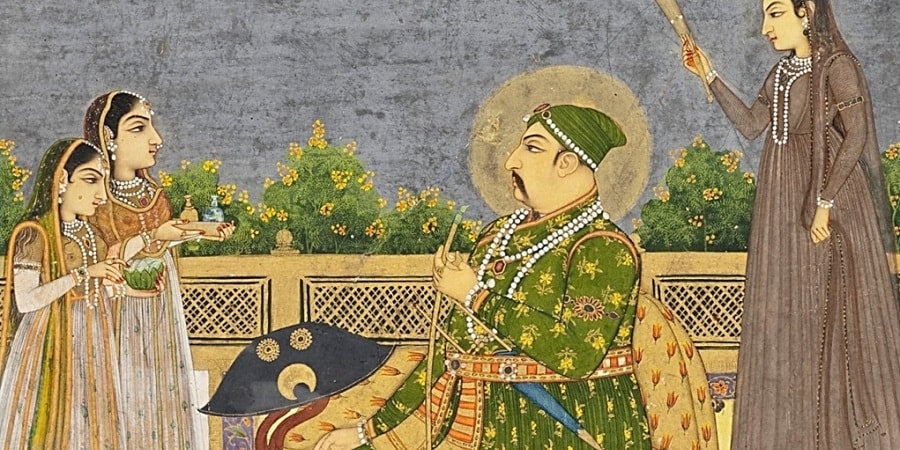 later mughals bahadur shah zafar farrukh siyar shah alam ii nadir shah
Muhammad Shah Rangeela (1719–48)
Son of Jahan Shah (brother of Jahandar Shah)
Muhammad Shah also known as Roshan Akhtar
He loved dancing and was himself an expert Kathak dancer.
He was successful in dislodging the Saiyyad brothers in 1720
Autonomous states emerged under his reign:

Nizam-ul-Mulk – Deccan
Saadat Khan – Awadh
Murshid Quli Khan – Bengal, Bihar, and Orissa

Nadir Shah not only invaded India but also imprisoned the Mughal Emperor and looted Delhi in 1739
>>>>>>>
later mughals bahadur shah zafar farrukh siyar shah alam ii nadir shah
Ahmad Shah (1748–57)
Born to Mohd. Shah Rangeela (only son) through a dancing girl named Kudsiya Begam.
Ahmad Shah Abdali invaded Delhi many times, and Punjab along with Multan was ceded to him.
>>>>>>>
>>>>>>>
Alamgir II (1754–59)
Son of Jahandar Singh.
Repeated invasions of Ahmad Shah Abdali.
The famous Battle of Plassey (1757) was fought during his tenure
>>>>>>>
>>>>>>>
Aligauhar / Shah Alam II (1759–1806)
The kingdom of Shah Alam is from Delhi to Palam, a suburb of Delhi.
He remained a refugee with Shuja-ud- Daula of Awadh from 1761 until 1764
He did not return to Delhi till 1771 when the Marathas re-established their hold and invited him to the capital.
The 3rd Battle of Panipat (1761) was fought during his reign (between the Marathas and Ahmad Shah Abdali)
He also participated in the Battle of Buxar (1764)
He was forced to sign the Treaty of Allahabad (1765), under which the Diwani (right to collect revenue) of Bengal (which included Bihar and Odisha) was granted to the British East India Company.
>>>>>>>
>>>>>>>
Akbar II (1806–1837)
Remained only under British protection as in 1803, the British had captured Delhi.
He conferred the title of 'Raja' on Ram Mohan Roy.
He was a great poet and is credited with the introduction of the Hindu–Muslim unity festival Phool Walon Ki Sair.
>>>>>>>
>>>>>>>
Bahadur Shah II / Zafar (1837–57)
Bahadur shah zafar was the last Mughal Emperor who was a more nominal head.
He wrote many Urdu ghazals and poet using 'Zafar' (meaning victory) as his pen name.
bahadur shah zafar participated in the revolt of 1857.
Aafter the revolt, he was deported to Rangoon, where he died in 1862.
>>>>>>>
later mughals bahadur shah zafar farrukh siyar shah alam ii nadir shah
Causes for the Decline of Mughal Empire
Later Mughals were worthless and neglected the administration of the state.
Absence of a definite law of succession, there always occurred a war of succession, which weakened the stability of the government.
Fighting between the nobles and Jagirdari Crisis.
Ineffective Mughal Army, Neglect of Naval Power, and Foreign invasions.
Revenue sources depleted, and due to continuous wars the treasury was further emptied.
Aurangzeb's religious policy.
Aurangzeb's Deccan policy.
Rise of regional powers.
Invasions of Irani and Durrani kingdoms gave a death-blow to the Mughal empire.
>>>>>>>
>>>>>>>
Nadir Shah Invasion (1739)
Nadir Shah was the Emperor of Iran
He became a national hero by driving the Afghans out of Iran.
Mohd. Shah Rangeela suddenly withdrew his ambassador from the Persian court and snapped all diplomatic ties with that country after Nadir Shah came to power in 1736.
He sent three envoys to the Mughal court and his third envoy was detained by Rangeela, which probably infuriated him.
Rangeela gave shelter to some Afghan nobles who had escaped from Nadir Shah when he had invaded Afghanistan.
Nizam-ul-Mulk and Saadat Khan sent special messages to Nadir Shah inviting him to invade India.
Nadir struck a gold coin and read khutba in his name.
Nadir and Mohd. Shah met at Karnal on 1739, and Mohd. Shah was defeated
He agreed to pay an indemnity of Rs. 25 crore, and trans-Indus provinces including Sindh, western Punjab, and Kabul were ceded to Nadir Shah.
Nadir Shah's troops remained in the capital until the money was paid and indulged in a gruesome massacre of the general population, including women and children at Delhi.
He also took away the famous Kohinoor Diamond.
He was an able general and administrator, but an inhumane butcher in the course of war.
>>>>>>>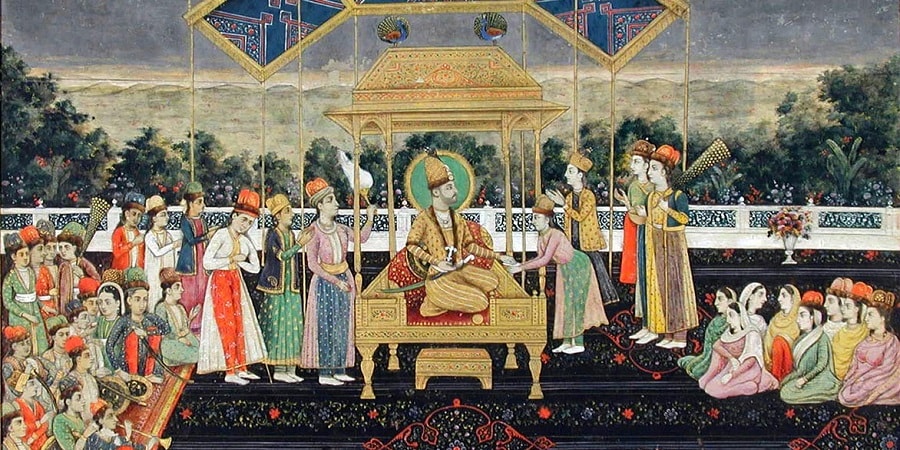 >>>>>>>
Ahmad Shah Abdali
Ahmad Shah's first attempt on the empire failed at Sirhind in  1748
In 1751-52 he Lahore after a four months' siege.
By 1756 the empire was further weakened by civil war and political assassinations.
Ahmad Shah entered India for the fifth time in 1759
The moves and counter-moves of the next eighteen months culminated in the battle of Panipat on January 14, 1761.
Last of Abdali's invasions came in 1767
>>>>>>>
>>>>>>>
Why Panipat was a Favourite Battle Field
Panipat had a strategic location.
One of the parties of the war generally came from the north/Northwest through the Khyber Pass to get hold over Delhi
To move a military through rough terrains, deserts of Rajasthan or the other northern areas infested with dense forests was very risky and difficult.
The rulers at Delhi considered Panipat as a comfortable strategic ground and hence they preferred to take the fight there.
Its proximity to Delhi made it easier for the Indian rulers to transport weapons, military and food supplies etc., to the battleground
It also helps to keep the capital insulated from the conflict
Panipat's surrounding region has a flat ground which was suitable for cavalry movement, main mode of warfare at the time.
After the construction of the Grand Trunk Road by Sher Shah Suri (1540-45), Panipat was on this route.
It became easier for conquerors to find their way there.
The duration of monsoon rainfall in the region is short in comparison to other areas making it easier to fight.
The artisans/smiths of these regions were experts in making warfare-related materials.
later mughals bahadur shah zafar farrukh siyar shah alam ii nadir shah