January 31, 2021
Location, Standard Time & Borders of India
India pakistan china bangladesh border
India is the 7th largest country in the world with 3287263 sq km which is 2.4% of world area.
Borders of India Pakistan china Bangladesh Indian standard time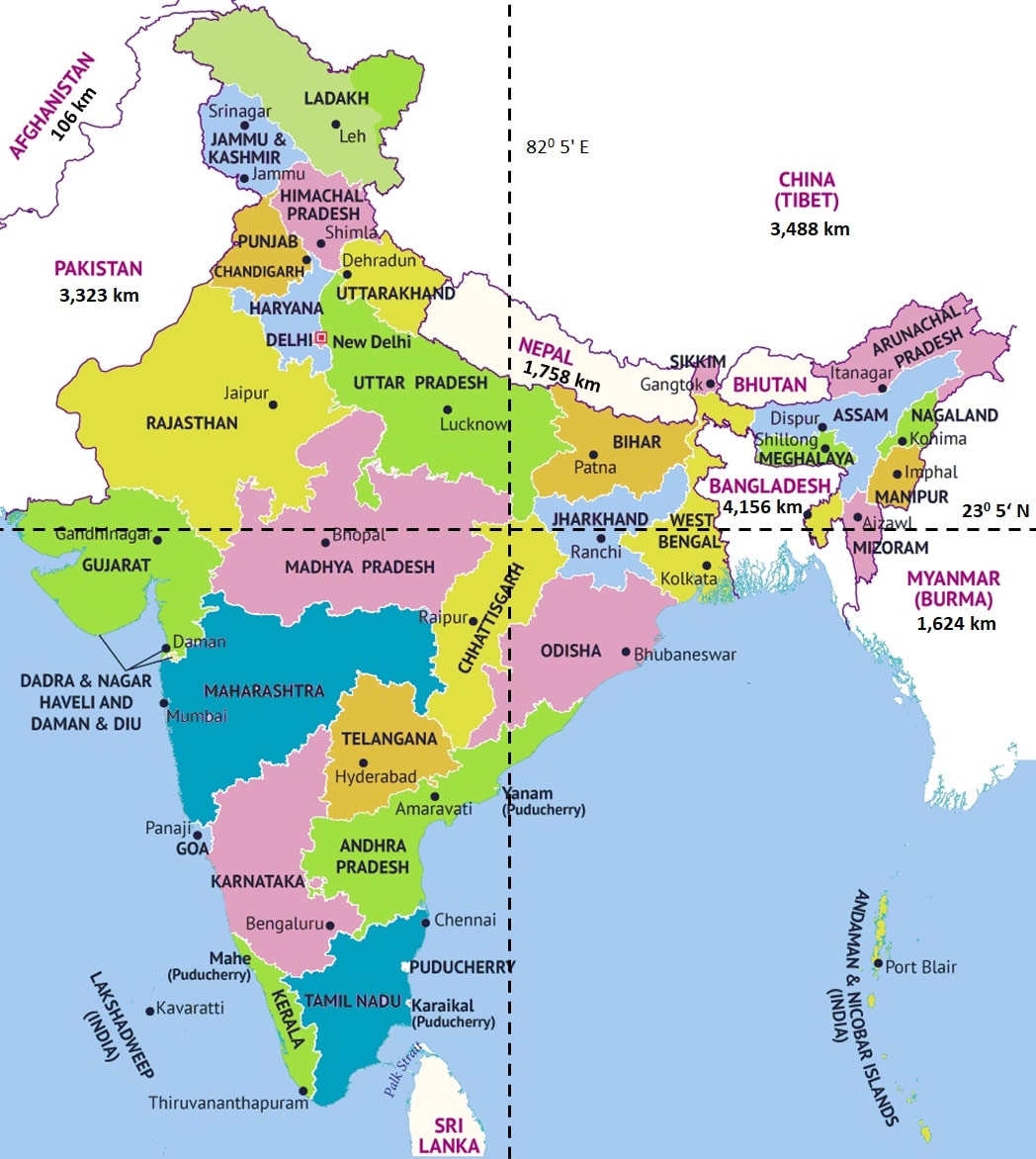 Largest Countries in the World by Area
| Rank | Country | Capital City |
| --- | --- | --- |
| 1 | Russia | Moscow |
| 2 | Canada | Ottawa |
| 3 | United States of America | Washington DC |
| 4 | China | Beijing |
| 5 | Brazil | Brasilia |
| 6 | Australia | Canberra |
| 7 | India | New Delhi |
| 8 | Argentina | Buenos Aires |
| 9 | Kazakhstan | Nur-Sultan |
| 10 | Algeria | Algiers |
India pakistan china bangladesh border
Location of India
North to South
Latitude 370 6′ north to 80 4′ north (main land) and 60 45′ north Indira Point or Pygmalion point (Indian Island).
Indira Col (J&K) in North and Kanyakumari (Tamilnadu) in South.
North to south distance of Indian main land is 3214 Km.
West to East
Longitude – 680 7′ East to 970 25′ East
Ghaur Moti in Gujrat to Kibithu in Arunachal Pradesh.
West to east distance of Indian main land is 2933 Km.
Borders of India
Highest Point of India 
Kangchenjunga 8,586 m (Sikkim)
>>>>>>>>>
Lowest Point in India
Kuttanad  -2.2 m (Kerala)
>>>>>>>
India pakistan china bangladesh border
Indian Standard Time – IST
Indian Standard Time is calculated on the basis of 82o 30′ or 82.5o East longitude.
82o 30′ East Longitude going through west of the town of Mirzapur, near Allahabad.
Indian Standard Time is 5 hours 30 min ahead of Greenwich Mean Time.
82o 30′ East Longitude is going through 5 state – UP, MP, Chhattisgarh, Orissa, AP.
Time difference between eastern most and western most point of India is 1 hour 56 min.
National Physical Laboratory India (NPLI) is the Time Keeper of the Country.
It works under Council of Scientific & Industrial Research (CSIR).
Before independence there were 2 standard time, Calcutta Time and Bombay Time.
It continued until 1948 and 1955, respectively.
Assam, tea gardens follow a separate time zone, known as the Chaibagaan or Bagan time, which is 1 hour ahead of IST.
It allowed by Plantations Labour Act, 1951.
>>>>>>>>>
India pakistan china bangladesh border
Tropic of Cancer (230 5′ N latitude)
Its passes through 8 states – Gujarat, Rajasthan, MP, Chhattisgarh, Jharkhand, WB, Tripura, Mizoram.
>>>>>>>>>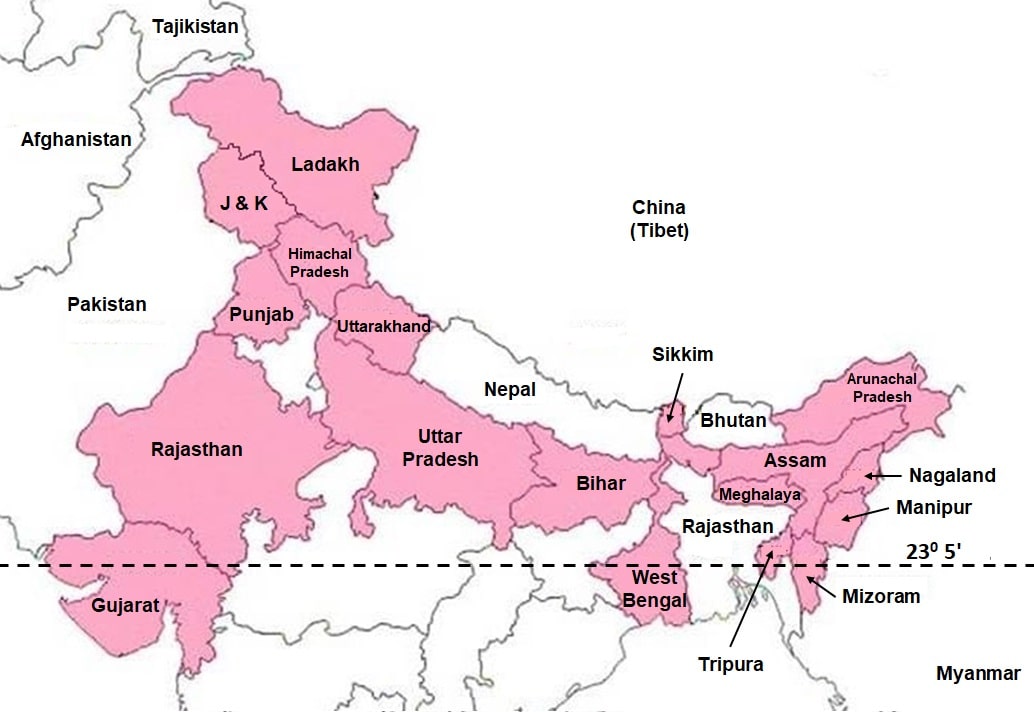 India pakistan china bangladesh border
Neighbour Countries & Borders of India
India has 15106.7 km of land border running through 92 districts in 18 States & UTs.
India shares land borders with 7 countries

Bangladesh – 4,156 km
China – 3,488 km
Pakistan – 3,323 km
Nepal – 1,758 km
Myanmar – 1,624 km
Bhutan – 699 km
Afghanistan – 106 km

Coastline of India is 7516.6 Km (6100 km of mainland coastline + coastline of 1417 Indian islands) touching 13 States and UTs.
Maritime borders of India are recognized by the UN Convention on the Law of the Sea.
Territorial water can be divided into

Contiguous zones – 12-nautical-mile
Exclusive economic zones – 200-nautical-mile

India has a more than 7000 km maritime border shared with 7 countries

Bangladesh – New Moore Island
Indonesia – Indira Point
Myanmar – Coco Islands
Pakistan – Sir Creek
Thailand – Similan Islands
Sri Lanka – Katchatheevu
Maldives – Maliku Kandu
>>>>>>
>>>>>>
Land Borders of India
India Bangladesh Border
India Bangladesh Border is the 5th longest land border in the world.
This boundary has been determined under the Radcliffe Award.
This border is guarded by Border Security Force (BSF).
India Bangladesh Border state wise

West Bengal – 2,217 km
Tripura – 856 km
Meghalaya – 443 km
Assam – 262 km
Mizoram – 180 km

India & Bangladesh has Bus and Railway connection and Border Haats.
India–Bangladesh enclaves, also known as the chitmahals.
Tin Bigha Corridor is a strip of land belonging to India was leased to Bangladesh to access its Dahagram–Angarpota enclave in Sept 2011.
Dahala Khagrabari was the world's only third–order enclave.
It was ceded to Bangladesh through 100th amendment act in Constitution of India in 2015.
Borders of India
India China Border
India China border name is Mc Mahon Line.
This boundary agreement was signed at Shimla accord in 1913-14.
India China border is guarded by Indo-Tibetan Border Police (ITBP).
Boundary as per states

J&K and Ladakh – 1597 km
Arunachal – 1126 km
Uttarakhand – 463 km
Himachal – 345 km
Sikkim – 220 km

India, China and Myanmar form the tri-point borders at the Diphu mountain pass, nearby Walong, Arunachal Pradesh.
Line of Actual Control (LAC) separates Indian-controlled territory from Chinese-controlled territory in the Ladakh region.
It was formed after the 1962 war.
>>>>>>>>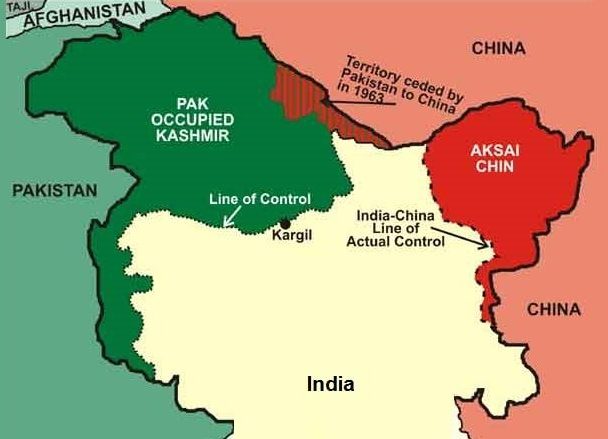 India Pakistan Border
India Pakistan border is the result of partition of the country in 1947 under the Radcliffe award.
India Pakistan border name is Radcliffe line.
This border is guarded by Border Security Force (BSF).
India Pakistan border state wise

J&K & Ladakh – 1222 km
Rajasthan – 1170 km
Gujrat – 506 km
Punjab – 425 km

Line of Control (LoC) is the military control line between the India and Pakistan controlled part of Jammu and Kashmir.
LoC is not a legally recognized international boundary.
It is originally known as the Cease-fire Line.
It was redesignated as the "Line of Control" after the Simla Agreement, signed on 3rd July 1972.
The northernmost point of the Line of Control is known as NJ9842.
India Pakistan border continues from the southernmost point on the LoC.
Sir Creek is a 96 km long disputed maritime boundary line.
It is a tidal estuary of the Indus River located between Gujarat of India and Sindh of Pakistan.
Borders of India
India Nepal Border
Borders of India
India Myanmar Border
India Myanmar border was decided by the treaty of Yandabo in 1826.
This border is guarded by Assam Rifles.
Assam Rifles is the oldest paramilitary force of India.
India Myanmar border as per states

Arunachal – 520 km
Mizoram – 510 km
Manipur – 398 km
Nagaland – 215 km

India Myanmar border has a Free Movement Regime.
It allows tribes living along the border to travel 16 km across either side of the border without visa.
India–Myanmar–Thailand Trilateral highway also known as East-West Economic Corridor is the AH1 of Asian Highway Network.
It will connect Moreh (Manipur), India with Mae Sot, Thailand via Myanmar.
Borders of India
India Bhutan Border
Treaty of Peace between Britain and Bhutan demarcated the India Bhutan border in 1865, following the Bhutan War.
The boundary was refined in the 1973-1984 period.
This border is guarded by Sashastra Seema Bal (SSB).
India Bhutan border as per states 

Assam – 267 km
Arunachal – 217 km
WB – 183 km
Sikkim – 32 km

The India Bhutan border is the only land access to Bhutan, as the border with China is completely closed.
The single entry point for foreign nationals is between the towns of Jaigaon, (WB) India and Phuntsholing, Bhutan.
>>>>>>>>>
India Afghanistan Border
It is called Durand line.
In 1893, it was established between British India and Emirate of Afghanistan as international border.
India Afghanistan border is 106 km long and in the region of PoK.
Borders of India
>>>>>>>>>
Other Facts about Borders of India
Longest international border of States & UTs

West Bengal – 2509.7 Km
Arunachal – 1,817 km
Rajasthan – 1170 km

Nagaland has the smallest international border of 215 km.
3 states and 1 UT have international boundary with 3 countries

Sikkim – China, Nepal, Bhutan
West Bengal – Bhutan, Nepal, Bangladesh
Arunachal Pradesh – China, Bhutan, Myanmar
Ladakh – Pakistan, China, Afghanistan
Borders of India