March 7, 2019
>>>>>>>
Literary Sources of Maurya Empire
Kautilya's Arthashastra
Arthashastra was written in Sanskrit by Chanakya / Kautilya / Vishnugupta / Indian Machiavelli.
He was also a minister in the court of Bindusara.
Arthashastra was made of palm leaf in the Grantha Script.
It contains 15 books (adhikaranas) & 180 chapters.
The main theme is divided into 3 parts

King & his council and departments of government
Civil & criminal law
Diplomacy of war

It also includes recommendations on law, prisons, taxation, irrigation, agriculture, mining, fortifications, coinage, manufacturing, trade, administration, and spies.
>>>>>>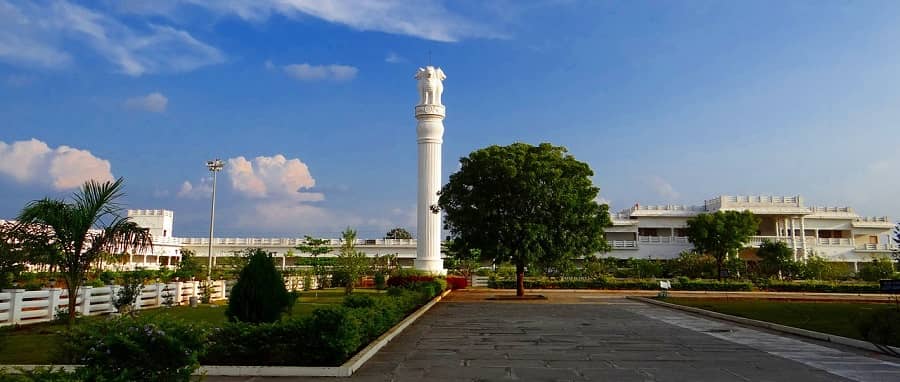 >>>>>>>
Vishakadatta's Mudrarakshasa
Mudrarakshasa is a drama in Sanskrit written during Gupta's period.
He described how Chandragupta Maurya with the help of Kautilya overthrew Nandas.
Gives socio–economic picture of condition in maurya empire.
>>>>>>>
Megasthene's Indica
Megasthene was a Greek ambassador in the court of Chandragupta Maurya.
He lived in the Maurya empire capital, Pataliputra.
The Greeks referred to the Indians' worship of Lord Krishna and addressed him as Dionysus and Herakles/Hercules.
He portrayed Indians as honest and having great character and moral values
Megasthenes stated that there was no slavery in Indian society.
His book is survived in fragments & provides detail about

Mauryan administration
Military organization
Particularly of capital city (Patliputra)
Municipal administration
>>>>>
Other Texts
Dandin's Dashakumaracharita
Banabhatta's Kadambari
Buddhist texts Mahavamsa, Milindapanho, and Mahabhashya give us an account of Chadragupta's life
Dipavamsa, Ashokavadana, Divyavadana and as well asthe Mahavamsa, give us an account of Ashoka
Ceylonese chronicles "Dipavamsa & Mahavamsa" throw light on Ashoka's role in spreading Buddhism in Sri Lanka
The Vamsatthapakasini is a 10th century commentary on the legend of Chanakya and Chandragupta Maurya, as well as reference to the southward expansion of the maurya empire.
>>>>>>>
>>>>>>>
Chandragupta Maurya  (321-297 BC)
Chandragupta Maurya founded Maurya Empire by defeating Nandas with the help of Kautilya.
Chandragupta Maurya first established himself in Punjab.
Then he moved eastwards, until he gained control over the Magadha region.
In 305 BC, he marched against Selucus Nikator (Alexanders general controlling NW India) & defeated him.
A treaty was signed, according to which, Selucus gave Chandragupta Maurya eastern Afganisthan, Baluchistan & area west of Indus.
In return Chandragupta Maurya gifted 500 elephants to Selucus & married his daughter.
Seleucus sent an ambassador to the Maurya empire court, Megasthenes who wrote the Indica
Greek writer Justin (Who wrote epitome) called Chandragupta Maurya as "Sandrocottus"
Chandragupta Maurya led a policy of expansion and brought under one control almost the whole of present India barring a few places like Kalinga and the extreme South.
Chandragupta Maurya adopted Jainism and went to the hills of Shravana Belagola near Mysore with Bhadrabahu
He committed Sallekhana (death by slow starvation).
>>>>>>>
>>>>>>>
Bindusara  (297-272 BC)
Greeks writers address Bindusara as Amitrochates (destroyer of foes)
Mahabhasya refers to him as Amitraghat (killer of enemies)
Bindusara conquered 'the land between the two seas', the Arabian sea and the Bay of Bengal
According to Strabo, Antiochus (Syrian king) sent Deimachus as an ambassador to Bindusara's court.
Pliny mentions that King Ptolemy II Philadelphus of Egypt sent one Dionysius as an ambassador to India.
Bindusara appointed Ashoka as the governor of Ujjain
He was interested in Ajivika sect
Almost the entire sub-continent as far south as Karnataka, was under Maurya dynasty rule in the time of Bindusara.
>>>>>>>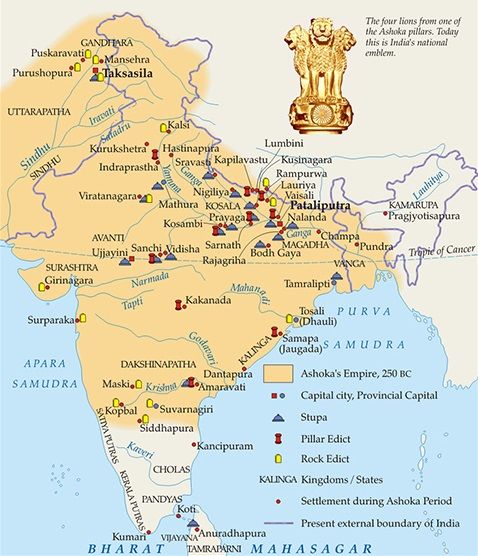 Ashoka (268 – 232 BC)
After death of Bindusara in 273 BC, there was a four-year succession conflict.
According to Divyavadana, Bindusara wanted his son Susima to succeed him
Later, with the help of a minister named Radhagupta, and after killing 99 brothers, Ashoka finally acquired the Magadha throne
Thus, after four years, came his formal consecration in 268 BC
His empire covered the whole territory from Hindukush to Bengal
It was extended over Afghanistan, Baluchistan, and the whole of India including Kashmir and the valleys of Nepal
Only a small area in the far south which, according to rock edict 13, were inhabited by the Cholas and Pandyas
Victorious war with Kalinga was the most important event of Ashoka's reign
Effect of Kalinga war on Ashoka has been described by Ashoka himself in rock edict 13
Ashoka embraced Buddhism under buddhist monk "Upagupta / Mogaliputra Tissa"
He abandoned the policy of physical conquest in favor of policy of cultural conquest
Appointed a class of administrative officers known as "Rajukas" vested with the power of rewarding & punishing people
Set up a very high ideal for himself as Paternal Kingship (Father of all)
>>>>>
>>>>>>>
Brihadratha
The Maurya empire declined rapidly after Ashoka
The empire became weak and fragmented
Maurya dynasty came to an end when the last king, Brihadratha, was killed by his military commander, Pushyamitra Sunga, in 185 BC.
>>>>>>>
>>>>>>>
Samrat Ashoka & Buddhism
Ashoka's conversion to Buddhism was gradual not immediate
It constituted Dhamma yatras to Sarnath, Bodhh Gaya etc.
He appointed special officers called Dhamma Mahamantras to propagate Dhamma
Ashoka sent his son Mahendra & daughter Sangamitra to Srilanka
They planted branches of original Bodhi tree there
Ashoka convened 3rd Buddhist council at Patliputra to strengthen sangha
Ashoka's dhamma was to preserve the social order & held that if people behaved well they would achieve heaven.
He never said they would attain Nirvana which was the primary aim of Buddhism.
Samrat Ashoka banned animal sacrifice, regulated the slaughter of animals for food
He established dharmashalas, hospitals, and sarais throughout his kingdom.
According to the edicts, the extent of Buddhism during the period of samrat Ashoka reached as far as the Mediterranean.
>>>>>>>
>>>>>>>
Inscriptions or Edicts of Ashoka
Edicts of Ashoka was decoded by James Prinsep in 1838.
The inscriptions found in the central and eastern part of India were written in

Magadhi Prakrit using the Brahmi script
Prakrit using the Kharoshthi script
Greek and Aramaic were used in the northwest

There are total 33 inscriptions and are primarily classified into

Major Rock Edicts
Minor Rock Edicts
Separate Rock Edicts
Major Pillar Edicts
Minor Pillar Edicts

Pillar edicts were mostly inscribed in the latter parts of his reign
Pillar edicts were on well-polished sandstone monolithic pillars
Edicts of Ashoka do not contain the Eight-Fold Path, the Four Noble Truths, and the goal of Nibbana.
His dhamma was aimed at creating an attitude of mind having primacy of ethical behaviour and the recognition of the dignity of human life.
>>>>>>>
Major Rock Edicts of Ashoka – Fourteen
First Edict

Declared prohibition of animal sacrifice

Second Edict

Medical treatment of human and animals
Planting beneficial medicinal herbs and roots, fruits, and the digging of wells

Third Edict

Mentions Pradeshikas, Rajukas, and Yuktas and their need for going on tours of inspection every five years as part of their other duties, preaching dhamma, and also adopting liberal attitude towards Brahmanas and Shramanas

Fourth Edict

Bheri Ghosha (war drum) replaced by Dhamma Ghosha and King Ashoka attached greatest value to this duty

Fifth Edict

Appointment of Dhamma Mahamattas, a special cadre of officials entrusted to spread dhamma within the kingdom

Sixth Edict

Mantri parishad and officers like Pulisani and Pativedakas (reporters)

Seventh Edict

Religious tolerance amongst all sects and welfare measures for public not only in his own kingdom but also in the neighbouring kingdoms of Cholas, Pandyas, and that of Antiochus in the north-west.

Eighth Edict

Royal pleasure tours (Vihara-yatras) replaced by dhamma tours (dhammayatras).
Ashoka himself went to Sambodhi at Bodhgaya.

Ninth Edict

Criticism of the uselessness of various ceremonies, instead lays stress on dhamma and moral conduct

Tenth Edict

King desires no more fame or glory

Eleventh Edict

Announces that the gift of dhamma being the best gift of all gifts and the Policy of Dhamma is the best policy to follow.
Dhamma included giving respect to elders, and good behaviour towards slaves.

Twelfth Edict

Mention of Ithijika Mahamatta (mahamattas in charge of women's welfare) and appeals for not only tolerance amongst sects, but also for people to honour and understand the dhamma of others

Thirteenth Edict

The Kalinga war changed his attitude and Ashoka, who was the worshipper of Shiva, turned towards Buddhism.
In this inscription Ashoka called himself as Devanampriya Priyadarshi.
Digvijay was replaced by Dhamma Vijay.
The war drum (Bheri Ghosha) became law (Dhamma Ghosha).
Mention of victory by dhamma on his neighbors like Antiochus, Cholas and Pandyas.

Fourteenth Edict

Purpose of rock edicts was described
>>>>>>>
Locations of Major Rock Edicts
The Major Rock Edicts of Ashoka are inscribed on large rocks.
The Kandahar version in Greek, written on a stone plaque belonging to a building.
The Major Edicts are located on the frontiers of the territory controlled by Ashoka.
Locations are as following

Kandahar, Afghanistan – Greek Edicts
Yerragudi, Anantapur, Andhra Pradesh
Girnar, Gujarat
Dhauli, Khordha district, Odisha
Jaugada, Ganjam district, Odisha
Khalsi, Dehradun District, Uttarakhand
Sopara, Palghar district, Maharashtra
Shahbazgarhi, Pakistan
Mansehra, Pakistan
Sannati, Gulbarga, Karnataka
>>>>>>>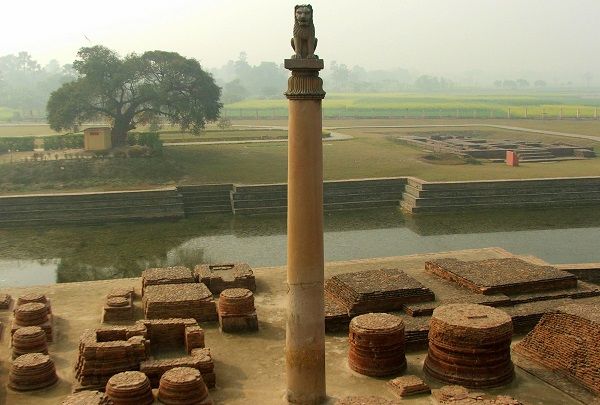 >>>>>>
Pillar Edicts
Pillar edicts of Ashoka have been found at Lauriya-Araraj, Lauriya Nandangarh, Rampurva, Nigali Sagar, Sarnath, Topra, and Meerut.
Two pillars, one from Topra and the other from Meerut, were shifted to Delhi by Feroz Shah Tughlaq.
Pillars without inscriptions are the bull capital pillar at Rampurva, the pillar with the lion capital at Vaishali, and the Kolam pillar, which is also without a capital.
First Pillar Edict – Social code
Second Pillar Edict – Describes dhamma
Third Pillar Edict – Soul and sin
Fourth Pillar Edict – Rajukas
Fifth Pillar Edict – known as the Delhi-Topra pillar edict, it features prohibitions regarding animal killing
Sixth Pillar Edict – Welfare of people
Seventh Pillar Edict – Dhamma Mahamattas
>>>>>>>
>>>>>>
Other Relevant Inscriptions & Important Edicts
Allahabad Inscription

Kosam/Queen's Edict / Kausambi or Schism Edict
Ashoka warns members of the Sangha against causing division in the ranks

Samudragupta's inscription is on this edict itself
Jahangir was probably responsible for its removal to the fort at Allahabad

Girnar Rock Inscription of Rudradaman – Kathiawar

Mentions the Sudarshan Lake was constructed in the time of Chandragupta Maurya.
It was done by Pushyagupta, a rashtriya (provincial governor) of Saurashtra

Kandahar Inscription

Bilingual Greek, Aramaic inscription

Nigali Sagar Inscription – Nepal

To record the first enlargement of stupa and later Ashoka's visit to the site

Rummindei Inscription – Nepal

To commemorate the birthplace of the Buddha
 Ashoka visited Lumbini, worshipped here and gave tax concessions to the villagers.

Sannati Inscription – Karnataka

Site of all 14 Major Rock Edicts as well as two separate Kalinga edicts.

Kalinga Edict – Bhauli and Jaugada

Mentions "All men are my children"

Saugaura Copper Plate Inscription

Inscription of Chandragupta Maurya
Mentions relief measures adopted during famine in Magadha

Minor Rock Edict I

Indicates that Ashoka turned towards Buddhism gradually and not suddenly

Minor Rock Edict III

Ashoka greets the Sangha, professes his deep faith in the Buddha, dhamma, and Sangha

Brahmagiri – Minor Rock Edicts I and II

Talk about local Administration

Inscriptions at Shahbazgarhi and Mansehra written in Kharosthi script
>>>>>>>
>>>>>>
Impact of Ashoka's Rule
Unification of the country

He bound the whole country together by one dhamma, one language, and one script of Brahmi

Spread of tolerance and respect

Made gifts to non-Buddhist sects as well, such as, donating Barbara caves to Ajivika ascetics

Promoted cultural contacts

Between Indian states, and between India and the outer world too.
Ashoka is considered the first global cultural ambassador of India.

Policy of peace and non-aggression
>>>>>>>
>>>>>>
Mauryan Administration
Central Government
Monarchy was supported by Kautilya however he did not stand for royal absolutism & advocated king to take advice of his ministry in running the administration.
Maurya empire had a vast and highly centralised bureaucratic rule with king as the fountainhead of all powers.
Ashoka claimed paternal despotism rather than divine rule.
Ashoka's empire was probably divided into provinces with a viceroy in each province.
A council of ministers called Mantriparishad assisted the king in administration matters (COM consisted of Purohit, Mahamantri, Senapati & Yuvraj).
Civil servants known as "amatyas" were appointed to look after day to day administration & their selection method was given by Kautilya.
>>>>>>>
Revenue Department
"Samharta", the chief of revenue department was incharge of collection of all revenues of the department.
"Sannidhata", Chief custodian of state treasury & store house.
>>>>>>>
Commerce & Industry
Commerce & industry (Custom duties, Foreign affairs, Weight & measure etc) was controlled by officers known as "Adhyakshas".
>>>>>>>
Judiciary
Judicial chief justice of Supreme Court at capital in maurya empire was known as "Dharmadhikari".
Subordinate courts were under Amatyas & jails under appointed officers.
>>>>>>>
Provincial & Local Administration
Pataliputra was the capital of Magadha.
Other parts of Maurya empire was divided into 4 provinces :

Uttarapatha – Taxila
Eastern India – Tosali
Avantiratha – Ujjain
Dakshinpatha – Suvarnagiri
Kalinga – Tasali / Dhauli

During Ashoka's reign, a 5th province of Kalinga was added.
The head of the provincial administration was viceroy.
Provincial governors were appointed from the royal family.
District administration was "Rajukas", who in turn were assisted by "Yuktas" or subordinate officials.
Village administration was in hand of "Gramani " & his official supervisors called "Gopa" (Head of 10 -15 villages).
The city administration of Pataliputra was conducted by 6 committees of 5 members each

Industry
Foreigners
Vital statistics – birth and death registration
Trade, commerce and market regulations
Manufactured articles
Tax collection
>>>>>>>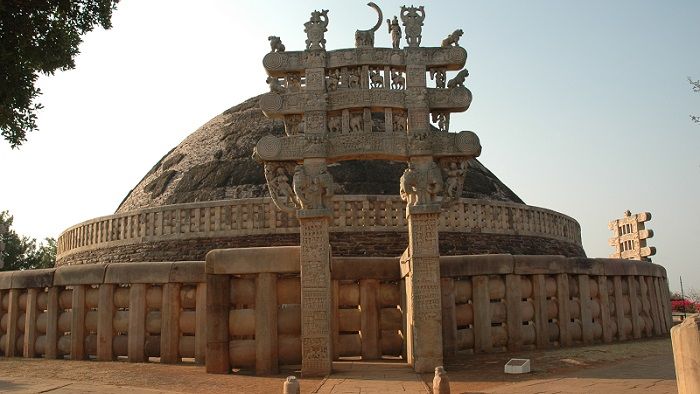 Art & Architecture
Use of stone to make monuments started in time of Ashoka.
Highly polished, monolithic, slightly tapering rock pillars & highly polished caves (for monks).
Sarnath Pillar: 4 lions standing back to back with small lion, elephant, bull & horse in circle.
Barabar hills near Bodh Gaya were presented to Ajivikas by Ashoka & his son Dasratha forms wonderful piece of mauryan architecture.
Introduction of burnt bricks to make structures & ring wells along with use of spoked wheel for the 1st time after Indus valley civilization.
Abundance of pottery NBPW & punch marked coins were found of Mauryan era.
May be art of making steel started & spread by Maurya dynasty.
>>>>>>>
>>>>>>>
Cause of Fall of Maurya Empire
Brahmanical reaction

Prohibition of sacrifices & rituals must have brought loss to the income and livelihood options of Brahmanas.

They brought about a revolution led by Pushyamitra Sunga.
The appointment of Dhamma Mahamattas would have come in conflict with the Brahmanas' prestige.

Weak successors

Weak successors, partition of empire, administrative abuses by Dustamatyas (Heavy taxex) after Ashoka's reign led to the fall of empire.

Oppressive rule in provinces

There have been instances of complaints by citizens of certain provinces regarding misrule by corrupt officials.

Financial crisis

The enormous expenditure on maintaining such a large army and bureaucracy must have created a financial crisis for the Maurya empire.

Once the new knowledge of iron tools and weapons spread in the peripheral areas, Magadha lost its special advantage.
The neglect of safeguarding of the passage on the north-west frontier, cost the Maurya empire dearly.
In the 3rd century BCE, a number of Central Asian nomadic tribes such as the Scythians were moved towards the settled empires of China and India in search of new terrains.
Chinese ruler "Shih-Huang-Ti" constructed great wall of China to prevent its border, but Mauryan did not do any such thing.
The Greeks were first to invade India in 206 BCE and they set up their kingdom in north Afghanistan called Bactria.
>>>>>>>