April 2, 2019
Model Code of Conduct – Election in India
>>>>>>>
Model Code of Conduct is a document that originated and evolved with the consensus of the political parties.

The origin of the MCC dates to the Assembly election in Kerala in 1960

Model Code of Conduct (MCC) was agreed to by all the political parties in

1968.

Election Commission first

effectively

put to use the MCC in the year

1991

to ensure fair elections and a level playing field.

It comes

immediately

into

effect

after

announcement

of

election

schedule

by commission.

In case of

premature

dissolution

of assembly, model code of conduct

started

immediately.

The MCC is not enforceable by law.  

However, certain provisions of the MCC may be enforced through IPC 1860, Code of Criminal Procedure, 1973, and RPA 1951.
>>>>>>>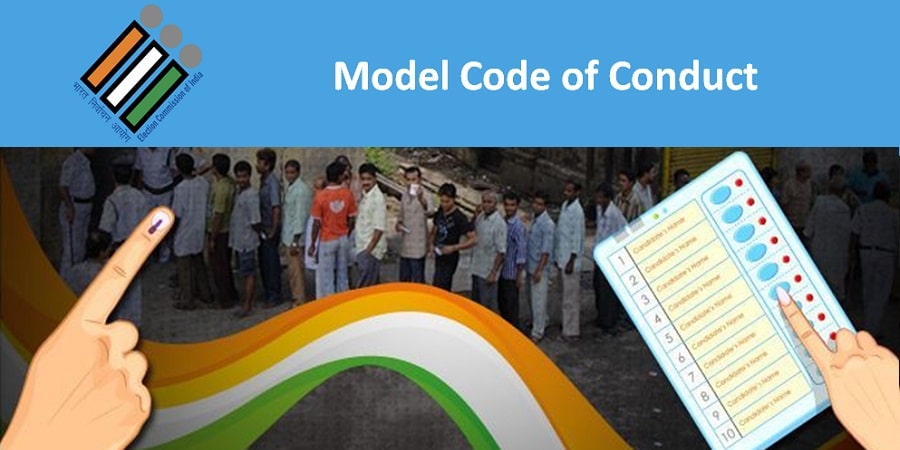 >>>>>>>
General Conduct under Model Code of Conduct
No party or candidate shall indulge in any activity which may create tension between different castes and communities, religious or linguistic.

Parties and candidates shall refrain from criticism of private life of the leaders

Criticism based on unverified allegations or distortions shall be avoided.

No

appeal

to

caste

or

communal

feelings

for securing votes.

Mosques, churches, temples or other places of worship shall not be used as forum for election propaganda.

Should avoid "

corrupt

practices

" and offences under the election law like

Bribing of voters in any kind

Distributing freebies

Intimidation of voters

Impersonation of voters

Canvassing within 100 meters of polling stations

Holding public meetings during the period of 48 hours ending with the hour fixed for the close of the poll

Transport and conveyance of voters to and from polling station.

No

use

of any

individual's

land

, building,

compound

wall

etc., without their permission

Workers of one political party shall not create disturbances at public meetings organized by another political party by putting questions orally or in writing or by distributing leaflets

Processions shall not be taken out by one party along places at which meetings are held by another party.

Posters issued by one party shall not be removed by workers of another party.
Meetings of Political Parties
Party or candidate

shall

inform

the

local

police

authorities of the venue and time

Party or candidate shall apply to the authority in advance for use of loudspeaker

Organizers of a meeting shall invariably seek the assistance of the police on duty for dealing with persons disturbing a meeting
Processions
A party or candidate organising a procession shall decide before and the time and place of the starting of the procession

The organisers shall

give

advance

intimation

to the

local

police

authorities

The organisers shall take steps in advance to arrange for passage of the procession so that there is no block or hindrance to traffic.

Burning

or

carrying

of

effigies

purporting

to represent of other political party leaders in public are not allowed
Polling Day
All political parties and candidates shall :

Co-operate with the officers on election duty.

Supply to their authorised workers badges or identity cards.

Identity

slip

supplied by them

to

voters

shall

not

contain

any

symbol

, name of candidate or party.

Not distributing liquor on polling day and during the 24 hours preceding it.

Not allow unnecessary crowd to be collected near the camps set up by the political parties and candidates near the polling booths

Ensure that the candidate's camps shall be simple.

They shall

not

display

any

posters

,

flags

,

symbols

or any other propaganda material.

No

eatable

shall

be

served

or crowd allowed at the camps.
Polling Booths
Excepting the voters, no one without a valid pass from the Election Commission shall enter the polling booths.
Observers
The Election Commission appoints Observers.

Candidates or their agents have any specific complaint, they may bring the same to the notice of the Observer.
Party in Power
The party in power at the Centre or in the state, should not use its official position for the purposes of its election campaign

Ministers shall not combine their official visit with electioneering work

Government transport including official air-crafts, vehicles, machinery and personnel shall not be used during the electioneering work

Public

places

in connection with elections shall not be monopolized

Govt. accommodation shall not be monopolized

Govt

.

accommodation

or

offices

can't use as a campaign office or for holding any public meeting for the purposes of election propaganda.

Issue of advertisement at the cost of public exchequer in the newspapers and other media and the misuse of official mass media during the election must be avoided

Ministers

and other

authorities

shall

not

Announce any

financial

grants

or

promises

thereof

Lay

foundation

stones

etc., of projects or schemes of any kind

Make any

promise

of

construction

of roads, provision of drinking water facilities, etc.

Make any ad-hoc

appointments

in

government

, public undertakings, etc.

Commission shall announce the date of any election not more than 3 weeks prior to the date

Ministers

of Central or state governments

shall

not

enter

any

polling

station

or place of counting except in their capacity as a candidate or voter or authorised agent.
Guidelines on Election Manifestos
Supreme Court in its judgment in 2013 has directed the Election Commission to frame guidelines with regard to election manifestos

The

promises

in

the election

manifesto

cannot

be

construed

as

'

corrupt

practices

' under Section 123 of RP Act,

Generally political parties release their election manifesto before the announcement of election date

In that scenario, Election Commission will not have the authority to regulate

But an exception can be made in this regard as the election manifesto is directly associated with the election process

Manifesto shall not contain anything against the Constitution

It should maintain the spirit of Model Code of Conduct

The Directive Principles of State Policy enshrined in the Constitution enjoin upon the State to frame various welfare measures

So, there can be

no

objection

to

the

promise

of

welfare

measures

in election manifestos.

Manifestos also reflect the rationale for the promises and broadly indicate the ways to meet the financial requirements for it.

Trust of voters should be sought only on those

promises

which

are

possible

to

be

fulfilled

.
Video Explanation
>>>>>>>