March 7, 2019
magadha ajatashatru bimbisara nanda dynasty mahapadma nanda
Haryanka Dynasty (544 – 413 BC)
Bimbisara (547 – 495 BC)
He also known as

Seniya

 or

Shrenika

 in the 

Jain histories.

Bimbisara set up his

capital at Rajgir

(Known as Girivraja).

Jivaka was his physician
Ajatashatru
Ajatashatru also known as

Kunika

He killed his father and succeeded to the throne.

Ajatashatru fought with Kosala and Vaishali (Lichhavis – destroyed it in 16 years) and won both war.

He is the inventor of Rathamusala (Scythed chariot) and Mahshilakantaka (Catapult)

He embraced Buddhism and led the foundation for

1st Budhhist council at Rajgir.
Udayin
Udayin was the succesor of Ajatashatru

He founded

new capital at Pataliputra.
magadha ajatashatru bimbisara nanda dynasty mahapadma nanda
Nagadasaka
The people deposed him and made Shishunaga king in his place
>>>>>>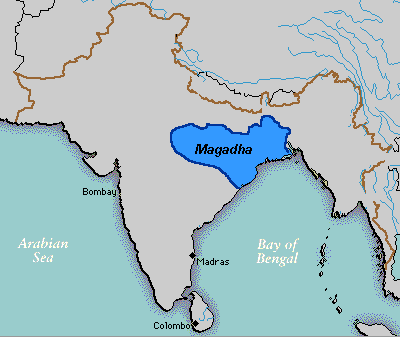 >>>>>>
Shishunaga Dynasty (413 – 345 BC)
Shishunagas
Shishunagas temporary shifted the

capital to Vaishali.

He defeated Avanti and bought end to 100 year old rivalry

Shishunagas again transferred the capital from Vaishali to Patliputra
Kalasoka
Kalasoka was succesor of Shishunaga
magadha ajatashatru bimbisara nanda dynasty mahapadma nanda
>>>>>
Nanda Dynasty (345 – 321 BC)
Mahapadma Nanda
Mahapadma nanda was known as

Ekarat

(sole king who destroy others).

He conquered Kalinga and bought image of Jina as trophy.

Hathigumpha inscription of kharavela King

(Kalinga) refers to conquest of Kalinga by Nandas.

May be a part of Deccan was under his rule.
Dhana Nanda
Cause of Magadha's Success
Advantageous

geographical position & rich iron ores of Rajgir

Capital was in Rajgir, surrounded by 5 hills.

Patliputra (Surrounded by Ganga, Gandhak, Son & Ghagra river 

–

True Jaladurga)

1st used elephants in war

against enemies.