June 2, 2021
Chemistry – Science – WBCS Preliminary Question Paper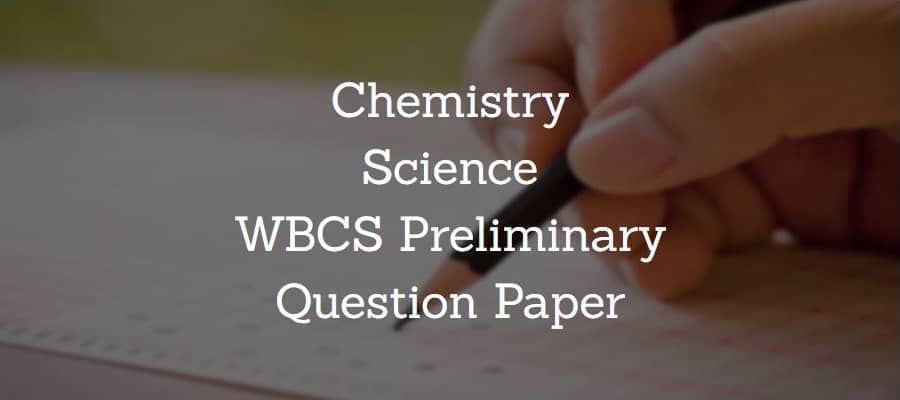 wbcs chemistry question paper
WBCS Preliminary Question – 2020
(A) isotopes
(B) isomers
(C) isotones
(KMnO4)
(A) sterilizing
(C) reducing
(D) leaching
(1896, French scientist)
(A) Marie Curie
(B) Ernest Rutherford
(D) Enrico Fermi
(Sodium nitrate)
(A) nuclear fission
(C) natural radioactivity
(D) artificial radioactivity reactions
(B) hydrogen
(C) carbon dioxide
(D) oxygen
(A) methane and butane
(C) ethane and propane
(D) ethane and butane
WBCS Preliminary Question – 2019
(A) Chlorine       
(C) Phosphorus       
(D) Silicon
(B) Ammonium Nitrate     
(C) Potassium Nitrate      
(D) Ammonium Phosphate
(citric acid, pH 2.2)
(B) Lime water      
(C) Human blood      
(D) Antacid
(A) acidic      
(B) neutral      
(D) corrosive
(CaO, 60-65%)
(A) Gypsum       
(C) Clay       
(D) Ash
(metal alloy)
(B) Copper & Tin      
(C) Copper, Nickel & Zinc     
(D) Copper, Aluminum & Mg
WBCS Preliminary Question – 2018
(b) decrease
(c) remains same
(d) None of the above
(a) decomposition
(b) hydrolysis
(c) reduction
(a) Sodium nitrate
(c) Chloride of lime
(d) Calcium
(b) Polyvinyl carbonate
(c) Phosphor Vanadium Chloride
(d) Phospho Vinyl Chloride
(a) Graphite
(c) Zinc
(d) Lead
WBCS Preliminary Question – 2017
32. Conversion of RBr to RMgBr requires
(alkali metals)
(B) Li
(C) Mg
(D) K
(Sulfur tetrafluoride)
(A) square planar
(B) tetrahedral
(C) octahedral
(Gibbs free energy)
(B) Delta H = -ve 
(C) Delta S = +ve
(D) Delta S = -ve
(A) Copper
(B) Platinum
(C) Iron
WBCS Preliminary Question – 2016
WBCS Preliminary Question – 2015
WBCS Preliminary Question – 2014
WBCS Preliminary Question – 2013
WBCS Preliminary Question – 2012
WBCS Preliminary Question – 2011
WBCS Preliminary Question – 2010
WBCS Preliminary Question – 2009
WBCS Preliminary Question – 2008
(A) Progression
(B) Regression
(D) Repression
(A) Malic acid
(B) Formic acid
(D) Fumeric acid
(A) Arsenic
(B) Bismuth
(D) Tin
WBCS Preliminary Question – 2007
(B) J.J Thomson
(C) Rutherford
(D Neil Bohr
(D) None of the above
(A) 0
(D) +2
(A) Good conductor of heat
(B) High density
(C) Good Conductor of electricity
(B) gel
(C) foam
(D) sol
WBCS Preliminary Question – 2006
(b) Balmer series
(c) Brackett series
(d) Paschen series
(a) Using a separating funnel
(b) Evaporation
(d) Allowing the water to evaporate
(a) HCHO
WBCS Preliminary Question – 2005
57.Which one of the following is not a metal?
(a) Platinum
(b) Mercury
(c) Nickel
101.Oxygen was discovered by
(b) Lavoisier
(c) Charles
(d) Boyle
102.Which one of the following is in the mixture of sympathetic ink?
(b) Zinc chloride and water
(c) Magnesium chloride and water
(d) None of the above
108.The process by which the gas comes out of an L.P.G. Cylinder is called
(b) Effusion
(c) Pressure
(d) Ventilation
(a) Butane and Isobutane
(b) Butane and Propane
(c) Isobutane and Propane
WBCS Preliminary Question – 2004
30. When a helium atom loses an electron, it is converted to a
(A) Proton
(b) L-patical
(C) deuteron
50. What is stored in a storage cell?
(A) Electric charge
(B) Electric potential
(C) Lead or some other metal
102. In the solar spectrum Fraunhofer lines are seen in the sodium D wavelength This proves
(A) there is no sodium in the sun
(B) there is no sodium in the solar atmosphere
(C) there is no sodium in sun's interior
WBCS Preliminary Question – 2003
43. Hydrogen bomb is based, on the principle of
(A) Nuclear fission
(C) Nuclear explosion
(D) None of the above
83. If density of air is 1.30 g/lit. what is the volume occupied by 7.8g of air?
(A) 10 lit.
(C) 6.5 lit.
(D) 10/10 lit
103. The purest form of iron is
(B) Cast iron
(C) Iron turning
(D) Stainless steel
123. Solar energy is due to
(B) Chemical reaction
(C) Nuclear fission reaction
(D) Burning of H
WBCS Preliminary Question – 2002
24. The unit of radioactivity is
(A) Plank
(B) Einstein
(D) None of the above
29. Which one of the following is an element?
(A) Table salt
(B) Water
(D) Glass
40. The relative humidity inside a room is 50% while the temperature is 30°C. If the temperature becomes 40°C, then the relative humidity
(A) Will increase
(C) Will remain unchanged
(D) Will increase or decrease depending upon the size of the room.
49. Colloidal particles do not settle down because
(A)Their specific gravity is very low
(C)they carry electrical charge
(D)The become solvated
56. Lightning discharges in induce rain formation. This is because they cause.
(A) Nitrogen and oxygen of the air to combine
(B) Some gas molecules to ionize
(D) They induce photochemical reaction.
70. A Plant cell shrinks when placed in
(A) Water
(B) A solution isotonic with the cell sap
(D) A hypotonic solution
141. All reaction involving chemical decomposition
(A) Are reversible
(B) Are endothermic
(C) Are reversible and endothermic
167. Which of the following metals is the best conductor of heat and electricity?
(A) Sodium
(B) Copper
(D) Potassium
WBCS Preliminary Question – 2001
18. The most abundant ions in the Bay of Bengal water are
(A) Na+ and Cl–
(B) H+ and OH–
(D) Fe2+ and Cl–
21. Phosgene is a common name of
(A) phosphorus trichloride
(B) phosphorus oxychloride
(C) phosphine
59. Which of the following mixtures can be separated by using separating funnel?
(A) water + sugar
(B) water + milk
(D) petrol + kerosene
72. A substance used in metallurgy to remove rock material is called
(A) matrix
(B) slag
(D) gangue
83. Graphite is used in nuclear reactor.
(A) as a lubricant
(B) as a fuel
(C) for lining inside the reactor as an insulator
106. Glass is best described as
(A) a gel
(B) an alloy
(C) a eutectic mixture
114. What are potato ores?
(A) Potato of Namital and Himachal Pradesh
(B) HYV seed potato raised in irrigated tracts of W.B.
(D) Ores of nuclear minerals
117. In the manufacture of steel by open hearth process cast iron used has no phosphorus but has manganese as an impurity. The furnace should have a lining of
(A) magnesia
(B) lime
(D) lime or magnesia
118. Nuclei of radioactive elements emit
(A) neutrons
(B) protons
(C) either protons or neutrons
121. Particles which can be added to the nucleus of an atom without changing chemical properties are called
(B) proton
(C) electron
(A) -6.8eV
(C) -27.2eV
(D) -13.6eV
129. Vinegar is a dilute solution of
(A) formaldehyde
(B) formic acid
(C) ethanol
179. A pair of compounds which cannot exist together in solution is
(B) sodium bicarbonate and water
(C) sodium bicarbonate and sodium carbonate
(D) sodium carbonate and caustic soda
WBCS Preliminary Question – 2000
21. In the process of vulcanisation which two of the following are heated together?
(B) Latex and Sulphur
(C) Rubber and Steel
(D) Rubber and Lead
24. When a liquid is heated from 20°C to 60°C its density
(A) Remains the same
(B) Increases
(D) Is lost
30. Solar energy is produced by the process of
(B) Fission
(C) Explosion
(D) Contraction
31. Which once of the following are. called Noble gases?
(A) Oxygen and Hydrogen
(B) Oxygen and Argon
(D) Hydrogen and Neon
33. In underground Railways air is purified by using
(A) Ozone
(C) Oxygen
(D) None of the above
34. In 1775 a scientist experimentally showed that air consists of two gases. The name of the scientist is
(B) Laboisier
(C) Darwin
(D) Davy
35. Dry ice is made up of
(A) Water
(B) Chlorine
(C) Hydrocarbon
36. Water gas is a mixture of
(B) Carbon di-oxide and Hydrogen
(C) Carbon monoxide and Nitrogen
(D) Carbon di-oxide and Nitrogen
45. In ripening fruit which one of the following is used?
(A) Ethylene
(C) Methane
(D) Polyvinyl chloride
Related Post:
Related Post: