December 24, 2019
Economy Current Affairs – WBCS Main Question Paper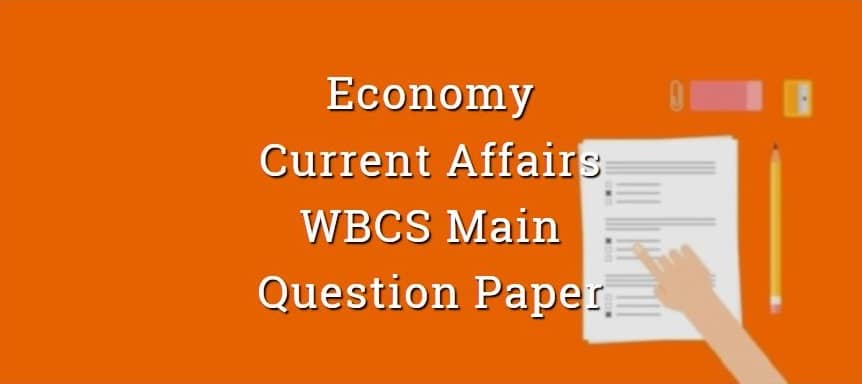 indian economy current affairs mcq
WBCS Main Question Paper – 2019
65. The Govt. has decided to provide what per cent interest subsidy to merchant exporters, entailing an expenditure of Rs. 600 cr?
(A) 2 per cent
(C) 4 per cent
(D) 5 per cent
66. Which of the following is one of the states which has topped NITI Aayog's Index of Indian States' performance on various UN Sustainable Development Goals (SDGs)?
(A) Karnataka
(B) Gujarat
(C) Maharashtra
67. According to the World Economic Forum's (WEF) report titled 'Future of Consumption in Fast-Growth Consumer Market —India' , what will be India's ranking as the world' s largest consumer market by 2030?
(A) Second
(C) Fourth
(D) Fifth
68. According to the data released by the Central Statistics Office (CSO), the Indian economy is likely to grow at what per cent in the financial year (2018-19)?
(A) 6.7 per cent
(B) 6.9 per cent
(C) 7.2 per cent
(D) 7.4 per cent
69. In Pradhan Mantri Fasal Bima Yojana (PMFBY), the timeline of how many months is set for settlement of claims by insurance companies after the completion of crop cutting experiments/harvesting period?
(A) One
(C) Three
(D) Four
132. On which bank the RBI has slapped Rs.1 crore penalty for not monitoring the end use of funds in respect of one of its borrowers?
(A) Bank of Baroda
(B) PNB
(D) Allahabad Bank
133. The RBI has announced that it will transfer an interim surplus of INR to the Central Government for the half year ended 31st December 2018.
(B) Rs. 20,000 crore
(C) Rs. 30,000 crore
(D) Rs. 25,000 crore
134. The RBI raised the limit of collateral free agricultural loans to Rs.1.6 lakh from the current ______ with a view to help small and marginal farmers.
(A) Rs.50,000
(C) Rs.1.5 lakh
(D) Rs.80,000
35. Indian Banking Association has issued advisory requesting banks to waive off the processing, documentation, inspection and all other service charges for Kisan Credit Card and crop loans up to INR _____
(A) Rs. 2 lakh
(C) Rs. 4 lakh
(D) Rs. 4.50 lakh
136. India's fiscal deficit has touched of the FY 19Budget target of Rs. 6.24 lakh crore during the period of 9 months from April to December 2018.
(A) 90%
(B) 100%
(D) 115%
137. What is the name of the mega pension scheme announced in Interim Budget 2019 under which Rs. 3,000 per month pension for 10 crore unorganised sector workers has been proposed for contribution of Rs. 100/55 per month?
(A) Pradhan Mantri Shram Yogi Maandhan
(B) PM-Kisan Samman
(C) PM Jan Suraksha Bima Yojana
(D) Sukanya Samriddhi Y0Jana
138. Which State Govt. has announced interest free loans of up to three lakh rupees for women self-help group (WSHGs) in the state?
(A) West Bengal
(B) Rajasthan
(C) Chattisgarh
140. Rythu Bandhu Scheme is implemented in which State? The state govt. provides an income support of Rs. 4000 per acre per season to farmers under the scheme:
(A) Odisha
(B) Assam
(D) Kerala
141. Which State has announced new temporary cow shelters in the urban and rural areas and imposition of a cess on excise duty for the same?
(A) Madhya Pradesh
(B) Rajasthan
(D) Haryana
142. Which State has emerged on top of Asia Competitiveness Institute (ACI), Singapore's 2018 Ease of Doing Business Index?
(A) Rajasthan
(B) Gujarat
(C) Delhi
144. The govt. collected what amount as GST in Dec 2018?
(A) Rs. 92,726 Cr.
(C) Rs. 95,726 Cr.
(D) Rs. 96,726 Cr.
145. Which State Govt. recently announced two welfare initiatives for farmers as part of the 'Krishi Krishak Bondhu' Scheme?
(A) Odisha
(C) UP
(D) Bihar
146. Who among the following was recently declared 'fugitive economic offender' by a Mumbai Court?
(A) Nirav Modi
(B) Lalit Modi
(C) Subrata Roy
147. Which country asked the RBI to declare Indian currency notes of denominations higher than Rs. 100 legal tender in that country?
(A) Maldives
(B) Nepal
(C) Bhutan
(D) Myanmar
148. The RBI has allowed the Small Industries Development Bank of India (SIDBI) to use an existing Rs. 1000 Cr. corpus for lending to
(A) Microfinance Institutions
(B) Students
(C) Payment Banks
(D) Farmers
149. The book 'Changing India' has been penned by who among the followings?
(A) Pranab Mukherjee
(B) Amit Shah
(C) Raghu Ram Rajan
150. The Indian origin (Mysore-born) economist has joined International Monetary Fund as its Chief Economist. Who is she/he?
(B) Amitabh Chaudhury
(C) Jaideep Gound
(D) Vishakha Mulye

151. The GST council took a slew of decision aimed at reducing the tax and compliance burden on small and medium enterprises. The limit for eligibility for the Composition Scheme would be raised to an annual turnover of ________ from April, 2019.
(A) Rs. 1 Cr
(C) Rs. 2. Cr
(D) Rs. 2.5 Cr
152. The Reserve Bank of India on January 1, 2019 allowed lenders to recast loans of stressed micro, small and medium enterprises (MSMEs), provided the total fund and non-fund-based exposure to such a borrower does not exceed—
(A) Rs. 10 Cr.
(B) Rs, 15 Cr.
(C) Rs. 20 Cr.
154. Maharatna Oil PSU Indian Oil will invest over ______ in West Bengal In the next two years.
(B) Rs. 1200 crore
(C) Rs. 1100 crore
(D) Rs. 1000 crore
155. Dutch firms are ready to help in setting up port facilities (Logistic Hub) at ________ in West Bengal.
(A) Calcutta Port
(B) Haldia Port
(D) All of the above
156. The Government of India is amending a clause of the 1991 Treaty of Trade and Transit to explore water routes. Name the other country.
(A) Bhutan
(B) Sri Lanka
(C) Maldives
157. At the NITI Aayog meeting of CMs on 15th June 2019 the P.M said that the goal of making India a _____ economy by 2024 was challenging but achievable.
(A) $ 3 trillion
(B) $ 4 trillion
(D) $ 6 trillion
158. State Bank of India has reported a net profit of _______ for the quarter ended March, 2019.
(B) Rs. 738 crore
(C) Rs. 638 crore
(D) Rs. 538 crore
159. The man's unique feet: unveiling e-Choupal with an arm to change India's rural economy by empowering farmers. He died on May 11, 2019. Who is he?
(A) Yogesh Chander Deveshwar (YCD)
(B) Meera Sanyal
(C) MasazoNonaka
(D) Atal Behari Vajpayee
160. The Govt. has exempted rupee payments made to the oil company NIOC towards the purchase of crude oil from payment of any tax. NIOC belongs to
(A) Saudi Arabia
(B) Venezuela
(C) Cambodia
161. Which of the following private sector banks has announced a 'blended finance facility' to rescue salt farmers of Rann of Kutch (Gujarat)?
(A) HDFC Bank
(B) ICICI Bank
(D) AXIS Bank
164. The RBI has set up an expert committee to suggest long term solutions for the economic and financial sustainability of the MSME sector. The committee is headed by
(B) Chitra Ramkrishna
(C) DR Mehta
(D) Arundhati Bhattacharya
WBCS Main Question Paper – 2018
12. Read the statements
i) Insolvency and Bankruptcy Code, recognised home buyers as financial creditors to real estate developers.
ii) Home buyers will get due representation in the committee of creditors
iii) The amended Insolvency and Bankruptcy Code specifies home buyers will be treated as secured creditors.
Which statements are correct in reference to Insolvency and Bankruptcy Code (Amendment) Ordinance, 2018?
a) Only (i) and (ii) are correct
b) only (i) and (iii) are correct
c) Only (ii) and (iii) are correct
d) All statements are correct.
13. According to RBI's latest report, Import Cover of the country in December, 2017 is of how many months?
a) 12 months
c) 15 months
d) 19 months
157. The Insurance Regulatory and Development Authority of India (IRDAI) has approved which of the following agencies to acquire a majority stake in IDBI bank?
b) GIC
c) National Insurance Co. Ltd.
d) None of the above
161. As per Mercer's 24th Annual Cost of Living Survey 2018, which is India's most expensive city?
a) Gurugram
c) Bengaluru
d) Hyderabad
163. Which of the following three general insurance companies will be merged into single insurance company as per Budget 2018-19?
a) UTI, Oriental Insurance and National Insurance
b) LIC, Bharti AXA and United Insurance
c) General Insurance, Max Bupa and UTI
d) Agriculture Insurance Company of India Limited, Bharti AXA and United Insurance
WBCS Main Question Paper – 2015
126.  India's external debt at the end of March, 2014 stood at
129.  The National Income of India during 2013-14 at current prices is estimated at
135.  The allocation for General budget as a percentage of total budget has gone up from 2.79% in 2005-06 to ______
in 2015-16
136.  Consider the following statements :
1. India's Jute contributes about 70% of world production
2. Minimum support price for raw jute is fixed every six months by Government of India
3. Raw jute is produced mainly in the State of West Bengal, Bihar, Assam and Tripura
4. The Cabinet Committee on Economic Affairs has approved the Minimum Support Price for 2014-15 season at Rs. 2,400 per quintal
WBCS Main Question Paper – 2014
88.  As per 13th Finance Commission recommendations during 2010-15 transfers to the states from the Central tax pool, are expected to be
89.  C.S.O. has predicted the GDP growth of Indian economy in 2014-15 fiscal year will be –