April 12, 2020
Physics – Science – WBCS Main Question Paper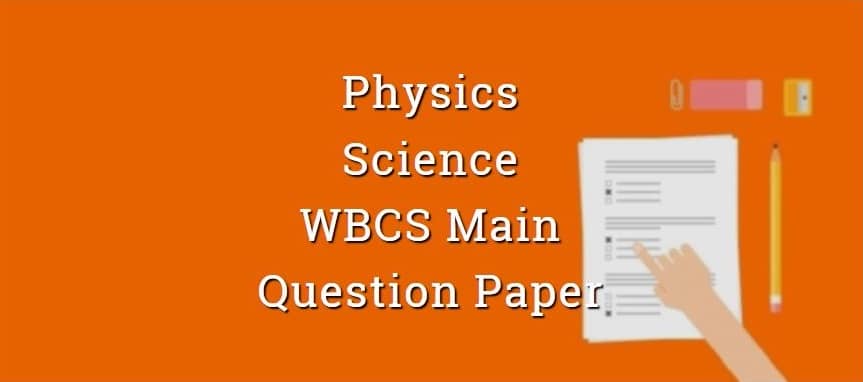 WBCS Main Question Paper – 2019
(A) Copernicus
(C) Rutherford
(D) Satyen Bose
(A) Infrared rays
(B) UV rays
(C) X-rays
(B) Planometer
(C) Psychrometer
(D) Photometer
(1885)
(A) Lyman, ultraviolet
(B) Lyman, visible
(C) Balmer, ultraviolet
(A) 30 cm
(B) 20 cm
(D) 5 cm
(A) Thermal conduction
(B) Forced convection
(C) Natural convection
(A) semiconductor
(B) good conductor
(C) super conductor
(A) Planck's constant and angular momentum
(B) Impulse and linear momentum
(D) Energy and torque
(A) relative velocity
(B) terminal velocity
(D) particle velocity
(A) 37.5 W
(B) 25 W
(D) 10 W
(A) Buoyancy is equal to weight of body.
(B) Weight of liquid displaced by body is equal to buoyancy.
(C) Force applied by body on liquid is buoyancy downward.
(A) 100 dB
(C) 200 dB
(D) 250 dB
(A) zero
(B) lesser
(C) equal
(A) independent of temperature.
(C) decreases as the temperature rises.
(D) increases or decreases as the temperature rises depending upon the metal.
(B) unity
(C) infinity
(D) more than that of a real fluid
(A) volume conservation
(B) mass conservation
(D) energy conservation
(A) Venturimeter
(B) Pitot tube
(D) None of the above
WBCS Main Question Paper – 2018
d) 8 times
b) Frankel
c) Interstitial
d) Electronic
c) UV-rays
d) X-rays
d) Ampere
a) Copper
c) Brass
d) All of the above
b) Supersonic
c) Microwave
d) Seismic
a) positive integer
b) negative integer
d) any fraction
a) grip of legs with the floor surface minimizes
c) centre of gravity of body changes
d) increase of forwarding forces
a) fundamental frequency
c) amplitude of the wave
d) velocity of sound
b) 500 to 1000 mm
c) 300 to 600 mm
d) 200 to 400 mm
a) Transformer
c) Induction motor
d) Dynamo
a) increases with temperature.
c) does not change with temperature.
d) increases at lower temperature but decreases at higher temperature.
b) 22%
a) Bourdon pressure gauge
b) Hot filament ionisation gauge
d) Inclined tube manometer
b) small
c) high
d) very high
a) continuous emission spectrum
b) band absorption spectrum.
WBCS Main Question Paper – 2017
WBCS Main Question Paper – 2016
(Equator – increases, Poles – unchanged)
WBCS Main Question Paper – 2015
(D) Water Vapour
2. A weightless rubber balloon is filled with 200c.c. of water. Its weight in water is equal to
(1st Law of motion)
(A) Driving force in the direction of motion of the car
(B) Resistance force in the direction opposite to car's motion
(C) An inclined force
7.
Rainbow is produced
when sunlight falls on drop of rain. The physical phenomena responsible for this are
1) Dispersion
2) Refraction
3) Internal reflection
(A) 1 & 2
(B) 2 & 3
(C) 1 & 3
(A) First submarine
(1775)
(B) Hovercraft
(C) Steamship
(D) Catamaron
45. Which one of the following is printed on a commonly used fluorescent tube light?
(A) 220 K
(B) 273 K
(D) 9000 k
(A) Max Planck
(B) Albert Einstein
(C) William Henry Bragg
(1915)
(D) Enrico Fermi
(Raman effect – light scattering)
(A) 1920
(B) 1925
(D) 1931
92. A sample of gas expands from volume V1
to V2. The amount of
work done by gas
is greatest when the expansion is
(A) Adiabatic
(B) Equal in all cases
(C) Isothermal
(B) Dispersion
(C) Reflection
(D) Refraction
(A) Potential difference
(B) Charge
(D) Power
(A) Power
(B) Wavelength
(C) Intensity
(A) Steps up the line voltage
(B) Steps down the line voltage
(C) Reduces the current in the circuit
(D) Chekes low frequency current
(A) Very small size
(B) Very large size
(B) Very Very low size
(A) Increase by 0.5%
(C) Decrease by 0.5%
(D) Decrease by 2.0%
(A) red, yellow green
(B) Red, yellow, Blue
(D) Yellow, Green, Blue
WBCS Main Question Paper – 2014
11. The wave length of visible light lies between
(
about 380 to 740 nanometers
)
Related Post:
Related Post: