April 23, 2022
Sectors of Indian Economy – WBCS Main Question Paper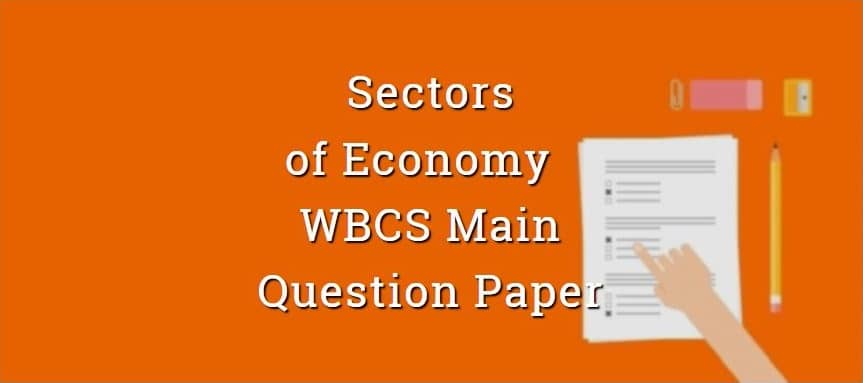 sectors of indian economy questions and answers
WBCS Main Question Paper – 2020
Which item does not usually come under India's import basket nowadays?
(A) Petroleum     
(B) Crude oil     
(C) Fertiliser      
(D) Food grains
Taxation on agricultural income in India is
(A) relatively high.     
(B) low.     
(C) proportionate to its contribution.    
(D) None of the above
First Industrial Policy came into existence in the year
(April, Mixed Economic Model)
(A) 1947     
(B) 1948      
(C) 1950      
(D) 1956
'Operation Barga' programme beneficially affected the following class :
(A) Landlords      
(B) Agricultural laborer        
(C) Share croppers     
(D) Intermediaries
Find the incorrect statement :
        Green revolution made possible _______
(A) Very low use of chemical fertilizer
(B) Used of HYV seeds
(C) Increase in the use of agro machinery
(D) Multiple cropping
Which one of the following items is included in National income ?
(A) Subsidy on rationing    
(B) Scholarship      
(C) Administrative expenditure    
(D) Relief grant
A most important source of energy in India :
(A) Hydel power      
(B) Solar power     
(C) Nuclear power       
(D) Thermal power
Indian agriculture mostly shows this type of unemployment _______
(A) Voluntary unemployment
(B) Cyclical unemployment
(C) Disguised unemployment
(D) Frictional unemployment
Central Government does not collect revenue from these sources :
(A) Central excise duty and Customs duty
(B) Personal Income tax and Corporate tax
(C) Agricultural Income tax and Land Revenue
(D) Wealth tax and Capital gains tax
(A) raising control of the Government on the land sale.
(B) raising power of the actual farmers.
(C) raising power of the intermediary class.
(D) None of the above
Sectoral distribution of the gross domestic product (GDP) in India shows the following pattern nowadays:
(A) Percentage share of industry sector is the highest
(B) Percentage share of the services sector is the highest
(C) Percentage share of industries and services sector together are around 50%
(D) None of the above
Contribution of agricultural sector in G.D.P. in India
(A) More than its percentage share in total employment of that sector.
(B) Less than the percentage share in total employment of that sector.
(C) Both are approximately equal.
(D) Uncertain.
Major part of employment in India arise in this field ______
(80%)
(A) Organised sector      
(B) Unorganized sector     
(C) Public sector     
(D) Both (A) and (C)
Which statement is not correct ?
        Small scale industries in India are advantageous as
(A) they have high employment potential.
(B) highly capital intensive.
(C) use of local skill and material.
(D) capital used per worker relatively low.
Policy of freight equalization affected West Bengal
(A) beneficially      
(B) adversely     
(C) it was neutral     
(D) uncertain
Which statement is correct ?
        In cooperative farms ________
(A) Farmers pool their land to form a large holding.
(B) Farmers do not face joint responsibility.
(C) Private ownership of land does not remain.
(D) Farmers do not join voluntarily.
The program' Operation Barga' was undertaken with quick success in
(A) Punjab.      
(B) West Bengal.     
(C) Maharashtra.     
(D) None of the above
The status of the Bargadars is
(West Bengal Land Reforms Act, 1955)
(A) Owner cultivator.      
(B) Share cropper.    
(C) Agricultural labourer.    
(D) Marginal farmer.
Petrochemical industries have a long chain effect on downstream industries.
(A) True      
(B) False     
(C) Applies to some extent      
(D) Uncertain
The impact of economic reform policies on agriculture was
(A) beneficial.     
(B) adverse.     
(C) remained neutral.     
(D) uncertain.
Green revolution and new agricultural strategy first appear in the production of
(A) paddy.     
(B) oil seed.     
(C) wheat.    
(D) pulses.
Indicate the incorrect statement :
        Land reform programme in India aimed at
(A) rent regulation.   
(B) land ceiling.    
(C) tenancy security.   
(D) increasing power of intermediaries
Major part of Indian agriculture shows
(51% of agricultural output)
(A) capitalist agricultural system.     
(B) small size farm.     
(C) large size farm.    
(D) Cooperative farm.
Tertiary sector activities include _______
(service industry)
(A) Mining activity.      
(B) Banking activity.    
(C) Dairy farming.     
(D) All of the above
WBCS Main Question Paper – 2019
(A) Machines
(C) Indigenous
(D) Availability of Micro-nutrients
126. Find the odd one out:
(A) Gems
(B) Precious Metals
(C) Oil
153. Find the odd one:
(A) China
(B) The US
(C) The UAE
(A) Primary Sector
(B) Secondary Sector
(D) Social Sector
(A) Oil seeds
(B) Fish
(C) Cotton
(B) above Rs. 5 crore to Rs. 10 crore.
(C) up to Rs. 25 lakh.
(D) above Rs. 10 lakh to Rs. 2 crore.
(A) Bharat Electronics Limited (BEL)
(B) Rashtriya Ispat Nigam Limited (RINL)
(D) Hindustan Aeronautics Limited (HAL)
WBCS Main Question Paper – 2018
b) Maharashtra
c) Karnataka
d) Andhra Pradesh
a) Ahmadabad
b) Surat
c) Jaipur
d) Indore
a) Andhra Pradesh
b) Sikkim
d) West Bengal
a) White revolution
c) Green revolution
d) Brown revolution
31. Black Revolution is related to
a) First production
b) Coal production
d) Mustard production
37. Who is the originator of the Green Revolution in India?
a) Normal E. Borlaug
c) Carry Backer
d) None of the above
35. Consider the following statements and identify the right ones:
ii) It is one of the eight missions under the NAPCC.
a) (i) only
b) (ii) only
d) None of the above
38. The biggest public sector undertaking in India is
a) Iron and Steel plants
b) Airways
d) Roadways
a) cost of production is low
b) they require small capital investment
c) they advance the goal of equitable distribution of wealth.
a) Real Estate
b) Transport
c) Restaurants & Hotels
WBCS Main Question Paper – 2017
WBCS Main Question Paper – 2016
65. In the composition of the National Income in India the contribution of the _______ is the highest
(A) Primary sector        
(B) Secondary        
(D) Social sector
93. What are the principal items of India's import at present –
(A) Electronic goods     
(B) Chemical items      
(C) Gold and Silver      
(A) United States        
(C) Japan       
(D) Korea
(A) increasing year after year
(B) decreasing year after year
(C) static year after year
(D) None of the above
149. In the last one decade, which one among the following sectors has attracted the highest foreign direct investment inflow into India ?
(A) Chemicals other than fertilizers
(C) Food Processing
(D) Telecommunication
153. Foreign Direct Investment ceilings in the telecom sector have been raised from 74% to –
(A) 80%        
(B) 83%        
(C) 90%         
165. Which of the following industries was de-reserved in 1993 ?
(A) Atomic energy      
(B) Atomic minerals        
(D) Railways
(A) Land owner is sure of getting a portion of the produced crop
(B) If the share of land owner remains fixed, the farmer tries to maximize production
(C) In this system, it is possible to make the optimum use of inputs
(A) agricultural farms
(B) cottage industry
(C) large scale industries
WBCS Main Question Paper – 2015
WBCS Main Question Paper – 2014
Related Post:
Related Post: