July 8, 2020
Sectors of Indian Economy – WBCS Main Question Paper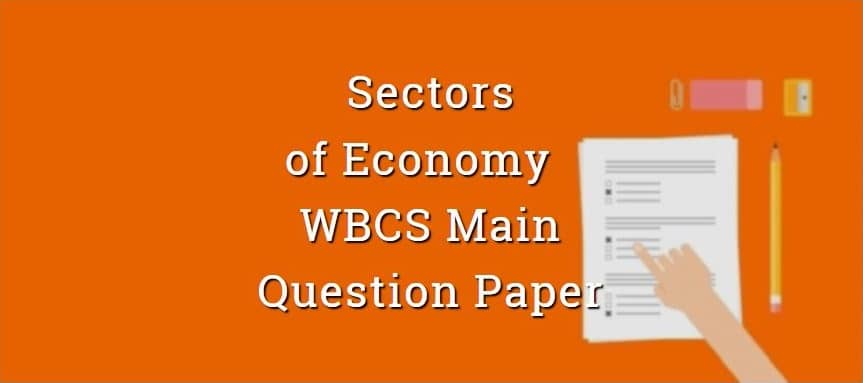 sectors of indian economy questions and answers
WBCS Main Question Paper – 2019
(A) Machines
(C) Indigenous
(D) Availability of Micro-nutrients
126. Find the odd one out:
(A) Gems
(B) Precious Metals
(C) Oil
153. Find the odd one:
(A) China
(B) The US
(C) The UAE
(A) Primary Sector
(B) Secondary Sector
(D) Social Sector
(A) Oil seeds
(B) Fish
(C) Cotton
(B) above Rs. 5 crore to Rs. 10 crore.
(C) up to Rs. 25 lakh.
(D) above Rs. 10 lakh to Rs. 2 crore.
(A) Bharat Electronics Limited (BEL)
(B) Rashtriya Ispat Nigam Limited (RINL)
(D) Hindustan Aeronautics Limited (HAL)
WBCS Main Question Paper – 2018
b) Maharashtra
c) Karnataka
d) Andhra Pradesh
a) Ahmadabad
b) Surat
c) Jaipur
d) Indore
a) Andhra Pradesh
b) Sikkim
d) West Bengal
a) White revolution
c) Green revolution
d) Brown revolution
31. Black Revolution is related to
a) Fist production
b) Coal production
d) Mustard production
37. Who is the originator of Green Revolution in India?
a) Normal E. Borlaug
c) Carry Backer
d) None of the above
35. Consider the following statements and identify the right ones:
ii) It is one of the eight missions under the NAPCC.
a) (i) only
b) (ii) only
d) None of the above
38. The biggest public sector undertaking in India is
a) Iron and Steel plants
b) Airways
d) Roadways
a) cost of production is low
b) they require small capital investment
c) they advance the goal of equitable distribution of wealth.
a) Real Estate
b) Transport
c) Restaurants & Hotels
WBCS Main Question Paper – 2017
WBCS Main Question Paper – 2016
65. In the composition of the National Income in India the contribution of the _______ is the highest
(A) Primary sector        
(B) Secondary        
(D) Social sector
93. What are the principal items of India's import at present –
(A) Electronic goods     
(B) Chemical items      
(C) Gold and Silver      
(A) United States        
(C) Japan       
(D) Korea
(A) increasing year after year
(B) decreasing year after year
(C) static year after year
(D) None of the above
149. In the last one decade, which one among the following sectors has attracted the highest foreign direct investment inflow into India ?
(A) Chemicals other than fertilizers
(C) Food Processing
(D) Telecommunication
153. Foreign Direct Investment ceilings in the telecom sector have been raised from 74% to –
(A) 80%        
(B) 83%        
(C) 90%         
165. Which of the following industries was de-reserved in 1993 ?
(A) Atomic energy      
(B) Atomic minerals        
(D) Railways
(A) Land owner is sure of getting a portion of the produced crop
(B) If the share of land owner remains fixed, the farmer tries to maximize production
(C) In this system, it is possible to make the optimum use of inputs
(A) agricultural farms
(B) cottage industry
(C) large scale industries
WBCS Main Question Paper – 2015
WBCS Main Question Paper – 2014
Related Post:
Related Post: