March 31, 2020
West Bengal Geography – WBCS Main Question Paper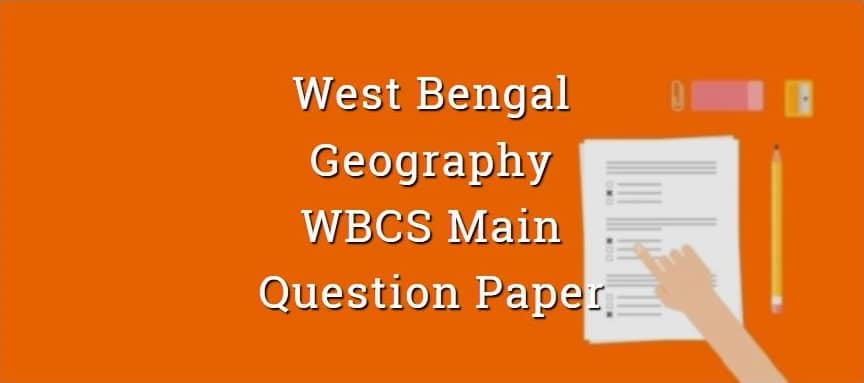 west bengal geography mcq
WBCS Main Question Paper – 2019
(Mulberry silk)
(B) Horticulture
(C) Apiculture
(D) Aquaculture
(100th amendment)
(B) Darjeeling
(C) Jalpaiguri
(D) None of the above
(950)
(B) 948
(C) 938
(D) 958
(1921)
(A) Gour Banga University
(B) Rabindra Bharati
(D) University of Calcutta
WBCS Main Question Paper – 2018
(A) Lava forest of Kalimpong
(C) Dandakaranya forest of Orissa
(D) National Park of U.P.
(A) Kutch
(B) West Ghats
(C) Konkan Coast
(Jalpaiguri district)
(A) Jaldapara
(B) Garumara
(C) Corbett Park
(Shibpur, 1786)
(A) Shimla
(C) Lucknow
(D) Bengaluru
(1961)
(B) link North and South Bengal
(C) supply drinking water to Kolkata
(D) divert water to Bangladesh
159. Which of the following canals is located in W.B.? 
(Purba Bardhaman, 1904)
(A) Lower Ganga canal
(B) Saracja canal
(D) Sirhand canal
WBCS Main Question Paper – 2017
(Jalpaiguri highest)
(A) Darjeeling
(B) Alipurduar
(D) Dakshin Dinajpur
(A) Darjeeling
(B) Bankura
(D) Alipurduar
(A) Inter-district
(B) Intra-district
(D) International
174. Share (in %) of the net sown area is the maximum in the district of 
(89.5%)
(A) Purba Medinipur
(B) Malda
(C) Bardhaman
175. West Bengal has the highest number of livestock in the form of
(a) Buffalo
(b) Sheep
(c) Goat
(A) the chotonagpur plateau.
(B) the marine sediments of the Bay of Bengal.
(C) the Himalayas.
(A) Neora Valley
(C) Sundarban
(D) Forests of Purulia
(A) Bardhaman
(B) South 24 Parganas
(D) Nadia
(A) Purulia
(B) Birbhum
(C) Bankura
(A) It has an area of about 800 ha.
(B) It is a Ramsar site.
(C) It is popular for its waste recycling properties.
(A) the Godavari continental shelf
(B) the Northern part of the Indian Ocean.
(C) the Western coast of India.
(Alipurduar district)
(A) Santhal
(B) Munda
(C) Birhore
(A) Anthracite type
(C) Lignite type
(D) Beat type
(more than 1 lac population)
(A) 68
(B) 58
(C) 48
(D) 38
(A) Jalpaiguri
(B) Birbhum
(C) North 24 Parganas
(A) Kalyari
(B) Siliguri
(C) Haldia
191. Which one of the following is not an island of the Sundarban region ? 
(Hooghly district)
(A) Gosaba
(B) Patharprauma
(C) Jammudwip
(D) 33%
(B) Bankura
(C) Birbhum
(D) Nadia
(A) Hooghly
(B) Ichamati
(D) Rupnarayan
109. The normal date of onset of the South-West monsoon in South Bengal is
(A) 1 – 5 June
(B) 5 – 10 June
(D) 15 – 20 June
(A) Zone I
(B) Zone II
WBCS Main Question Paper – 2016
(A) Ganga
(C) Yamuna
(D) Mahanadi
184. UNESCO declared as a Biosphere Reserve as well as a World Heritage site in 1997
(A) Bitarkanika
(B) Jim Corbet
(C) Kanha
(A) Purba Medinipur
(B) Koch Bihar
(D) Maida
(D) 73.55%
176. Population density of West Bengal as on 2011 is
(B) 1023 person per square km.
(C) 1038 person per square km.
(D) 1033 person per square km.
186. Level of urbanization in West Bengal in 2011 is
(D) 32.24%
WBCS Main Question Paper – 2015
30. ____is the largest district of West Bengal in size – 
(b) Midnapore (West)
(c) Burdwan
(d) Jalpaiguri
97. Aluminum Factory of West Bengal is located at
(a) Falta
(c) Durgapur
(d) Batanagar
98. Lowest rainfall of West Bengal is found in:
(b) Birbhum
(c) Paschim Midnapore
(d) Bankura
(a) 1st January of 1905
(b) 15th August of 1947
(d) 14th April of 1948
100. Consider the following statements and select the correct answer using codes given below:
I. Rivers of Sunderban Region are fed by high tides
Il. Most of the rivers of Sunderban Region are distributaries of Hooghly
Ill. Haldi is a tributary of Hooghly
IV. Saptamukhi and Piyali fall in Sunderban Region
(a) I & III
(b) II & III
(d) None of the above
WBCS Main Question Paper – 2014
(b) Falut
(c) Sabargam
(d) Tonglu
95 Which of the following districts of West Bengal has the lowest literacy rate in 2011?
(a) Maida
(b) Murshidabad
(c) Purulia
96. The approximate percentage of land under forest in West Bengal
(d) 28.5%
(a) Naihati
(c) Belghoria
(d) Uluberia
100. In which part of the Ganga delta land building has practically ceased?
(a) North 24-Parganas
(b) South 24-Parganas
(d) Malda
(b) 1986
Related Post:
Related Post: