March 8, 2019
Vijayanagar Empire & Bahmani Sultanate
vijayanagar empire krishna deva raya bahmani kingdom quli qutub shah adil shahi
By the end of the Sultanate Period, Multan and Bengal were the first territories to break away from the Delhi and declared independent
Many other territories in the Deccan region also rose to power.
>>>>>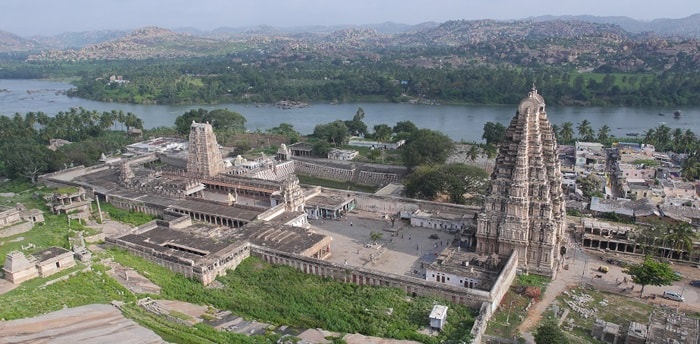 vijayanagar empire krishna deva raya bahmani kingdom quli qutub shah adil shahi
Vijayanagar Empire (1336-1672)
Harihara and Bukka are the founders of the Vijayanagar Empire in 1336 A.D.
It was on the southern banks of Tungabhadra
They made Hampi as the capital city.
They served under Kakatiya ruler of Warangal
>>>>>
Vijayanagar Empire was Ruled by
Sangama dynasty
Saluva dynasty
Tuluva dynasty
Aravidu dynasty
>>>>>
Harihara I  (1336–56)
In 1336 Harihara I became the ruler of Sangama Dynasty
By 1346, the whole of the Hoyasala kingdom had passed into the hands of the Vijayanagar rulers.
By 1377 that the sultanate of Madurai was completely wiped out.
Vijayanagar empire then comprised the whole of south India upto Ramesvaram, including the Tamil country as well as Kerala.
Bagapellsi Copper Plate Inscription of Harihara I tells us about his achievements
In 1356 Bukka-I succeeded Harihara.
vijayanagar empire krishna deva raya bahmani kingdom quli qutub shah adil shahi
Deva Raya I (1406–22)
He was able make alliance and defeated Firoz Shah of Bahmani and annexed the entire territory up to the mouth of the Krishna.
A Venetian tourist Nicolo Conti visited his court
Hazare Rama temple was constructed during his rule
Madhura, a noted Jain poet, was in his court
Madhura wrote the Dharmanathapurana on the life of the 15th Jain Tirthankar in Kannada
>>>>>
Deva Raya II  (1424–46)
Deva Raya II was the greatest ruler of the Sangama dynasty.
He acquired the title of Gajabetegara
In order to strengthen his army, he inducted more Muslims in his army
He asked all his Hindu soldiers and officers to learn the art of archery from Muslim army.
Srirangam copper plates of Deva Raya Il list the various achievements of the ruler
Sanskrit poet Gunda Dimdima and Telugu poet Kavisarvabhauma Srinatha, author of Haravilasam, was in his court.
Persian traveller Abdur Razzak visited his court.
vijayanagar empire krishna deva raya bahmani kingdom quli qutub shah adil shahi
Saluva and Tuluva Dynasty
After some time of the death of Dev Raya II the throne was usurped by the king's  minister, Saluva Narasimha.
Thus the Sangama dynasty came to an end and the Saluva dynasty was established
The Saluva dynasty also soon came to an end, and a new dynasty called the Tuluva dynasty was founded by Vira Narasimha
>>>>>>>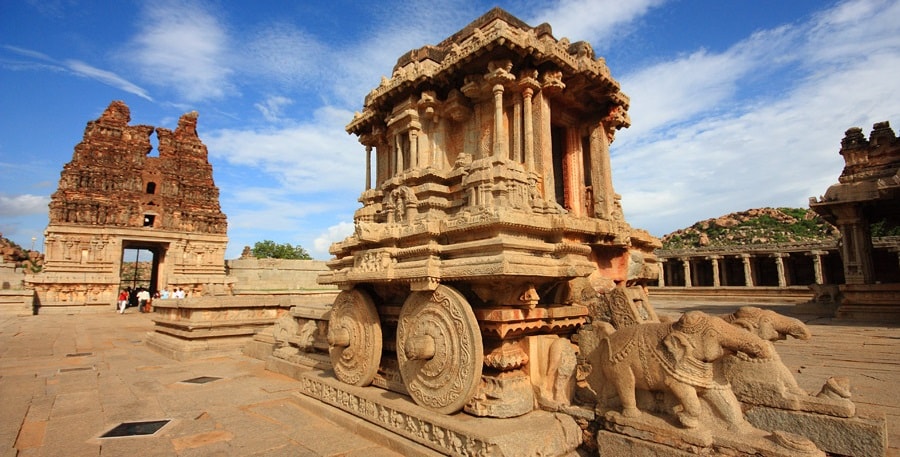 vijayanagar empire krishna deva raya bahmani kingdom quli qutub shah adil shahi
Krishna deva Raya  (1509-29)
Krishnadeva Raya of the Tuluva dynasty was the most famous king of the Vijayanagar Empire
He assumed the title of 'Yavanarajyasthapanacharya' (Establisher of the Yavanaor Muslim kingdom)
In 1523 he captured Orissa and Warangal
He built large tanks and canals for irrigation.
He maintained friendly relationship with the Portuguese governor, Albuquerque
Portuguese traveler Domingo Paes and Barbosa visited his court
He was known as 'Andhra Bhoja'.
Eight eminent luminaries in literature known as Ashtadiggajas were at his court.
He wrote Amukthamalyadha (Telugu)
Allasani Peddanna, the author of Manucharitram, he was also known as Andhra Kavitapitamaha
Tenali Ramalinga, the author of Panduranga Mahatyam was also famous
>>>>>>
Achyuta Deva Raya (1529 – 42)
He was the younger brother of Krishna Deva Raya
Portuguese traveler, Fernoa Nuniz, came to India during his reign.
He patronised the Kannada poet Chatu Vittalanatha, the great singer and composer Purandaradasa (father of Carnatic music), and the Sanskrit scholar Rajanatha Dindima II.
The Tiruvengalanatha temple, which is now popularly known as Achyutaraya temple
>>>>>>
Rama Raja
Ram raja was a son-in-law of Krishna Deva Raya.
He was able to playoff various Muslim power against one another.
He entered into a commercial treaty with the Portuguese
Ram Raja completely defeated the Bijapur ruler.
Then he allied himself with the Bijapur ruler to inflict humiliating defeats on Golconda and Ahmednagar.
However, his enemies (except Berar) ultimately combined to inflict a crushing defeat on Vijayanagar at Bannihatti, in Battle of Talikota, in 1565.
This battle is also known as the Battle of Raksasa Tangadi.
Rama Raja was imprisoned and immediately executed.
>>>>>>
Trade and Commerce
According to Abdur Razzak, state had 300 sea ports
Most important commercial area on the west coast was Malabar, with its important port Cannanore
Among the exports, the main items were cloth, spices, rice, iron, salt petre, sugar, etc.
They issued Gold Pagoda or Varaha Coin
>>>>>>
Position of Women
Women occupied a high position and took an active part in political, social and literary life of the empire.
They were educated and trained in wrestling, in the use of various weapons of offence and defence, in music and fine arts.
Nuniz writes that the kings had women astrologers, clerks, accountants, guards and wrestlers.
>>>>>>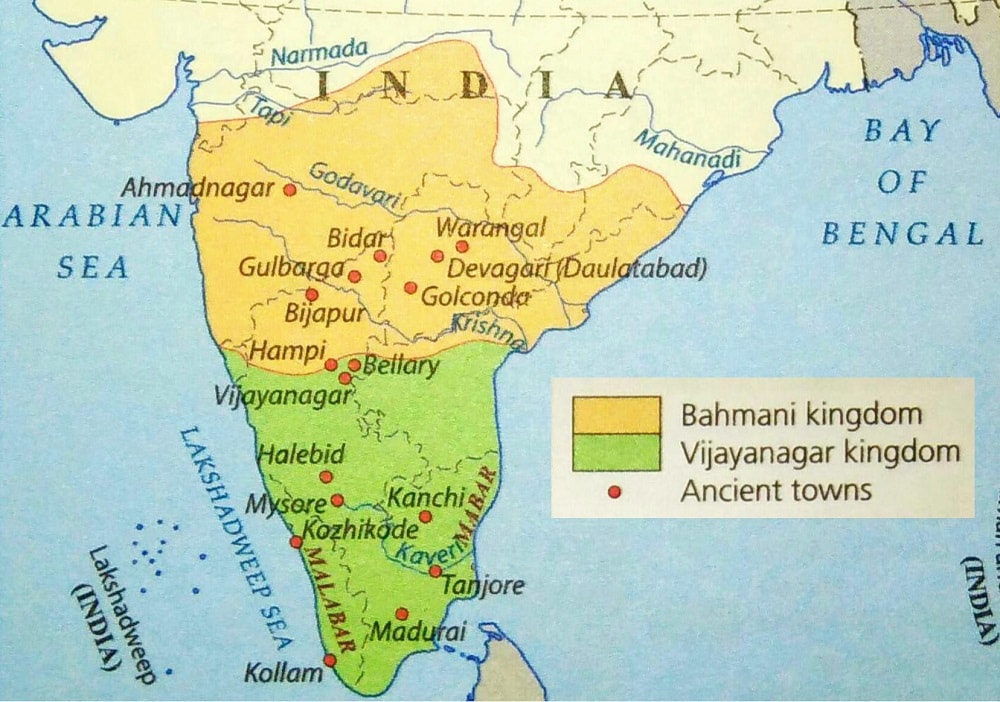 vijayanagar empire krishna deva raya bahmani kingdom quli qutub shah adil shahi
Bahmani Sultanate (1347-1526)
Alauddin Hasan Bahman Shah (1347-58)
Also known as Hasan Gangu was the founder of Bahmani Kingdom.
He was a Turkish officer of Devagiri under Muhammad bin Tughlaq.
His sultanate stretched from the Arabian Sea to the Bay of Bengal, included the whole of Deccan up to the river Krishna
Capital at Gulbarga.
>>>>>>
Muhammad Shah-I (1358-77)
He was an able general and administrator.
He defeated Kapaya Nayaks of Warangal and the Vijayanagar ruler Bukka-I.
>>>>>>
Firoz Shah Bahmani (1397-1422)
He defeated the Vijayanagar ruler Deva Raya I.
>>>>>>
Ahmad Shah Wali (1422-35)
Ahmad Shah Wali conquered the kingdom of Warangal.
He changed his capital from Gulbarga to Bidar.
>>>>>>
Muhammad Shah-lll (1463-82)
In 1463 Muhammad Shah-lll became the Sultan at the age of nine
Muhammad Gawan became the regent of the infant ruler.
Under Muhammad Gawan's able leadership the Bahmani kingdom became very powerful.
>>>>>>
Muhammad Gawan
He was the vakil as well as the wazir of Muhammad Shah Ill between 1463-81
He improved the administration, systematized finances, encouraged public education, reformed the revenue system, disciplined the army and eliminated corruption.
In 1481 Muhammad Gawan persecuted by the Deccan Muslims who were jealous of him and sentenced to death by Muhammad Shah.
He introduced the use of gunpowder in the war against the Vijayanagar kings in Belgaum
>>>>>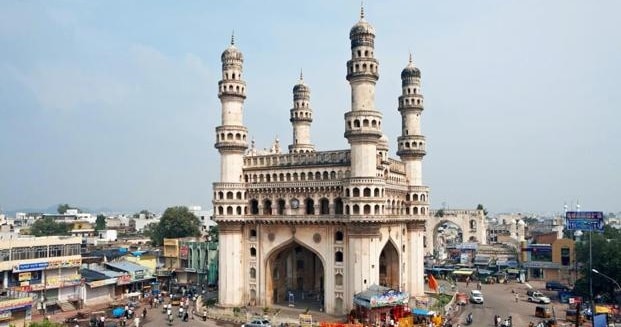 vijayanagar empire krishna deva raya bahmani kingdom quli qutub shah adil shahi
Breck up of the Bahmani kingdom
Nizam Shahis of Ahmadnagar (1490-1633)
Founded by Ahmad Bahri
Later in 1633 Ahmadnagar was conquered and annexed by Shah Jahan in 1633
Malik Ambar was a popular Prime Minister of the Ahmadnagar, also pioneer in guerilla warfare
>>>>>>
Adil Shahi Dynasty of Bijapur (1490-1686)
Founded by Yusuf Adil Shah.
Muhammed Adil Shah built Gol Gumbaz, a tomb with the world's second largest dome (St. Paul's church in Rome being the world's largest) at Bijapur. It is also famous for the so-called 'Whispering Gallery'.
It was later conquered and annexed by Aurangzeb(1686).
>>>>>>
Imad Shahis of Berar (1490-1574)
Founded by Fatullah Khan Imad-ul-mulk.
Later it was conquered and annexed by one of the Nizam Shahi rulers of Ahmadnagar.
>>>>>>
Qutub Shahi Dynasty of Golconda (1518-1687)
Founded by Quli Qutub Shah who built the famous Golconda fort and made it his capital.
Muhammad Quli Qutub Shah, was the greatest of all, and he founded the city of Hyderabad
He also built the famous Charminar in it.
The kingdom was later annexed by Aurangzeb in 1687
>>>>>>
Barid Shahis of Bidar (1528-1619)
Founded by Ali Barid.It was laterannexed by the Adil Shah is of Bijapur.
>>>>>>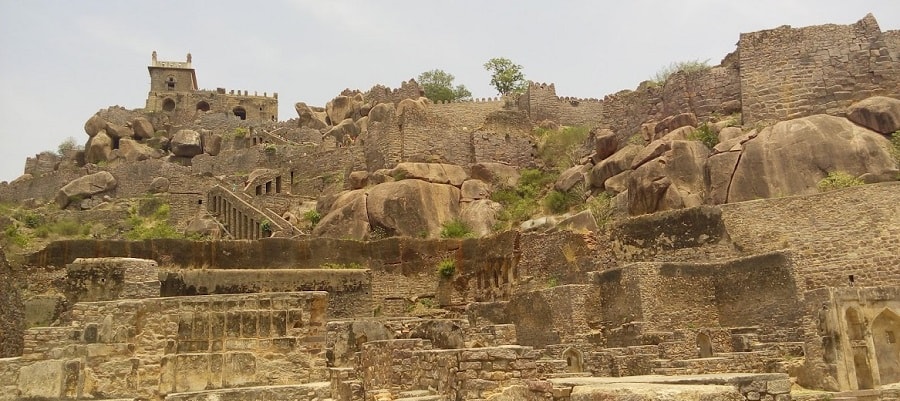 vijayanagar empire krishna deva raya bahmani kingdom quli qutub shah adil shahi
Vijayanagar – Bahmani Conflict
Over the control of the Raichur doab (between rivers Krishna and Tungabhadra).
This area was fertile and rich in mineral resources.
The famous diamond mines of Golconda were located in the eastern part of the doab region.
The Krishna–Godavari basin, very fertile, control of foreign trade
In the Marathwada region, was extremely fertile and included with it the port of Goa
Port of Goa was an important outlet for export as well as import (especially of horses from Iraq and Iran).
Beginning of the Conflict It started on a large scale in 1367 during the reign of Bukka I.
He assaulted the fortress of Mudkal in the disputed Tungabhadra doab and slaughtered the entire garrison
The war dragged on for several months, but the Bahmani Sultan could neither capture the Raja nor his capital.
Finally, both sides were exhausted, and concluded a treaty which restored the old positions.
The reign of Deva Raya I began with a renewed fight for the Tungabhadra doab.
He was defeated by the Bahmani ruler, Firoz Shah
vijayanagar empire krishna deva raya bahmani kingdom quli qutub shah adil shahi
Related Post:
Related Post: