February 26, 2020
After 1915 – Gandhiji & Mass movement – History – WBCS Main Question Paper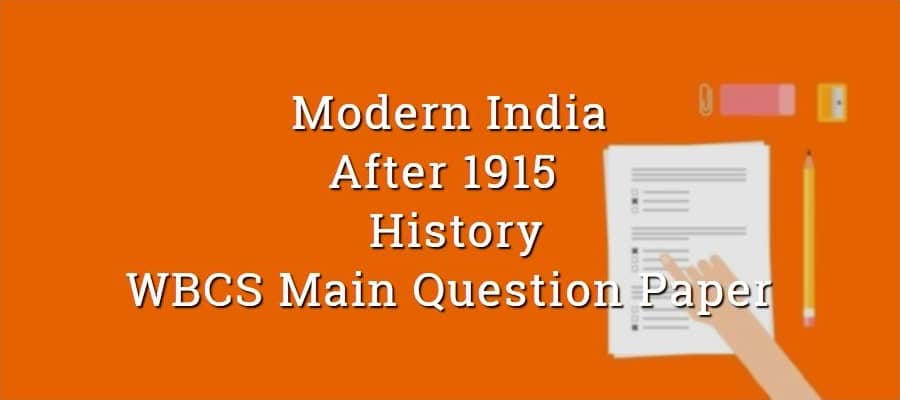 wbcs main history question
WBCS Main Question Paper – 2019
(A) Jawaharlal Nehru
(B) V. V. Gin
(D) N. M Joshi
(A) More Representations
(B) Separate Electorate
(D) Organized Movement
(Ä) Bhagat Singh
(B) Ram Prasad Bismil
(D) Jogesh Chandra Chatterji
(A) The country was sinking into a civil war
(C) The congress leaders succumbed to the temptation of power and struck a deal with the British
(D) The interim Govt had become an arena of struggle
(A) Organizing the Non-Co-operation Movement
(C) Building the headquarters of the Congress
(D) Supporting the families of the political workers
(A) Mrs. Annie Besant
(B) R.N. Mudhokar
(D) Madan Mohan Malyviya
(A) Madan Lai Dhingra
(C) Sohan Singh Bhakra
(D) Kanaj Lai Duit
(A) Mahadev Desai
(C) Amrit Lal Thakkar
(D) B.R. Ambedkar
(A) Gopal Krishna Gokhale
(C) Pheroze Shah Mehta
(D) C.R. Das
(A) The Indian Council Act 1892
(B) Act of 1909
(D) The Government of India Act, 1935
(A) Lucknow Pact
C) Election of Mrs. Annie Besant as President of the INC (1917)
(D) Both (A) & (C)
(B) fighting against the exploitation by the Landlords.
(C) removal of Press restrictions.
(D) democratization of the administration of Travancore State.
(A) Jawaharlal Nehru
(B) Dadabhai Naorojl
(D) Gopal Krishna Gokhale
(A) Yugantor
(B) Anushilan Samiti
(C) Bharat Mata Society
143. The Nehru Committee Report got a decent burial at the hands of the Congress at the Session of the I.N.C. 
(1929)
(A) Calcutta
(B) Madras
(D) Bombay
(A) Subhas Chandra Basu
(C) Thakkar Bapa
(D) Mahatma Gandhi
(B) Dr. B.R. Ambedkar
(C) M.G. Ranade
(D) Keshab Chandra Sen
(A) V.D. Savarkar
(B) Bhai Parmanand
(C) Dr. Shyama Prasad Mukherjee
(B) Kunwar Singh
(C) Chhatrapati Sahu
(D) Raja Ripudaman Singh
(A) Swadeshi Movement
(B) Revolutionary Movement
(D) His imprisonment in 1908
(B) Khera
(C) Ahmedabad Mill Strike
(D) Anti Rowlatt Act Agitation
(A) Tej bahadur Sapru
(B) Jayaprakash Narayan
(D) J. B. Knpalani
162. The I. N. C. became both 'Indian' and 'National' in reality as well as in rare, at the
(A) Surat Session (1907)
(B) Calcutta Session (1906)
(D) Lahore Session (1929)
166. Match the epithets of the following National Leaders
(B) (ii) (i) (iii) (iv)
(C) (iii) (ii) (i) (iv)
(D) (iv) (iii) (ii) (i)
(A) The I. N. C. and the Muslim League both thought of starting a passive Resistance movement.
(B) The Home Rule campaign virtually ousted the moderates from the political field.
(C) The I. N. C. became the 'Congress of Tilak and Besant
(A) Murder of Saunders
(B) Throwing of bombs in the Assembly at Delhi
(D) Meerut Conspiracy case
(A) Motilal Nehru
(C) Srinivas Ayengar
(D) Subhas Chandra Bose
171. The famous 'Purna Swaraj Declaration', which says: "We hold it to be a crime against man and God to submit any longer to a rule that has caused this fourfold disaster to our country", was prepared by
(A) Jawaharlal Nehru
(B) M K. Gandhi
(C) Motilal Nehru
(A) The I.N.C. agreed to join the Second Round Table Conference.
(B) For the first time the I.N.C. was treated on a footing of equality as a political opponent.
(D) The I.N.C. gained a status and authority to speak for political India.
173. Opposition to the Gandhi-Irwin pact was mainly
(A) because of the execution of Bhagat Singh, Sukh Dev and Raj Guru.
(B) because the I.N.C. reneged the Purna Swarajya pledge.
(D) because the Pact was a self-delusion.
(A) National Liberal Party
(B) The Congress Khilafat SwarajyaParty
(D) Swarajya Congress Party
(A) Ghadar Party
(B) Hindu Mahasabha
(C) Indian National Congress
(A) Communal Problem
(B) Federal Structure
(C) Demand for Purna Swarajya
(A) Pandit Ramprasad Bismil
(B) Roshan Lal
(C) Ashfaqulla Khan
(B) Chandra Dutta
(C) Vidhan Ghosh
(D) Jatin Das
(B) Bhagat Singh
(C) Batokeshwar Dutt
(D) Chapekar brothers
(B) Batukeswar Dutt
(C) Sukh Dev
(D) Raj Guru
(8th Apr 1929)
(A) After the murders of Sanders at Lahore, the people were suffering terribly at the hands of the Police.
(B) A feeling had slowly gained around that the people had to suffer the consequences of the crimes committed by Bhagat Singh, etc. to remove such a feeling H.S.R.A. decided to send two members to commit a crime and then to court arrest.
(C) To create a sensation all over India in order to remove political lethargy
(A) fifty six
(C) seventy two
(D) eighty one
(A) 1936
(B) 1937
(D) 1939
184. What was the fundamental difference between Subhas Chandra Basu and Gandhi-Nehru group, which led to the defeat of Gandhiji's candidate for the Presidentship of the I.N.C.?
(A) Gandhiji had a personal dislike for Basu.
(B) Basu had radical and socialist ideas.
(D) Insinuations made by Basu against Gandhiji that he was not keen on carrying on the National Struggle.
185. The Tripuri Session of the I.N.C. (March, 1939) was a historic event on account of
(B) the resignation of the entire Working Committee except Subhas Chandra Basu and his brother Sarat Chandra Basu.
(C) the resolution to frame a Constitution of free India.
(D) rejection of the British Foreign Policy by the I.N.C
(B) 1938
(C) 1940
(D) 1941
(1937)
(B) Learning through productivity
(C) Earning and learning
(D) Learning and spinning
(A) Lal, Bal, Pal, Subhas
(B) Surya, Chandra,Jatin, Bhagat
(D) Ganga, Yamuna, Narmada, Kaveri
(A) Imphal
(B) Kohima
(D) Rangoon
(B) August 16, 1946
(C) March7, 1947
(D) December 9, 1946
192. Lord Mountbatten's Declaration on the Freedom of India and its partition is known as
(A) The August Plan
(C) The June 2nd Plan
(D) The Partition Plan
195. Certain movements of the early twentieth century described as "Movements from below" were
(A) Caste movements
(B) Revolutionary movements
(D) Socio-religious movements
196. Match the authors and the work:
(A) 300
(C) 150
(D) 700
200. A Muslim organization, which proposed during the First World War that Muslims should participate and try to reach an accord with the Congress, was
(B) Ahmadiya Movement
(C) Ehrar League
(D) Deoband Movement
WBCS Main Question Paper – 2018
b) 1916
d) 1920
a) Sardar Vallabhbhai Patel
b) B R Ambedkar
c) Dr. Rajendra Prasad
a) Fowler Commission
b) Frazer Commission
c) Sapru Commission
b) 1941
b) Cabinet Mission Plan
c) Simon Commission Report
d) Wavell Plan
a) Lord Mount Batten
b) Lord Irwin
c) Lord Willingdon
a) 50% reduction in land revenue.
b) abolition of salt tax
c) impose customs duty on foreign cloth to provide textile protection.
61. Non Co-operation movement was launched on the issues of:
i) Remedy of Punjab wrong
ii) Remedy of Khilafat wrong
iii) Amendment of Rowlatt Act
iv) Attainment of Swaraj
a) (i), (ii)
b) (i), (iii)
c) (i), (iii), (iv)
a) 1915, Bombay
b) 1917, Calcutta
d) 1928, Calcutta
b) Khilafat Movement
c) Non Co-operation Movement
d) Champaran Satyagraha
(1905)
b) Madam Vikhaji Kama
c) Lala Hardayal
d) Pandurang Kankhoje
(9th May, 1934)
a) Shanti Ghosh
b) Suniti Chowdhury
c) Vina Das
b) Dukoribala Debi
c) Kalpana Dutta
d) Bina Das
(1933)
a) Sir Muhammad Iqbal
b) Faziul Huq
c) Muhammad Ali Jinnah
a) Muhammad Iqbal
b) Hasrat Mohani
c) Josh Molihabadi
a) Chander Menon
b) C N Mudaliar
c) K Ramakrishna Pillai
(Malabar district)
b) 1929
d) 1930
81. All India Conference of the Depressed classes was formed in
b) 1926
b) 1926
d) 1930
a) Latika Ghosh
b) Urmila Devi
c) Sarojini Naidu
87. Sarojini Naidu founded the Women's organization named as
a) Nazi Satyagraha Samity
b) Mahila Rashtriya Sangha
d) Mahila Parisad
(1919)
a) Bombay
c) Bengal
d) Both (a) and (b)
(Madras Legislative Council, 1927)
a) Basanti Devi
b) Urmila Devi
d) Krishnabai Ram
b) 1928
d) 1942
a) Gadar revolutionaries
b) Emigre revolutionaries
d) Hindu Radicals
(1925)
a) Chander Menon
c) C N Mudalier
d) K Ramashaudran Pillai
a) Local Self Government
d) Public Works
WBCS Main Question Paper – 2017
(A) Nationalist historiography
(C) Subaltern historiography
(D) Imperialist historiography
(A) Indian Council Act of 1892
(B) Indian Council Act of 1909
(D) Govt. of India Act of 1935
(D) Swaraj Yatra
(D) December 09,1946
73. On August 11,1947, who told the Constituent Assembly of Pakistan — "You may belong to any religion or caste or creed – that has nothing to do with the business of state" ?
(A) The Nawab of Junagadh
(B) The Nizam of Hyderabad
(D) Liyaqat Ali Khan
(D) 08
(D) Pathan Shirts
(29 Nov 1940)
(D) Ram Prasad Bismil
(D) The Partition Plan
(D) Bipin Chandra Pal
(B) Jawaharlal Nehru
(A) Socialists like Aruna Asaf Ali sympathised with the rebels.
(B) Gandhiji condemned the violence.
(C) Sardar Patel persuaded the ratings to surrender all.
(D) The Ratings Mutiny    (RIN mutiny)
(D) Lahore
88. The Congress-Khilafat Swarajya Party with C.R. Das as its President was formed in
(D) 1927
90. The inaugural session of the All-India Trade Union Congress in 1920, was presided over by
(D) Acharya Narendra Dev
(B) July 07,1947
(A) Bardoli Satyagraha
(B) Champaran Satyagraha
(D) Salt Satyagraha
93. The open mutiny in the Royal Indian Navy (RIN) took place in
(D) August, 1947
(A) Lahore Resolution (1929)
(B) Karachi Resolution (1930)
(D) Direct Action Day Resolution
96. Which of the following funds was started to finance the Non-cooperation Movement ?
(B) Non-cooperation fund
(C) Non-cooperation-Khilafat fund
(D) None of the above
(D) April 06,1930
98. After the creation of two new provinces of Sind and Orissa through the Govt, of India Act, 1935, the total no. of provinces in British India became
(D) 13
(A) Swadeshi and Boycott Movement, 1905-1908
(C) Civil Disobedience Movement, 1930-1934
(D) Quit India Movement, 1942-1943
WBCS Main Question Paper – 2016
55. Which of the following resolutions of the Muslim League finally and formally proclaimed the Muslims of India as a Nation ?
(A) Karachi Resolution
(C) Deliverance Day Resolution
(D) Rahmat Ali Resolution
56. Who said about the Govt. of India Act. 1935 : "After all we framed the constitution …… of 1935 because we thought it the best way …….. to hold India to the empire" ?
(A) British Prime Minister Ramsay Macdonald
(B) Winston Churchill
(D) Sir Stafford Cripps
(A) Non-co-operation movement
(B) Bardoli Satyagraha
(D) Quit India Movement
59. Which of the following organizations / persons did not approve of the Quit India Movement ?
60. Which of the following is not correctly matched ?
(B) Bipan Chandra – Nationalism and Colonialism in
                                 Modern India
67. After the Surat split in 1907 the second split in the Congress took place in 1918 on the issue of-
(A) Lucknow Pact
(B) Election of Mrs. Annie Besant as President of the INC (1917)
(C) Both (A) and (B)
(D) Dr. Rajendra Prasad
(D) Clement Attlee
(D) 1928 – 1932
75. Who described the Quit India movement (1942) as "by far the most serious rebellion since 1857" ?
(D) Winston Churchill
(D) 1942-Lucknow
(1940-45)
(D) Gopal Krishna Gokhale
(D) Sanskrit Movement
(A) Women's Indian Association
(B) National Council of women in India
(C) Bharat stree Mahamandal
(D) A. K. Fazlul Haq
(D) 1952
(Kerala – 1924)
(B) ban the Devdasi Institutions for temple service
(C) force the temple authorities to appoint non Brahmins as priests.
(D) open the temples for the entry of the lower castes (avarnas).
(D) Basanti Devi
95. The historic Lucknow session (1916) of the I.N.C was presided over by-
(D) Rasbehari Bose
96. Which of the following movements was started by Swami Sahajanand Saraswati in Bihar ?
(1933-39)
(D) Labour Movement
99. Which of the following was perhaps the most widespread, most intense and most organized peasant movement in the history of colonial India ?
(D) Deccan Riots
(D) RIN Mutiny
WBCS Main Question Paper – 2015
WBCS Main Question Paper – 2014
Related Post:
Related Post: