February 25, 2020
After 1857 & Nationalism – History – WBCS Main Question Paper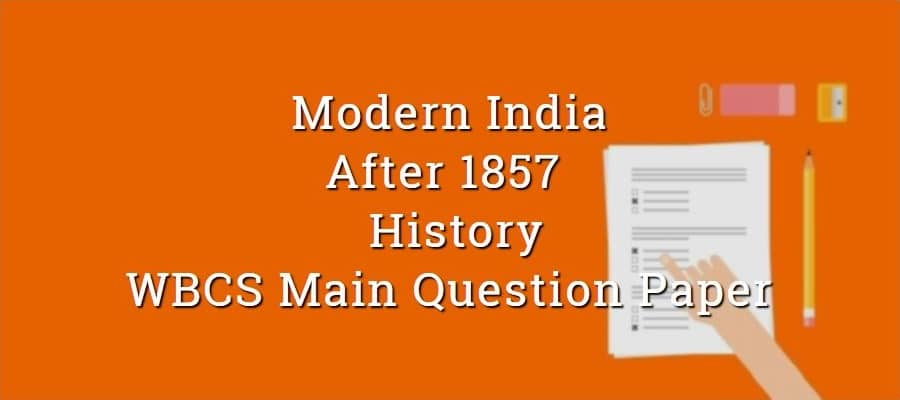 wbcs main history question paper pdf
WBCS Main Question Paper – 2019
(A) Surendra Nath Banerjee
(C) Gopal Krishna Gokhale
(D) Sankaran Nair
(B) W. C. Bonerjee
(C) MotilalNehru
(D) Tej Bahadur Sapru
(B) Bhai Parmanand
(C) Sachmdranath Sanyal
(D) Shobhan Lal Pathak
(B) East Bengal and West Bengal
(C) East Bengal and Assam
(D) East Bengal and North Bengal
(1883)
(B) Indo-British Association
(C) Anti Ilbert Bill League
(D) European Rights Front
(A) Shyamji Krishna Verma
(C) Bhai Parmanand
(D) Ram Chandra Bhardwaj
(B) Aurobindo Ghosh
(C) Ganesh Ghosh
(D) Anand Mohan Bose
(B) Secretary of State for India
(C) Former Governor of the Punjab
(D) Law Member of the Viceroy's Executive Council
(A) He was a great philanthropist and social worker.
(B) He distributed money and medicines to the poor and the needy.
(C) He edited a monthly magazine the 'Lokhitwadi '
(Stuttgart, Germany – 1907)
(B) Dadabhai Naoroji
(C) Raja Mahendra Pratap
(D) Taraknath Das
(Finsbury Central – 1892)
(A) Conservative
(C) Labour
(D) Labour-Liberal Combine
153. Match the social reformers of the nineteenth century with their individual contributions.
(B) (ii) (i) (iii) (iv)
(C) (ii) (i) (iv) (iii)
(D) (i) (ii) (iv) (iii)
(1883)
(A) Indian Association of Calcutta
(C) British Indian Association
(D) The Indian Union
(A) S. N. Banerjee
(C) Feroze Shah Mehta
(D) M. G. Ranade
156. The first president of the Indian National Congress was
(A) A. O. Hume
(C) S. N. Banerjee
(D) Dadabhai Naoroji
157. Who said "The Congress is tottering to its fall, and one of my great ambitions, while in India, is to assist it to its peaceful demise"?
(A) Syed Ahmed Khan
(B) Raja Shiv Prasad
(C) Lord Dufferin
III. Calcutta Session of the I.N.C.
IV. Foundation of Muslim League
(B) II I III IV
(C) I Il IV III
(D) I III II IV
(A) the Boycott of the moderates by the extremists.
(C) the Swaraj Resolution.
(D) the extremists resolution of Swadeshi, Boycott, National Education and Self Government.
(A) it marked the end of the twenty years of the I.N. C.
(B) it marked the end of the moderate phase of the I. N. C.
(D) it was the last session when the I. N. C. was dominated by the old guard.
(B) Revolutioneries
(C) Moderates
(D) Swarajists
(B) (i) (ii) (iii) (iv)
(C) (ii) (i) (iii) (iv)
(D) (iii) (ii) (i) (iv)
III. Outbreak of the First World War
IV. Gandhiji's arrival in India
(B) (i) (ii) (iii) (iv)
(C) (ii) (iii) (i) (iv)
(D) (iv) (iii) (ii) (i)
(A) Mrs. Annie Besant
(B) Snehlata Wadkar
(C) Sarojini Naidu
198. Ridiculing the idea of Swarajya in 1903, who said, "Only mad men outside lunatic asylums could think or talk of independence"?
(A) Lord Curzon
(B) Lord Hardinge
(D) Pheroze Shah Mehta
(A) Edward VII
(C) James II
(D) Edward VI
WBCS Main Question Paper – 2018
b) 1908
b) Navjeevan
c) Harijan
d) Young India
b) Pulinbihari Das
c) Sarala Devi
d) Barin Ghosh
70. 'Anti-Circular Society' was established by
b) Krishna Kumar Mitra
c) 'Raja' Subodh Mullick
d) Satish Chandra Mukhapadhyay
(1906)
a) Bipin Chandra Pal
b) Aurobindo Ghosh
d) Bhupendranath Dutta
73. Andher Nagari was written by
(1881)
a) Prem Chand
c) Krishan Chander
d) Mulk Raj Anand
(1883)
a) Motilal Ghosh
b) Surendranath Banerjee
d) Jogendra Chandra Bose
(1876)
a) Lord Lytton
b) Lord Mayo
c) Lord Napier
a) Bankim Chandra Chattopadhyay
c) Sarat Chandra Chattopadhyay
d) Rabindranath Tagore
(1903)
b) Dr. Palgu
c) N Kumaran Asan
d) All of them
d) 1910
a) Dwarakanath Ganguly
c) Shivnath Sastri
d) Ramkumar Vidyaratna
b) 1905
d) 1917
a) Bharat Stree Mahamandal
b) Women's Indian Association
d) Mahila Rashtriya Sangha
(1893, Kolkata)
a) Ramabai Ranade
c) Anandibhai Bhagat
d) Anandibai Karve
91. Kesari was the mouthpiece of
b) Arya Samaj
c) Sarbajanik Sabha
d) Sanjivani Sabha
d) 1892
b) 1879
(30th Dec 1906, Dhaka)
a) Sir Sayyid Ahmed Khan
b) Aga Khan
d) Muhammad Ali
a) Syed Amin Ali
b) Sir Syed Ahmed
c) Muhammad Ali Jinnah
d) 1868
b) 1896
d) 1899
i) Sadler Commission   (1917)
ii) Wood's Despatch    (1854)
iii) Hunter Commission   (1882)
iv) Raleigh Commission   (1902)
a) (i), (ii), (iii), (iv)
b) (ii), (iii), (i), (iv)
c) (ii), (i), (iv), (iii)
(1863)
a) Bhavani Charan Bandyopadhyay
b) Harish Chandra Mukhopadhyay
c) Sisir Kumar Ghosh
WBCS Main Question Paper – 2017
(D) Romesh Chandra Dutt
56. Which phase is considered to be the liberal phase in the history of Indian National Congress ?
(D) 1905-1925
(D) Mrs, Annie Besant
(D) Ramchandra Bharadwaj
(A) The Indian Association
(B) The Indian National Conference
(C) The British Indian Association
WBCS Main Question Paper – 2016
(i) It was passed by Lord Mayo,
(ii) It came to be known as the "Gagging Act"
(iii) It liberated the Indian Press from restrictions.
(iv) It was repealed in 1882 by the Ripon Govt.
Select the answer from codes given below :
(D) (iii) and (iv)
57. Who among the following did not attend the first session of the Indian National Congress ?
(A) Womesh Chandra Banerjee
(B) K.T. Telang
(D) Badaruddin Tyabji
(B) At Calcutta Town Hall on August 07, 1905
(C) At Santiniketan Ashrama in 1901
(D) On July 19, 1905 at Calcutta when partition of Bengal was formally announced
(B) 1895
(D) 1904
82. Who raised patriotism to the pedestal of mother worship and said : "I know my country as my mother. I adore her. I worship her" ?
(D) Bal Gangadhar Tilak
(D) Sisir Kumar Ghosh
98. Name the European who worked ardently for the Indian national movement and criticized the British rule by saying : "The British empire is rotten to the core, corrupt in every direction and tyrannical and mean" –
(D) Mrs. Annie Beasant
WBCS Main Question Paper – 2015
WBCS Main Question Paper – 2014
Related Post:
Related Post: