August 2, 2021
Medieval Indian History – WBCS Main Question Paper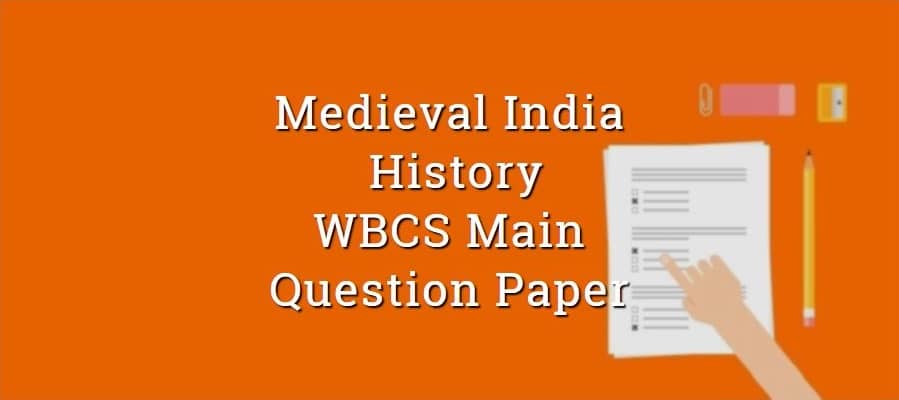 medieval indian history questions and answers
WBCS Main Question Paper – 2019
(A) Iltutmish
(C) Muhammad Bin Tughlug
(D) Sikandar Lodi
(12-14th centuries)
(A) Devagiri
(B) Dwarsamudra
(D) Kanchi
(A) Cavalry men
(C) Bow men
(D) Musketeers
(Bharatpur, Rajasthan)
(A) Rajaram
(B) Churaman
(C) Badan Singh
(A) Sadat Khan
(C) Asaf ud daula
(D) Nasiruddin
WBCS Main Question Paper – 2018
(Kancheepuram, Tamil Nadu)
b) Parantaka II
c) Rajaraja I
d) Rajaraja II
b) Muhammad bin Tughluq
c) Sikandar Lodi
d) Khizr Khan
a) Pan
c) Hun
d) Panam
a) a revenue system in which the average produce of different crops as well as average price of 10 years were calculated.
c) revenue system where crop was divided at the threshing floor between cultivator and the government.
d) revenue system in which not the actual crop but the estimated crop was divided between the cultivator and the government.
(surgeon William Hamilton)
a) with a dastak (hand written pass) Company's goods could pass without inspection through toll station (chowki).
b) Company's officials quietly extended this privilege to their own private trade.
c) the 'chief sufferers' was the government of the Nawabs who lost out on customs duties and rival Indian traders who faced unequal competition.
WBCS Main Question Paper – 2017
(Chand Bardai – Prithvirajacharita)
(A) Sandhyakar nandi – Ramacharita
(B) Jaysimha – Kumarapalacharita
(C) Gaudavaho – Vakpati
(1740-61)
(D) Sawai Madhav Rao
(D) Buland Darwaja
(D) None of the above
(D) 16 and 19
(D) Balban
(D) Bahadur Shah
(tax farming)
(D) Miniature painting
(D) Raziya
44. Policemen of Vijayanagar were paid out of taxes colle cted from
(12th century)
(D) Shakti
(D) munhias
(D) Saluva Narsimha
58. The term 'Malaimandalam' refers to
(D) Konkan coast
(D) Muhammad III
(D) Ramanuja
(D) Aurangzeb
(D) Shahjahan
(C) Chaitanya
(A) Balban
(C) Sikandar Lodi
(D) Sikandar Khan
WBCS Main Question Paper – 2016
(A) Firuz Tughluq – Futuhat-i-Firuz-Shahi
(C) Zia-ud-din-Barani – Tarikh-i-Firuz Shahi
(D) Minhaj-us-Siraj – Tabaqat-i-Nasiri
(D) A.K. Nizami
(D) Ala-ud-din Khilji
(D) Gold, Bronze, Copper
14. According to Abdur Razzaq, the policeman of Vijayanagar were paid out of taxes collected from
(D) Taxes on goods
(1580)
(D) Kankut
(D) Shahjahan
(D) Jahangir
(hereditary)
(D) Tan Jagir
(A) Shah Jahan and Aurangzeb
(B) Akbar and Jahangir
(D) Jahangir and Humayan
(1608)
(D) Shahjahan
WBCS Main Question Paper – 2015
WBCS Main Question Paper – 2014
Related Post:
Related Post: