August 16, 2022
Medieval Indian History – WBCS Main Question Paper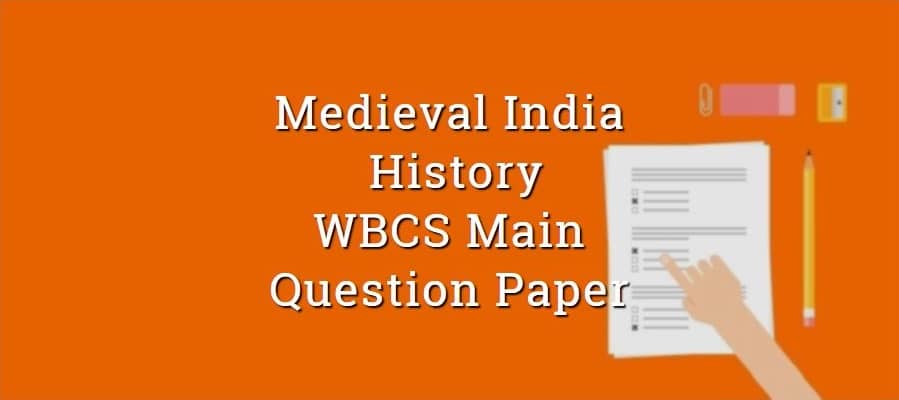 medieval indian history questions and answers
WBCS Main Question Paper – 2021
36. Which was the earliest seat of Turkish power in Delhi?
(1052 – 1060 )
(A) Qila-i Rai Pithora
(B) Koshak-i Siri
(C) Purana Qila
(D) Jahanpanah
69. How were foreign merchants referred to in Chola documents?
(A) Manigramam
(B) Nanadeshi
(C) Ayyavole
(D) Pattinam
110. What occasioned the break between the Mughals and the Rajputs?
(A) Increasing importance of the Marathas in Mughal state.
(B) Succession crisis in Marwar after the death of Jaswant Singh.
(C) Aurungzeb's favoritism towards Muslims in Mughal service.
(D) Aurungzeb's demolition of Hindu temples.
124. Who was the author of the Prabandha Chintamani?
(1304, Gujarat)
(A) Medhatithi
(B) Merutunga
(C) Shriharsha
(D) Soddhala
145. Who was the author of Rajatarangini?
(A) Kalhana
(B) Jonaraja
(C) Srivara
(D) All of the above
172. Which of the following is true of the Mansabdari system?
(i) Mansab denotes the rank an official held in the Mughal hierarchy.
(ii) Mansabdari usually entailed military obligation towards the empire.
(iii) Salary of a Mansabdar was indicated in the sawar rank he held.
(iv) Remuneration for Mansabdari was provided only in terms of grants of jagir.
(A) (i), (iii), (iv)
(B) (i), (ii), (iv)
(C) (i), (ii)
(D) (i), (ii), (iii), (iv)
WBCS Main Question Paper – 2020
8. Who is the only woman historian to write a historical account of the Mughal period?
(Humayun-Nama)
(A) Gulbadan Begum
(B) Noorjahan
(C) Jahanara Begum
(D) Zebun-nissa Begum
10. Which of the following facts about the Taj Mahal is incorrect?
(Built – 1632–53)
(A) It is a magnificent Mausoleum
(B) It was built by Shah Jahan
(C) It is situated outside the Agra Fort
(D) The names of artisans who built are engraved on it
12. The Persian ruler who besieged Qandahar in Jahangir's reign was
(1622)
(A) Shah Muhammad
(B) Shah Parvez
(C) Shah Abbas
(D) Shah Raza
19. The popular name of Muizuddin Muhammad Bin Sam was
(1149 – 1206)
(A) Sultan Mahmud
(B) Muhammad Ghori
(C) Timur
(D) None of the above
20. Kamban's Ramayana in Tamil was written during the reign of
(12th century)
(A) Chalukya
(B) Pallavas
(C) Cholas
(D) Kakatiyas
21. Who constructed the 'Grand Trunk Road'?
(A) Akbar
(B) Sher Shah Suri
(C) Ashoka
(D) Samudra Gupta
22. Silver 'Tanka' and Copper 'Jital' were introduced by
(A) Qutubuddin Aibek
(B) Raziya Sultana
(C) Iltutmish
(D) Balban
25. Who faced defeat in the Battle of Chandawar in 1194 AD?
(A) Bhima II
(B) Jaichand
(C) Lakshman Sena
(D) Muhammad Ghori
26. The founder of the Lodi dynasty was
(1451-1526)
(A) Bahlul Lodi
(B) Sikandar Lodi
(C) Ibrahim Lodi
(D) Daulat Khan Lodi
33. The name of Sultan Mahmud's father is
(971 – 1030)
(A) Alptigin
(B) Sabuktigin
(C) Ulugh Khan
(D) Nove of the above
34. Who of the following became a member of the Din-i-Ilahi?
(A) Todar Mal
(B) Raja Birbal
(C) Raja Man Singh
(D) Tansen
37. Who was the Hindu king at the time of Muhammad bin Qasim's invasion of Sind?
(Battole of Aror, 712)
(A) Dahir
(B) Hala
(C) Harsha
(D) Ananda Pala
38. Ghazi Malik was the actual name of
(A) Ghiyas uddin Tughlaq
(B) Muhammad bin Tughlaq
(C) Firuz Shah Tughlaq
(D) None of the above
44. The Persian poet Firdausi who composed 'Shah Namah' was associated with the court of
(977 – 1010 CE)
(A) Sultan Mahmud
(B) Muhammad Ghori
(C) Shah Tahmasp
(D) None of the above
46. Two major crops introduced in India during the Mughal period were
(A) Millet and Groundnut
(B) Potato and Mustard
(C) Tobacco and Maize
(D) Indigo and Maize
48. The Somnath Temple of Gujarat was destroyed by Sultan Mahmud in
(A) 1015 AD
(B) 1020 AD
(C) 1025 AD
(D) 1027 AD
50. The Dilwara Temples at Mount Abu were constructed during the rule of
(Vimal Shah, 1031)
(A) Chalukyas
(B) Solankis
(C) Kalachuris
(D) None of the above
52. The Russian merchant traveller Nikitin visited South India in
(A) 14th Century
(B) 15th Century
(C) 16th Century
(D) None of the above
54. Which of the following systems were the backbones of the Vijaynagar administration?
(A) Nitinirdesha and Dandniti
(B) Karyapalika and Nayankara
(C) Nayankara and Ayagar
(D) Dandniti and Spy system
57. 'Diwan-i-Khairat', a Ministry of Charity was organised by
(A) Alauddin
(B) Ghiyas uddin
(C) Firuz Shah
(D) None of the above
59. The Mughals imported fruits from
(Uzbekistan)
(A) Samarkand
(B) Arabia
(C) Kabul
(D) Portugal
63. Which Mughal Emperor transferred the capital from Agra to Delhi?
(1638)
(A) Jahangir
(B) Shah Jahan
(C) Aurangzeb
(D) Bahadur Shah
67. Which of the following works refer to the History of Sind and it's conquest by the Muslim?
(A) Taj-ul-Manthir
(B) Chach Namah
(C) Lubab-ul-Abab
(D) Kitab-i-Tahqiq
69. Who was the author of 'Tabaqat-i-Nasiri'?
(1260)
(A) Ibn Batura
(B) Minhaj-us-Siraj
(C) Isami
(D) Ziauddin Barani
74. Jizya was abolished by the Mughal ruler
(1564)
(A) Babur
(B) Humayun
(C) Akbar
(D) Aurangzeb
78. King Jaypala, who faced Sultan Mahmud's invasion belonged to the
(964 to 1001 CE)
(A) Chalukya dynasty
(B) Hindu Shahi dynasty
(C) Pandya dynasty
(D) None of the above
80. The Mughal Prince who was well versed in Arabic, Persian and Sanskrit was
(A) Prince Akbar
(B) Prince Salim
(C) Prince Sulaiman Shukoh
(D) Prince Dara Shikoh
87. Aurangzeb sent Mukarrab Khan against
(A) Shahji Bhonsle
(B) Shivaji
(C) Sambhaji
(D) Shahu
93. Ramachandra Yadav, who faced Alauddin's invasion was the ruler of
(1296, Maharashtra)
(A) Devagiri
(B) Malwa
(C) Ujjain
(D) Telangana
94. Which Mughal Emperor was a patron of Hindustani music and was popularly known as Rangila?
(A) Bahadur Shah I
(B) Bahadur Shah II
(C) Muhammad Shah
(D) Ahmed Shah
95. Sant Jnaneshwar was the author of
(Marathi language)
(A) Amrutanubhav
(B) Rukmini Swayamvar
(C) Dasbodha
(D) Vivek sindhu
WBCS Main Question Paper – 2019
(A) Iltutmish
(C) Muhammad Bin Tughlug
(D) Sikandar Lodi
(12-14th centuries)
(A) Devagiri
(B) Dwarsamudra
(D) Kanchi
(A) Cavalry men
(C) Bow men
(D) Musketeers
(Bharatpur, Rajasthan)
(A) Rajaram
(B) Churaman
(C) Badan Singh
(A) Sadat Khan
(C) Asaf ud daula
(D) Nasiruddin
WBCS Main Question Paper – 2018
(Kancheepuram, Tamil Nadu)
b) Parantaka II
c) Rajaraja I
d) Rajaraja II
b) Muhammad bin Tughluq
c) Sikandar Lodi
d) Khizr Khan
a) Pan
c) Hun
d) Panam
a) a revenue system in which the average produce of different crops as well as average price of 10 years were calculated.
c) revenue system where crop was divided at the threshing floor between cultivator and the government.
d) revenue system in which not the actual crop but the estimated crop was divided between the cultivator and the government.
(surgeon William Hamilton)
a) with a dastak (hand written pass) Company's goods could pass without inspection through toll station (chowki).
b) Company's officials quietly extended this privilege to their own private trade.
c) the 'chief sufferers' was the government of the Nawabs who lost out on customs duties and rival Indian traders who faced unequal competition.
WBCS Main Question Paper – 2017
(Chand Bardai – Prithvirajacharita)
(A) Sandhyakar nandi – Ramacharita
(B) Jaysimha – Kumarapalacharita
(C) Gaudavaho – Vakpati
(1740-61)
(A) Baji Rao I
(C) Balaji Biswanath
(D) Sawai Madhav Rao
(A) Red fort
(B) Agra fort
(D) Buland Darwaja
(A) Saha Alam ll
(C) Bahadur Shah II
(D) None of the above
(B) 17 and 19
(C) 14 and 20
(D) 16 and 19
(A) Qutbuddin Aibak
(C) Raziya
(D) Balban
(A) Babur
(B) Humayun
(C) Jahangir
(B) Shajahan
(C) Aurangzeb
(D) Bahadur Shah
(tax farming)
(A) Waqf
(B) Khalisa
(C) Inam
(A) Fresco painting
(B) Battle scenes
(D) Miniature painting
(B) Iltutmish
(C) Balban
(D) Raziya
(A) Sutlej
(B) Indus
(C) Yamuna
(A) Ghiyas-ud-din Tughlaq
(B) Balban
(C) Muhammad-bin Tughlaq
44. Policemen of Vijayanagar were paid out of taxes colle cted from
(A) Wine shops
(B) Land revenue
(C) Taxes on goods
(12th century)
(A) Rama
(B) Shiva
(D) Shakti
(A) maliks
(C) mamlatdars
(D) munhias
(B) Krishna Deva Raya
(C) Bukkal
(D) Saluva Narsimha
58. The term 'Malaimandalam' refers to
(A) Coromandal coast
(C) Pandya coast
(D) Konkan coast
(A) Ala-ud-din ll
(C) Muhammad Shah I
(D) Muhammad III
(B) Chaitanya
(C) Ramananda
(D) Ramanuja
(A) Babur
(B) Humayun
(D) Aurangzeb
(A) Aurangzeb
(C) Akbar
(D) Shahjahan
(A) Nanak
(B) Mirabai
(C) Chaitanya
(A) Balban
(C) Sikandar Lodi
(D) Sikandar Khan
WBCS Main Question Paper – 2016
(A) Firuz Tughluq – Futuhat-i-Firuz-Shahi
(C) Zia-ud-din-Barani – Tarikh-i-Firuz Shahi
(D) Minhaj-us-Siraj – Tabaqat-i-Nasiri
(B) Satish Chandra
(C) Irfan Habib
(D) A.K. Nizami
(A) Balban
(B) Raziya
(D) Ala-ud-din Khilji
(B) Gold, Silver, Copper
(C) Silver, Bronze, Copper
(D) Gold, Bronze, Copper
(A) Harihara I
(B) Bukka I
(C) Deva Raya II
14. According to Abdur Razzaq, the policeman of Vijayanagar were paid out of taxes collected from
(A) Wine shops
(C) Land revenue
(D) Taxes on goods
(1580)
(B) Dahsala
(C) Nasaq
(D) Kankut
(A) Akbar
(B) Aurangzeb
(D) Shahjahan
(A) Babur
(C) Humayan
(D) Jahangir
(hereditary)
(A) Khidmati jagir
(C) Milkiyat Jagir
(D) Tan Jagir
(A) Shah Jahan and Aurangzeb
(B) Akbar and Jahangir
(D) Jahangir and Humayan
(1608)
(A) William Edwards
(B) Red Dragon
(C) Thomas Roe
(A) Akbar
(B) Aurangzeb
(D) Shahjahan
WBCS Main Question Paper – 2015
WBCS Main Question Paper – 2014