July 11, 2021
Ancient Indian History – WBCS Main Question Paper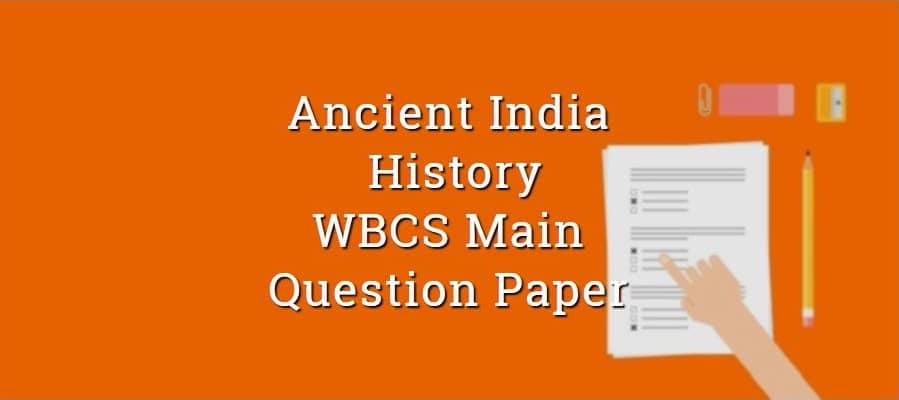 wbcs main ancient history questions
WBCS Main Question Paper – 2019
(plough – Kalibangan)
(A) Discovery of a dockyard
(B) Rectangular and circular fire alters for animal sacrifice
(C) Depiction of a ship on a seal
(5th century BCE)
(A) Purana Kassapa
(B) Pakuddha Kaccayana
(D) Alita Keshakambalm
(A) Spasas
(B) Dutas
(D) Sanjayans
(A) Being cultivated and uncultivated
(B) Being irrigated and unirrigated
(C) Crops being grown on the lands
(A) Pallava
(B) Chola
(C) Nagara
WBCS Main Question Paper – 2018
(Afghanistan)
(B) Musa Khel
(C) Mundigak
(D) Damb Sadat
a) Aramaic
b) Greek
c) Brahmi
a) The Cheras of Vanji
b) The Cholas of Uraiyur
c) The Pandyas of Madurai
a) all the lands donated were not secular land grants.
b) the status of the peasants was not that of serfs.
d) All of the three above
WBCS Main Question Paper – 2017
(published in 1961)
(D) A. L. Basham
(634)
(D) None of the above
(1826)
(483 BCE & 467 BCE)
(D) Dasratha
(5th century BCE)
(D) Ajit Kesakambalin
(Gopuram – Dravidian architecture)
(D) Chaitya
(around 10,000 BCE)
(D) Harappan
(D) Mehargarh
(D) Shiva
(D) Yamuna
(D) North-West frontier of the subcontinent
(D) Dog
(35,000 to 3,000 years ago)
(D) Chalcolithic Age
(7000 BCE)
(D) Dholavira
(Etah district, bank of Kali river)
(B) Madhya Pradesh
(D) Gujarat
(D) Vakatakas
(B) Hiuen Tsang
(D) Arrian
(D) Purusha Shukta
(B) Hungsi Valley (Karnataka)
(C) Didwana (Rajasthan)
(D) Bhimbetka (M.P.)
(B) Harappan
(C) Prakrit
(D) Devanagari
(D) Milindapanha
(D) six
(Lumbini, Nepal )
(D) Death
(D) Kalhan
(D) Gopuram
(1097-1230)
(D) Pratiharas
(606-647)
(A) Kumargupta I in 324 CE
(B) Srigupta in 309-10 CE .
(D) Samudragupta in 324 CE
(D) Narad
WBCS Main Question Paper – 2016
(D) None of these
(D) Yijing
(D) 200 CE
(303 BCE)
(D) Asoka
5. Name the historians who have rejected the idea of a marriage alliance between Chandragupta Maurya and Seleucus –
(302-298 BCE)
(A) Diodorus Siculus – Bibliotheca Historica
(B) Strabo – Geography
(D) Claudius Aelianus – Naturalis Historica
(D) Dhauli
(543 CE)
(D) Vijayaditya
(9th century)
(D) Pratihara
(D) Both (A) and (B)
(D) Hamadan
(D) CE 600 – CE 1300
(B) Egyptian civilization
(C) Mesopotamian civilization
(D) Roman civilization
(D) Shri Lankan Buddhist monks
(D) Kushana
(D) Kaveripattanam
(D) Nero
(D) Asco Parpola
(D) Sagarnandin
(D) Gritsamada
(D) Sutudri
(B) Yajur Veda Samhita
(C) Katbopanishada
(D) Manu smriti
(D) Chola dynasty
(D) Astronomy
(D) Chalukyas
(D) Toramana
(1500-1000 BCE)
(A) The Rigveda consists of 1028 hymns (Suktas)
(B) The Rigveda is divided into ten books (mandalas) of unequal sizes.
(C) The Rigveda is a monolithic text.
(A) Anga (Eastern Bihar)
(B) Magadha (Southern Bihar)
(D) Sisunaga
WBCS Main Question Paper – 2015
WBCS Main Question Paper – 2014
Related Post:
Related Post: