August 16, 2022
Ancient Indian History – WBCS Main Question Paper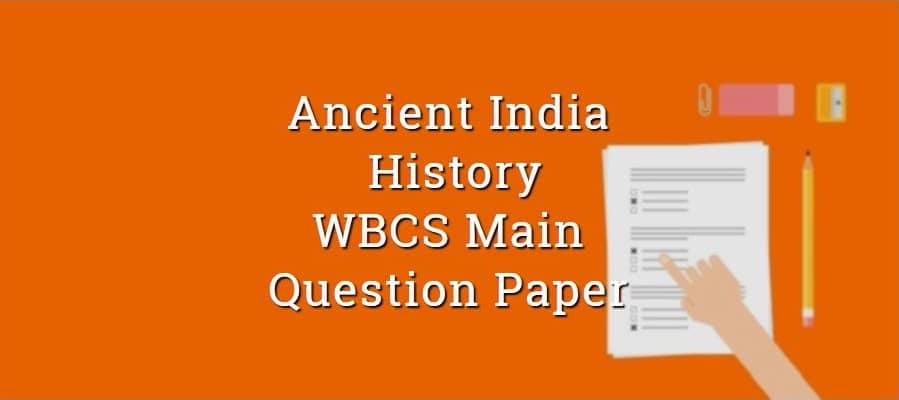 wbcs main ancient history questions
WBCS Main Question Paper – 2021
19. The river mentioned most frequently in the Rig Vedic hymns was
(A) Ganga
(B) Yamuna
(C) Sutlej (Satadru)
(D) Saraswati
35. Which Indian geographer had given information about Solar and Lunar eclipses?
(A) Aryabhatta
(B) Varah Mihir
(C) Brahmagupta
(D) Bhaskaracharya
39. Which ruler of Magadha was called 'Amitrochates' (Amitraghata – Slayer of Enemies) in Greek records?
(A) Bimbisara
(B) Ajatashatru
(C) Bindusara
(D) Asoka
43. The main sources of ancient Indian Geographical concepts are
(A) Hindu Mythology
(B) Travellers Account
(C) Sacred Laws
(D) All of the above
72. Ancient Indian Geography hinges on
(A) Systematic Study
(B) Observation
(C) Religion
(D) Scientific Laws
161. Which of the following statements is true of the Harappan civilisation?
(i) Harappan civilisation comprised of a network of urban constellations, drawing on the agricultural surplus generated by the surrounding countryside.
(ii) The Harappans seem to have flourishing trade relation with Sumeria and Egypt.
(iii) The seals are suspected to be connected with trading activities of the Harappans.
(iv) Overland trade rested primarily on bullock and horse-drawn carriages.
(v) Some deities akin to the mothergoddess and Pashupati seem to have been popular.
(A) (i), (ii), (iii)
(B) (i), (ii), (iii), (v)
(C) (ii), (iv), (v)
(D) (iii), (iv)
176. Which is our earliest source for the existence of untouchables in India?
(400–350 BCE)
(A) Atharva Veda
(B) Chandogya Upanishad
(C) Panini's Ashtadhyayi
(D) Harshacharita
182. What were villages granted to Brahmins and inhabited by Brahmins known as?
(A) Devadana
(B) Brahmadeya
(C) Agrahara
(D) Mangalam
WBCS Main Question Paper – 2020
2. What is the meaning of the word 'Sangam' in the Sangam Age?
(A) Royal Court
(B) Assembly of Poets
(C) Assembly of religious teachers
(D) Meeting of rivers
3. Who composed the Sanskrit kavya 'Saundarananda'?
(spiritual adviser of Kanishka)
(A) Asvaghosa
(B) Kalidasa
(C) Nagarjuna
(D) Visnu Sharma
5. Rulers of which dynasty patronised Jainism?
(6th – 12th century)
(A) Chalukya
(B) Pallava
(C) Rashtrakuta
(D) Chauhan
14. The learned lady who is said to have debated with the famous law-giver Yajnavalkya was
(9th – 7th century BCE)
(A) Gargi
(B) Maitreyi
(C) Kamala
(D) Kalindi
15. The river Chenab was known in the Vedic period by the name of
(A) Asikni
(B) Purushni
(C) Vitasta
(D) Shutudri
18. What was the 'Araghatta'?
(A) A machine to break forts
(B) An irrigation canal
(C) A device to lift water
(D) A type of cloth
28. Which of the following statements is incorrect about the position of women during the age of Buddha?
(A) The position of women generally deteriorated
(B) There were several instances of child marriages.
(C) Polygamy was gradually growing among the ruling classed.
(D) Education was denied to women.
32. Which of the following was the basic unit of Vedic society?
(A) Jana
(B) Vidatha
(C) Parivar
(D) Sangh
41. Who was the most important God in the Rigveda?
(A) Agni
(B) Indra
(C) Varun
(D) Vishnu
43. Who among the following scholars declared that the 'Saptsindhava' region was the homeland of the Aryans?
(A) Dr. A. C. Das
(B) Prof. Max Muller
(C) Prof. Karl Penta
(D) Dr. K. K. Sharma
47. The Nayanar group of saints in North India were devotees of Lord
(A) Vishnu
(B) Shiva
(C) Krishna
(D) Buddha
53. Which of the following is the biggest Harappan civilization site?
(A) Ropar
(B) Lothal
(C) Kalibangan
(D) Rakhigarhi
60. The river most mentioned in the Rigveda is
(A) Sindhu
(B) Shutudri
(C) Saraswati
(D) Gandaki
61. "The most unique feature of this site is its dockyard; the world's first tidal port, which served as a main seaport for the Indus people".
The above statement holds true for which site?
(A) Ropar
(B) Lothal
(C) Rakhigarhi
(D) Banawali
64. The word 'Veda', derived from 'Vid' refers to
(A) Knowledge
(B) Energy
(C) Truth
(D) Karma
71. Which dynasty ruled over Magadha after the Mauryan dynasty?
(A) Satavahana
(B) Sunga
(C) Nanda
(D) Kanva
72. Which particular city became the nodal point for trade routes running from north to south and east to west in the pre-Gupta and Gupta periods?
(Madhya Pradesh)
(A) Taxila
(B) Mathura
(C) Ujjain
(D) Vidisa
76. Vedic literature is also known as
(A) Shruti
(B) Smriti
(C) Sanhita
(D) Vedanga
77. The Indian who was involved in the excavations of Harppa and Mohenjodaro is
(1922)
(A) S.D. Rathore
(B) K.K. Menon
(C) R.D. Banerjee
(D) R.D. Sharma
83. Kalibangan is located at
(A) Gujarat
(B) Rajasthan
(C) Himachal Pradesh
(D) Punjab
86. When and by whom were the Ashokan Inscriptions deciphered for the first time?
(A) 1787 – John Tower
(B) 1810-Harry Smith
(C) 1825 – Charles Metcalfe
(D) 1837 – James Prinsep
WBCS Main Question Paper – 2019
(plough – Kalibangan)
(A) Discovery of a dockyard
(B) Rectangular and circular fire alters for animal sacrifice
(C) Depiction of a ship on a seal
(5th century BCE)
(A) Purana Kassapa
(B) Pakuddha Kaccayana
(D) Alita Keshakambalm
(A) Spasas
(B) Dutas
(D) Sanjayans
(A) Being cultivated and uncultivated
(B) Being irrigated and unirrigated
(C) Crops being grown on the lands
(A) Pallava
(B) Chola
(C) Nagara
WBCS Main Question Paper – 2018
(Afghanistan)
(B) Musa Khel
(C) Mundigak
(D) Damb Sadat
a) Aramaic
b) Greek
c) Brahmi
a) The Cheras of Vanji
b) The Cholas of Uraiyur
c) The Pandyas of Madurai
a) all the lands donated were not secular land grants.
b) the status of the peasants was not that of serfs.
d) All of the three above
WBCS Main Question Paper – 2017
(published in 1961)
(A) D. N. Jha
(C) R. S. Sharma
(D) A. L. Basham
(634)
(B) Harisen
(C) Bilhan
(D) None of the above
(A) Chandragupta Maurya
(B) Chandragupa I (Gupta)
(C) Chandrasen
(1826)
(A) M. S. Vats
(B) M. Wheeler
(C) B. B. Lal
(483 BCE & 467 BCE)
(A) Bimbisara
(C) Udayin
(D) Dasratha
(5th century BCE)
(A) Purana Kassap
(B) Pakudha Kaccayana
(D) Ajit Kesakambalin
(Gopuram – Dravidian architecture)
(A) Stupa
(C) Vihara
(D) Chaitya
(around 10,000 BCE)
(A) Palaeolithic
(B) Mesolithic
(D) Harappan
(A) Egyptian
(B) Mesopotamian
(D) Mehargarh
(A) 2200 BC
(B) 2100-2000 BC
(C) 2000-1900 BC
(A) Agni
(C) Vishnu
(D) Shiva
(A) Anga
(B) Magadha
(C) Vanga
(A) Ganga
(C) Sindhu (Indus)
(D) Yamuna
(B) Godavari valley
(Q Malwa plateau
(D) North-West frontier of the subcontinent
(A) Birth
(B) Death
(C) Enlightenment
(B) Pig
(C) Horse
(D) Dog
(35,000 to 3,000 years ago)
(A) Paleolithic Age
(C) Neolithic Age
(D) Chalcolithic Age
(7000 BCE)
(B) Amri
(C) Kalibangan
(D) Dholavira
(Etah district, bank of Kali river)
(A) Bihar
(B) Madhya Pradesh
(D) Gujarat
(A) Sungas
(C) Indo-Greeks
(D) Vakatakas
(A) Fa-Hien
(B) Hiuen Tsang
(D) Arrian
(A) Krishna Yajurveda
(B) Atharva Veda
(D) Purusha Shukta
(B) Hungsi Valley (Karnataka)
(C) Didwana (Rajasthan)
(D) Bhimbetka (M.P.)
(B) Harappan
(C) Prakrit
(D) Devanagari
(B) Vinaya
(C) Abhidhamma
(D) Milindapanha
(A) two
(B) three
(D) six
(Lumbini, Nepal )
(B) Enlightenment
(C) First Sermon
(D) Death
(A) Kalidasa
(C) Ashvaghosha
(D) Kalhan
(B) Dravida
(C) Nagara
(D) Gopuram
(1097-1230)
(B) Palas
(C) Rashtrakutas
(D) Pratiharas
(606-647)
(A) Varmans
(B) Maukharis
(C) Pushyamitras
(A) Gopal
(B) Dharmapal
(C) Vijayasena
(A) Kumargupta I in 324 CE
(B) Srigupta in 309-10 CE .
(D) Samudragupta in 324 CE
(A) Manu
(B) Fa Hien
(D) Narad
(A) Skandagupta
(B) Buddhagupta
(C) Purugupta
(A) Vikramaditya I
(B) Pulakesin I
(C) Pulakesin ll
WBCS Main Question Paper – 2016
(A) Porus (Puru)
(C) Abhisara
(D) None of these
(B) Megasthenese
(C) Fa Hien
(D) Yijing
(A) 800 BCE
(B) 500-400 BCE
(D) 200 CE
(303 BCE)
(A) Mahapadma Nanda
(C) Bindusara
(D) Asoka
5. Name the historians who have rejected the idea of a marriage alliance between Chandragupta Maurya and Seleucus –
(A) Vincent Smith
(B) H.C. Roychoudhury
(C) H P. Shastri
(302-298 BCE)
(A) Diodorus Siculus – Bibliotheca Historica
(B) Strabo – Geography
(D) Claudius Aelianus – Naturalis Historica
(A) Manshera
(B) Shabbazgarbi
(D) Dhauli
(A) Gopala
(B) Mahipala
(C) Devapala
(543 CE)
(A) Vikramaditya I
(C) Kirtivarman I
(D) Vijayaditya
(9th century)
(A) Rashtrakuta
(B) Chola
(D) Pratihara
(A) Saptadvipa
(B) Bharatvarsha
(D) Both (A) and (B)
(B) Persepolis
(C) Behistun
(D) Hamadan
(A) BCE 200 – 300 CE
(C) CE 300 – CE 800
(D) CE 600 – CE 1300
(B) Egyptian civilization
(C) Mesopotamian civilization
(D) Roman civilization
(A) R.E.M. Wheeler
(B) Bridget Allchin
(C) Raymond Allchin
(A) Ujjaiyini
(B) Taxila
(C) Tosali
(B) Jain monks
(C) Brahmnas
(D) Shri Lankan Buddhist monks
(B) Later Vedic
(C) Maurya
(D) Kushana
(A) Tamralipti
(B) Muziris or Mushri
(D) Kaveripattanam
(A) Augustus
(C) Trajan
(D) Nero
(A) Gordon Childe
(C) R.S. Bisht
(D) Asco Parpola
A) Chakrapanidatta
(C) Kannada
(D) Sagarnandin
(B) Divodasa
(C) Atri
(D) Gritsamada
(A) Vitasta
(B) Asikni
(D) Sutudri
(B) Yajur Veda Samhita
(C) Katbopanishada
(D) Manu smriti
(A) Vajjis or Vrijis
(B) Kosal and Vatsa
(C) Avanti and Magadha
(A) North India
(B) The Deccan
(D) Chola dynasty
(A) Gandhara School
(B) Mathura School
(C) Nagarjuna School
(B) Metallurgy
(C) Mathematics
(D) Astronomy
(B) Guptas
(C) Pallavas
(D) Chalukyas
(A) Anantavarman
(B) Mihirkula
(D) Toramana
(1500-1000 BCE)
(A) The Rigveda consists of 1028 hymns (Suktas)
(B) The Rigveda is divided into ten books (mandalas) of unequal sizes.
(C) The Rigveda is a monolithic text.
(A) Anga (Eastern Bihar)
(B) Magadha (Southern Bihar)
(A) Bimbisara
(C) Prasenjit
(D) Sisunaga
WBCS Main Question Paper – 2015
WBCS Main Question Paper – 2014